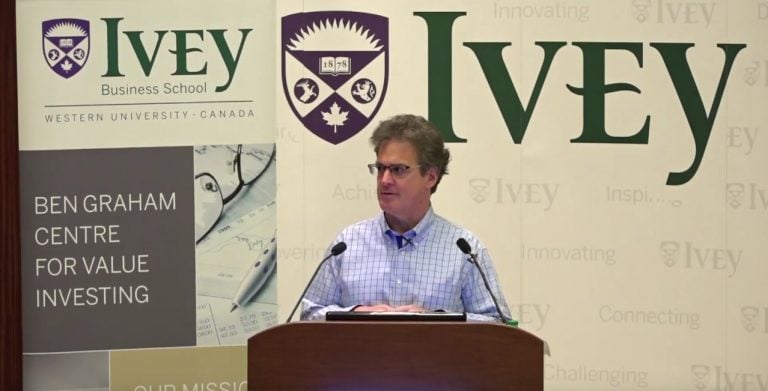 Ivey Business School's Value Investing Program of 2019 welcomed Paul Lountzis as a Guest Speaker. Mr. Lountzis is the President, Lountzis Asset Management, LLC in Wyomissing, Pennsylvania. Our Guest Speakers are an integral part of our Value Investing education. This education sets out to promote the Ben Graham Centre for Value Investing, value investing and the work we all do at Ivey Business School and particularly, in the Value Investing program.
Paul Lountzis: Develop Your Communication Skills Both Verbal And Written
Q4 hedge fund letters, conference, scoops etc
Despite 60% Loss On Shorts, Yarra Square Up 20% In 2020
Yarra Square Partners returned 19.5% net in 2020, outperforming its benchmark, the S&P 500, which returned 18.4% throughout the year. According to a copy of the firm's fourth-quarter and full-year letter to investors, which ValueWalk has been able to review, 2020 was a year of two halves for the investment manager. Q1 2021 hedge fund Read More
Transcript
I want to talk a little bit about investing about education and then I want you to fire away with any questions that you may have. And afterwards Allie has my email and so does the professor if there is anything I can ever do to help you feel free to email me and try and help in some way.
What I wanted to do initially is to start to talk about the skills to develop as a student regarding some of my thoughts and things that I think are really important for all of you to try to embrace and understand independent of investing to really prepare you better for the work world and I think you know education's really important. But education gives me the foundation but you also need the practical application. So the theoretical world is great but the real world is very different and I think you need a combination of the two. And so the first is really and it's really hard. Some of these take time learn to listen in a focused and active way. Most of the time when you talk to people they are really thinking about what they want to say rather than really sitting down and listening in a focused and active way to what you're saying. Second build relationships everywhere. You never know the value of a relationship. So build relationships everywhere you go. Interpersonal skills are critical. Be likable and be respected and you'll find in your career your analytical and technical skills are really important but your technical skills can be purchased your ability to get along well with others is actually more important than your technical skills. Fourth develop your analytical skills critical thinking left brain as deductible is deductive rational objective while the right brain's inductive intuitive and emotional intelligence. You really want to develop both sets of those skills because what you'll find is a lot of people are really good at one or the other.
There's people that are really good analytically and people that are really good on them on the interpersonal selling side.
The reality is you want to be able to do both and if you can do both it will really enable you to do almost whenever you want with your life. Most people are only good at one or the other. Develop your communication skills both verbal and written. We have four kids and our youngest is 22 and I just have to tell you the verbal and written communication skills now are nothing like a work 20 and 30 years ago. It's text messages that I can't even read. So it's really important to develop your communication skills both verbal and written years ago when the phones came out.
Our youngster. I mean I think I play and I do like I used to do like 5 text messages a month and I think my wife told me because he was on her plan. I think he did like 5000 in a month. So that's kind of what got me interested in this.
This texting business sex follow your dreams and goals and be flexible in your pursuit of in your pursuit of them. Adaptability is the key really one of the things I try to do is always begin with the end in mind. What do you think you want to do and then work backwards. I think I want to do this with who's done it and been successful see what they've done and kind of do it backwards so begin with the end in mind. It's really important happiness the quality of your life depends upon the quality of the relationships you develop both professionally and personally. I mean just think about it.
People go to work everyday with people they really don't like. People are married to people they really don't like. Think about it the quality of your life is really going to be driven by the quality of your relationships both personally and professionally. And I raise that because even though I love investing and it's a huge part of my life you should also spend time focusing on your personal life as well. Whatever it is I don't care what your choices are but think about I have so many friends and people that I've known in New York and elsewhere. They're focused all their energy and everything on their professional career and they've really missed out on the personal side they wake up at 40 or 50. They're very successful financially but they really really are unhappy on the personal side. So the same focus you apply professionally.
Also think about personally and focus on it. I like Mark Twain's quote quote which I really believe in it's really important keep away from people who try to belittle your ambitions small people always do that. But they're really great people make you feel that you too can become great never ever let anyone diminish you.
I think it was Eleanor Roosevelt said that no one can make you feel inferior without your permission. There's a lot of people out there that are not of the highest quality. If you really believe in something and want to do it you really follow through on it and don't just don't compromise. It's really really important. And it also applies to a lot of young ladies in here I'm very sensitive to this because I grew up with three older sisters. So I have to really defend I lecture at Alabama and they have a group there called the Colver house Investment Management.