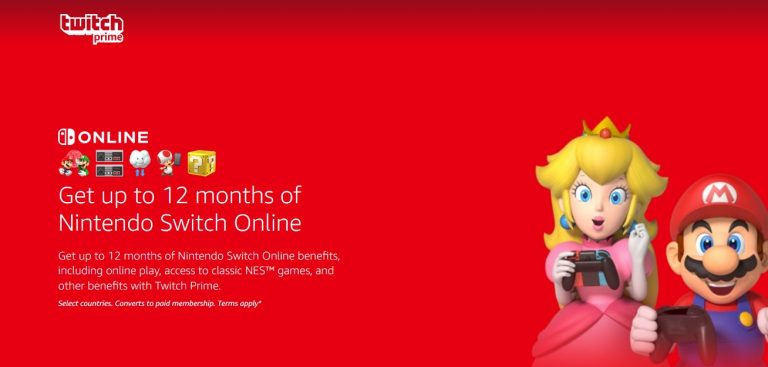 Get up to 12 months of Nintendo Switch Online benefits, including online play, access to classic NES™ games, and other benefits with Twitch Prime. This service normally costs $19.99/year.
Q4 hedge fund letters, conference, scoops etc
Sohn Investment Conference 2021 Coverage: Octahedron Capital, Glenernie Capital
The following is our rough coverage of the 2021 Sohn Investment Conference, which is being held virtually and features Brad Gerstner, Bill Gurley, Octahedron's Ram Parameswaran, Glenernie's Andrew Nunneley, and Lux's Josh Wolfe. Q1 2021 hedge fund letters, conferences and more Keep checking back as we will be updating this post as the conference goes Read More
How To Get 12 Months Of Nintendo Switch Online Free
Sign up for a Twitch prime account here , you must open a Twitch account, and then select to sign up for Twitch Prime, if you are logged into your Amazon Prime account, you will be asked if you'd like to connect your Twitch account to your Amazon Prime account. Once you do that you will have Twitch Prime for free.
Then you must go back to this page click on the 3 month offer and link your Nintendo account to your Twitch account. You must add a payment method to your Nintendo account.
In the last month of your free 3 month trial you can return to this page and extend your membership an additional 9 months for free.
If you do not extend your membership for an additional 9 months you will be charged $7.99/month, if you do not cancel your membership after the 12 month trial you will be charged $7.99 every 3 months.
FAQs
Q: What is included in the Nintendo Switch Online Twitch Prime offer?
A: Get up to 12 months of access to Nintendo Switch Online at no extra cost. You can claim the 3-month Nintendo Switch Online access offer now, then come back to claim the 9-month individual membership when it unlocks. Click here to learn more about Nintendo Switch Online.
Persistent Internet, Nintendo Account age 13+ and compatible smartphone required to use app. Data charges may apply. Online play, Save Data Cloud backup and Nintendo Switch Online smartphone app features available in compatible games.
Is payment information for Nintendo Switch Online required to claim this offer?
Yes, in certain countries for users age 18+.
Q: How do I claim this offer?
A: This offer is available to Twitch Prime members only. If you aren't currently a Twitch Prime member, click the "Try Prime" button above to start a free trial of Amazon Prime. If you're already an Amazon Prime member, click "Sign In" to link your Twitch and Amazon accounts and activate your Twitch Prime membership. After logging in to your Twitch Prime account, click the "Claim Now" button to start the claim process. You'll then be required to link your Twitch and Nintendo accounts. After that, for users age 18+ in certain countries, register a credit card or link a PayPal account on the Nintendo website. Finally, you'll be able to redeem your Nintendo Switch Online membership on your Nintendo Switch. A Nintendo Switch system is necessary in order to claim this offer. You must have logged in to your Nintendo Account linked to your Nintendo Switch on the Nintendo eShop before you can redeem your Nintendo Switch Online membership.
Q: When does this offer expire?
A: First-time users will no longer be able to claim the Nintendo Switch Online offer after September 24th, 2019. If you claim the first offer before that time, you will be able to claim the additional 9-month membership offer after 60 days if you remain an active Twitch Prime member. Both offers must be redeemed before January 22nd, 2020.
Q: Can I redeem this offer if my Nintendo Account is not actively linked to a Nintendo Switch system?
A: You must link your Nintendo Account to a Nintendo Switch system before this offer can be redeemed. If you claimed this offer before your Nintendo Account had an active linked Nintendo Switch system please continue claiming by using the link above the "claimed" offer box.
This offer is for Amazon Prime members only, Twitch Prime is free with your Amazon Prime Membership.
12 months Of Nintendo Switch Online free – Click here to get the deal.
H/T Dan Deals