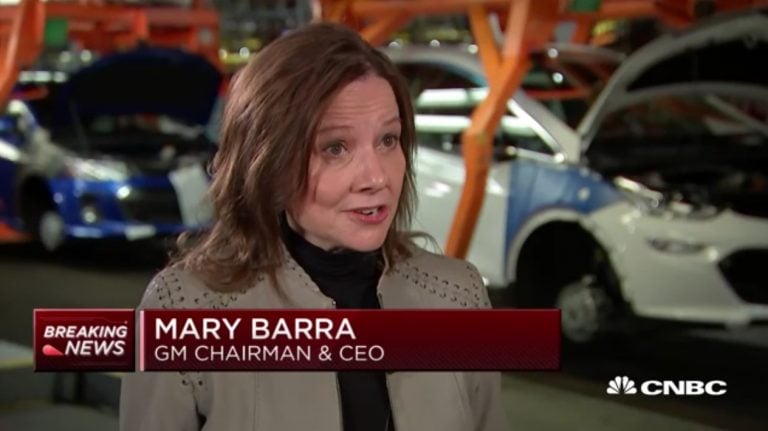 CNBC Excerpts: General Motors Chairman and CEO Mary Barra Speaks with CNBC's Phil LeBeau Today
The following is the unofficial transcript of excerpts from a CNBC interview with General Motors Chairman and CEO Mary Barra and CNBC's Phil LeBeau today, Friday, March 22nd. The following is a link to video from the interview on CNBC.com:
Q4 hedge fund letters, conference, scoops etc
The 3rd Annual 360 Degree Credit Chronometer Report with Joseph Cioffi
ValueWalk's Raul Panganiban interviews Joseph Cioffi, Author of Credit Chronometer and Partner at Davis + Gilbert where he is Chair of the Insolvency, Creditor's Rights & Financial Products Practice Group. In the interview, we discuss the findings of the 3rd Annual report. Q2 2021 hedge fund letters, conferences and more The following is a computer Read More
GM to build Chevrolet Bolt EV in U.S. plants, add 700 jobs
All references must be sourced to CNBC.
Mary Barra on Orion Vehicle:
It's going to come out in a year or two. We haven't released the specific date yet, and there will be a lot more to follow on the specifics of the product. But today we are really focused on the workforce at Lake Orion.
On the Trump Conversations:
I generally try to keep those conversations private, when I am talking with any member of the administration or government. But you know, this is an announcement that we have been planning a while, just getting everybody aligned, because it is so significant, you know, a brand new electric vehicle that we had planned to build at a location outside the country. So very significant that we are building it here, investing in the U.S. and creating 400 jobs.
On Briefing the Administration:
We regularly brief the administration when we are going to be making announcements-- announcements such as this. And so that is where I will leave it. And I think, you know, when we look at what General Motors is committed to, we are committed to investing, we have been making shifts because we see the growth in trucks and crossovers and now electric vehicle, and we are going to be making those investments. And I believe as we continue to go forward, not only maintaining the employment that we have here and the good paying jobs, but creating more.
On the Chevrolet Bolt EV:
When we look at the architecture that this vehicle is coming off of, and there have been significant enhancements, but it makes sense because the Chevrolet Bolt EV is built at Orion and this is a great workforce. So there is capacity here to be able to do that and there is synergies as well.
On the Odds of Reopening:
I think it is important, the plants as you indicated are unallocated, it is very important that we work with the UAW [United Automobile Workers] for the final status of those plants. And that is something that we are committed to do between now and when the contract negotiations happen. So I need to let that process work and that's what we will be doing.
On Placing Ohio Employees:
I think it is important that they understand that plant that people are shifting away from small vehicles and that was a plant that was designed to build small sedans. We want every single worker that is part of the GM team at another one of our GM facilities and we are very pleased that we have already been able to place over 1,100 employees, 500 from the Lordstown plant.
On Ohio:
We have invested over a billion dollars in the last 2 years in the state of Ohio. So, Ohio is very important to us, so are the workers and we want to make sure they stay part of the GM family.
On Allocating the Plant:
Making the decision that we did to unallocate the plant is a very serious decision and that's what we tried to convey. We did that at a time when we knew we had jobs available at other locations to give our employees the maximum opportunity, doing it in a strong economy and I think, you know, people need to look at that. But for me to comment one way or the other what's going to happen long-term with the plant, I need to work through on the UAW on that.
On Trump Reaction:
What we need to stay focused on is that General Motors is committed to U.S. manufacturing, we are committed to creating high paying jobs and that is something that we have in common. So that's what I am focus on and that's what I am going to continue to focus on. Making sure General Motors is strong, in a strong economy is going to allow us to create those jobs.
On Lyft IPO:
Of course I follow it with great interest, because we are a significant investor and so we will be tracking that. And you know, that is a good thing for the company.
On Rideshare Challenges:  
People are going to need to move from Point A and Point B. And that is why we have made significant investments in Cruise Automation because we think that is the ultimate, what we call 'Rideshare 2.0,' when you are able to use autonomous vehicles that changes the whole cost structure, allows you to reduce the costs and access a lot more addressable miles. So, our focus is on autonomous technology, we think that is going to be a significant impact in the future, but it is going to happen over a long period of time.