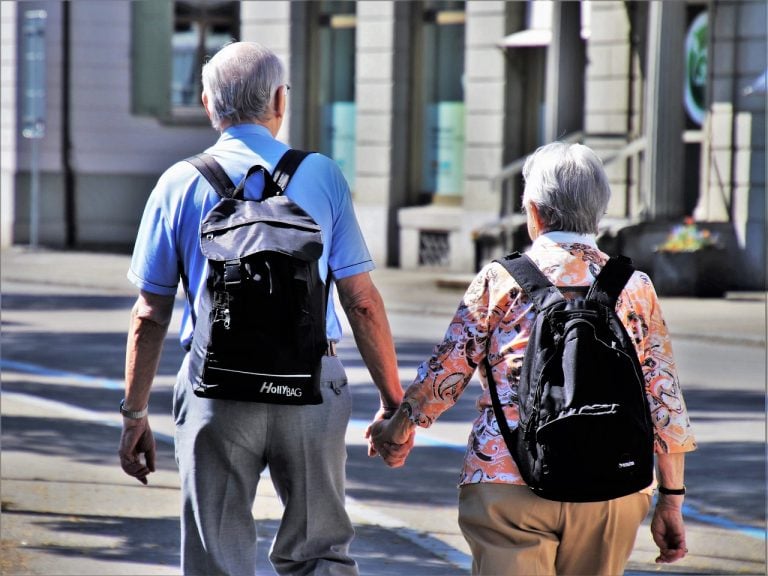 No state has managed to avoid funding problems with their pensions, but if two states can be considered epicenters of the pension crisis, it would be Illinois and New Jersey. Illinois alone has $134 billion in unfunded liabilities for its five pension funds, and Illinois lawmakers have done little but kick the proverbial can down the road and make it someone else's problem.
Unfortunately, this multi-governor trend has been going on for so long that the state's five pension funds are threatening its entire budget.
Q4 hedge fund letters, conference, scoops etc
Bedford Park Opportunities Fund Q2 Letter: Long Converge Technology Solutions
The Bedford Park Opportunities Fund returned 13.5% net of all fees and expenses in the second quarter of 2021, bringing its year-to-date return to 27.6%. Q2 2021 hedge fund letters, conferences and more   In the fund's second-quarter investor letter, which ValueWalk has been able to review, Jordan Zinberg, the President and CEO of Bedford Read More
Fitch threatens to downgrade Illinois' credit rating
New Illinois Governor J.B. Pritzker is trying to tackle the state's pension crisis in his first budget in office, but unsurprisingly, his budget faces a number of roadblocks. The major credit rating agencies have threatened to downgrade the state's rating again after the budget was released. No matter what the budget ends up looking like, it will have a significant impact on the state's pension systems, so others outside Illinois will be watching closely to see what the state's lawmakers end up doing.
Fitch Ratings currently has a credit rating of BBB on Illinois, but it warned this week that if the state "returned to a pattern of deferring payments for near-term budget balancing," it would slash that rating further. The ratings agency specifically mentioned the "uncertain pension proposal" included in Pritzker's proposed budget. He wants to push back the 90% funding level milestone from 2045 to 2052, which would save the state $800 million per year.
S&P Global Ratings offered a similar warning for Pritzker's budget last week, linking the state's pension crisis directly to its credit rating by defining deferrals for pension contributions as "a key contributor to Illinois' deteriorating credit position."
Pension problems
In a report earlier this month, Moody's Credit Officer Ted Hampton highlighted the serious problems Illinois' state pension system has caused—and lawmakers' inability to do anything to fix the system. For example, he noted that the state's pension contributions continue to strain its budget even though those payments aren't even enough to close the ever-widening gap in liabilities.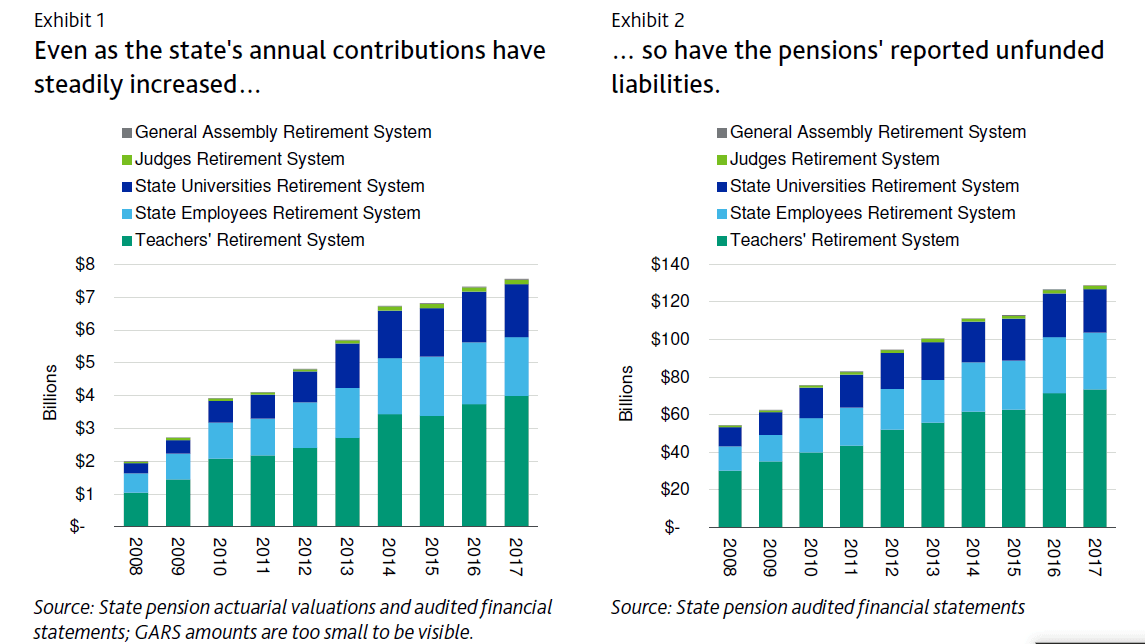 For fiscal 2020, which begins July 1, Illinois' auditor stated that aggregate state pension contributions will increase 10% to $9.14 billion. The state is also expected to maintain its "recent practice of giving substantial aid to the Chicago Teachers' Pension Fund," Hampton added. This budget item alone is expected to about $245.5 million in fiscal 2020.
He also pointed out that the state's annual pension contributions have been taking a growing share of its own-source revenue, increase from 8% in 2009 to 18% in fiscal 2017. Despite the increase, he expects the state's pension contributions to "remain substantially below 'tread-water' amounts," which he defines as "the sums that would cover both annual benefit accruals and interest on unfunded accrued liabilities."
He also said that in fiscal 2018, Illinois paid its pensions $3.5 billion less than the $11.3 billion that would have been needed just to tread water and not increase the funding liabilities gap.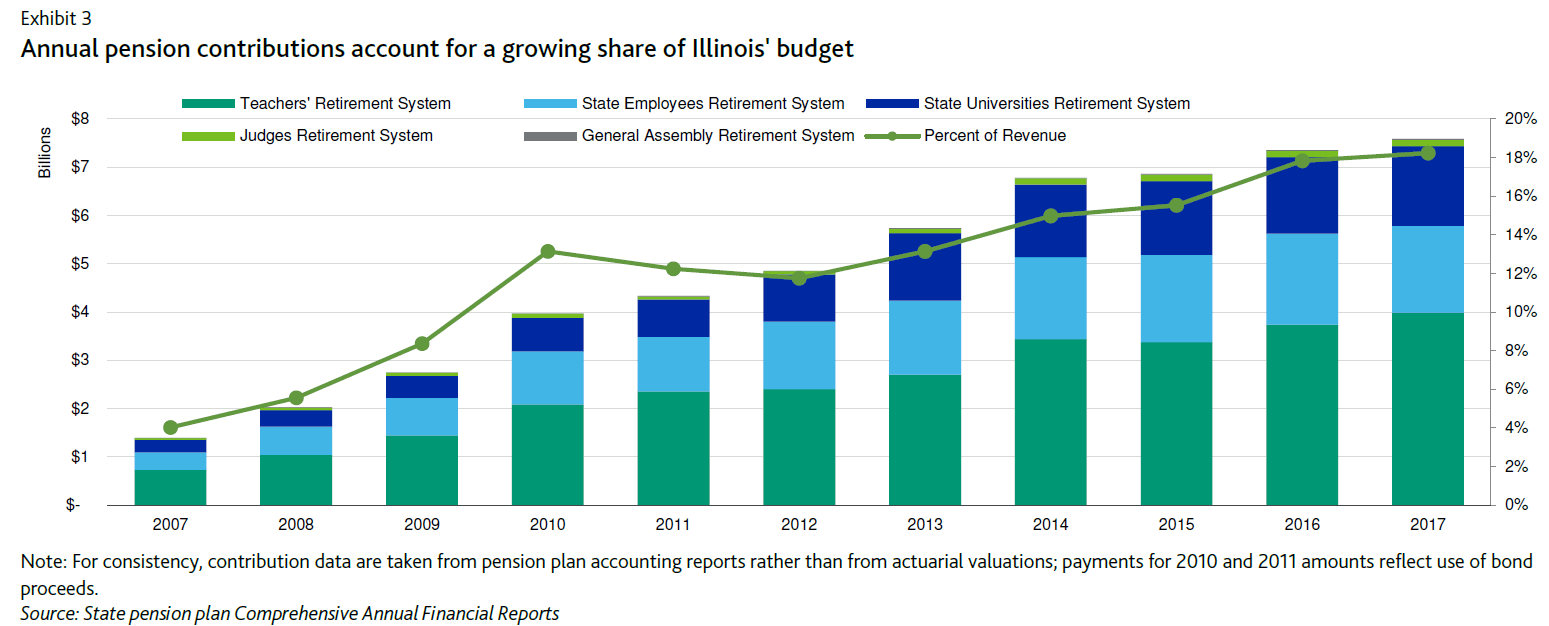 "In general, any efforts to boost current contributions would be credit-positive for the state, while efforts to defer or reduce contributions for fiscal relief would revive questions about pension plan sustainability," Hampton explained.
A big problem Illinois is facing right now is its lack of population growth. In fact, the state and its lawmakers have no one to blame but themselves for this problem. According to Moody's, Illinois was among the states with the weakest population growth between 2014 and 2018. In fact, it's one of a few states whose population is actually shrinking, and it's easy to see why.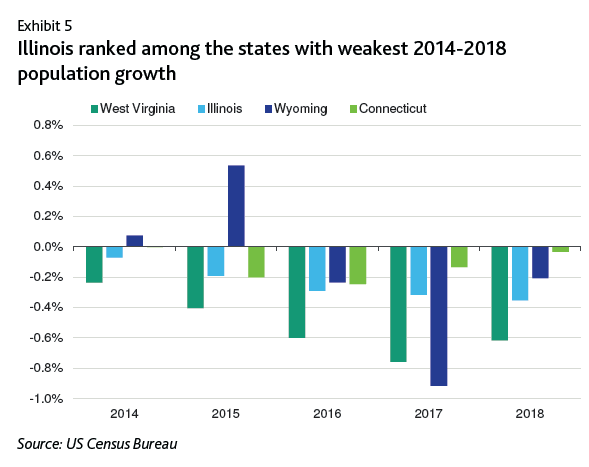 Moody's noted that in order to fix Illinois' pension system and accompanying budget problem, lawmakers will have to do something to capture more revenue, but they're running out of options. Over the years, lawmakers have raised property taxes so much that many residents of southern Cook County just outside Chicago have moved across the border into Indiana where taxes are much lower.
This article first appeared on ValueWalk Premium