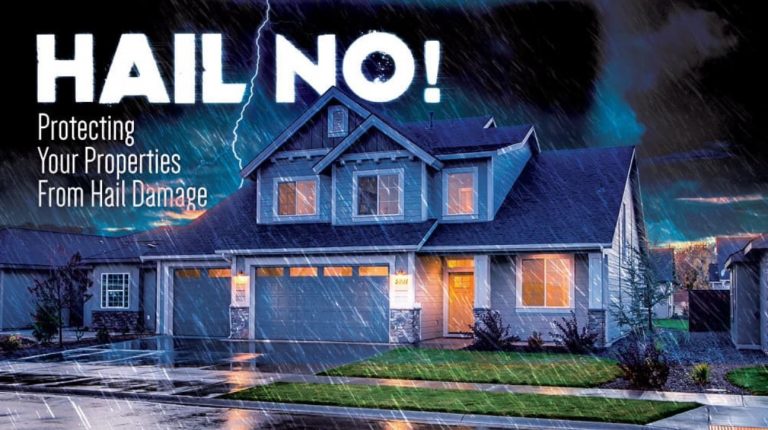 Severe storms are increasing in frequency, and when combined with a growing population and more properties being built, the cost of property damage from these storms is skyrocketing. In 2017 alone, global property damage from severe weather cost $330 billion, and there has been a 175% increase in natural disasters in the last 30 years. A convergence of factors is leading to more property damage from more severe weather, and hail storms rank among some of the most common and the most costly severe weather phenomena. But detecting property damage from hail storms isn't always easy, and the longer detection takes the costlier it could become to repair the damage.
Hail comes from updrafts lifting water droplets into the sky, where they attach to each other and freeze into ice balls, growing as more water molecules join the party. When the winds allow the hailstones to fall they often remain frozen long after impact on the ground. And it doesn't have to be freezing on the ground in order to get hail – if there's a thunderstorm there's a possibility for hail to form.
David Einhorn: This NJ Deli With One Location And Little Revenue Is Trading At $100M+ Valuation
In his first-quarter letter to investors of Greenlight Capital, David Einhorn lashed out at regulators. He claimed that the market is "fractured and possibly in the process of breaking completely." Q1 2021 hedge fund letters, conferences and more Einhorn claimed that many market participants and policymakers have effectively succeeded in "defunding the regulators." He pointed Read More
[REITs]
Q4 hedge fund letters, conference, scoops etc
Hail hits the ground at speeds up to 90 miles per hour and sizes typically range from pea sized to softball sized. The larger the size of the hail, the more likely it is to cause damage to crops, property, and even people. Hail 1.5 inches and larger almost guarantees property damage, and the largest hailstone ever recorded was 22 pounds and had a 19 inch circumference.
2017 was one of the worst years for hail damage in the United States. Texas racked up $1.3 million in hail damage, while Illinois and Missouri both exceeded $800k in hail damage. In all, 11 million properties in the United States were affected by hail that year.
One of the biggest problems with hail damage is that it's not always immediately apparent. Hail can cause damage on asphalt roofs that is difficult to detect unless you get up on the roof and inspect it. This means that sometimes property damage isn't discovered for weeks, months, or even years, and by that time there is often additional damage over time, making it even costlier to repair. Hail is also expanding in geographic reach, which means that homeowners who aren't traditionally prepared for hail or know what to look for may end up with costly, unexpected hail damage.
Today there is artificial intelligence, sensors, and other technology that can make detecting hail damage easier, thus speeding up the insurance claim and repair process. Learn more about the cost of hail damage from this infographic.