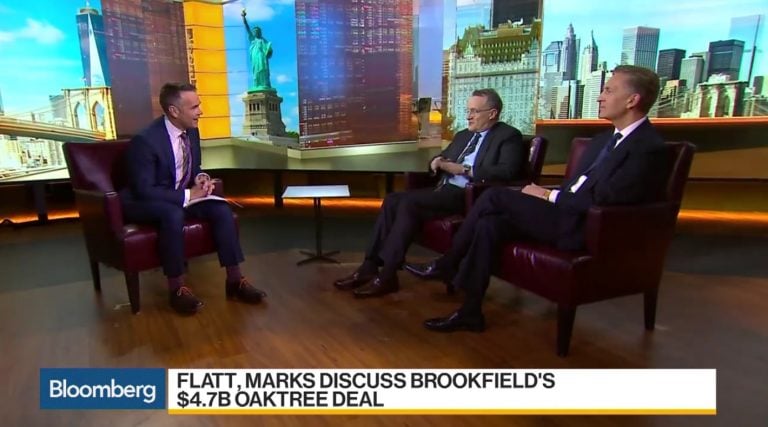 Bruce Flatt, chief executive officer at Brookfield Asset Management, and Howard Marks, co-founder at Oaktree Capital, discuss the background of Brookfield's purchase of a majority stake in Oaktree Capital and how the deal could impact the industry. They speak with Bloomberg's Erik Schatzker on "Bloomberg Daybreak: Americas."

Oaktree's Marks Sees More Industry Mergers After Brookfield Deal
Q4 hedge fund letters, conference, scoops etc
Morningstar Investment Conference: Fund Manager Highlights Personalized Medicine, Energy Security
Hedge fund managers go about finding investment ideas in a variety of different ways. Some target stocks with low multiples, while others look for growth names, and still others combine growth and value when looking for ideas. Some active fund managers use themes to look for ideas, and Owen Fitzpatrick of Aristotle Atlantic Partners is Read More
Transcript
Whose idea was this anyway.
You know our our view was that this is one of the great credit businesses in the world. And we followed them for years and Howard is obviously. A legend in the markets and so we approach them and talked about talked about it in from there. We ended up with a transaction that was your idea that I guess you're right. How long did it take. It took five months the markets were a little rough in December. So they were. That didn't help the transaction but I say in transactions you learn a lot of both the other side when you go through rougher periods of time and that is probably good for the end and end result we got. Howard you have been telling your clients for 17 years already what it would take for oak tree to be acquired 17 years why now
Well not for 17, 17 years ago. It hasn't been a constant theme. But you know there was a rumor in 02 that we were for sale. And day in my year end report I published the five criteria for a transaction and I said they've never been satisfied. I assume they never will so let's forget about it and nothing ever happened until this transaction came along.
Now the criteria you set forth are being satisfied.
Yes.
What about the timing. The now factor.
You know I'm not a market timer. And this is a. Fundamentally sound transaction. And we're not are entering into it at this time has nothing to do with the timing. I mean Bruce described-
Nobody should impute or infer some sense of where you think we are in the credit cycle etc.
Not at all. Not at all. This is a this is a forever transaction. And you know whether it was wasn't ideally timed which I don't have a view on. Wouldn't matter.
And why Brookfield some people wonder why you aren't tying up with other firm in the same industry that might use a little help and credit could be Carlyle could be a KKR.
Well number one. There are no other firms with the heft of Brookfield. With their list of the offerings which meshes so well. With ours without significant overlap or cannibalization, with the same reputation, the same growth record. You know it's it's really and also the culture. We think that the culture is very important and we agree on that
and at any point recently or in the 17 years since you wrote that note to clients did you seriously entertain other offers.
No we never found the thing that satisfied the five criteria.
Bruce you told me in December of 2017 it was unlikely that Brookfield would ever buy another asset manager. What changed?
Guess you have to eat your words at Times. But look I would just say it's. Not something we've ever really thought of too often. But at. Our clients. Get bigger. And the offerings need to be our offerings need to be large. The one area that we were lacking to be able to. Offer to them. Is credit. And this. Business is. Large enough. That it can be delivered to our clients and many of the. Many the other things we could've looked out there are even building our cell. We've been building. Ourself. But it just takes a long long time and given the scale. Of our business and the relationships that we have in. It we just needed something larger. Did you were you finding. Cells losing mandates because you weren't able to. Fly that demand for credit. You know I just said more positively. I think. The additive nature. Of this. To our institutional relationships will be highly positive. We're going to be able to deliver a number of these products to them on top of. Private equity strategies private equity real estate infrastructure private [inaudible]. Which are which are very large scale and this will be able to go long. To what degree was this a matter of being able to compete better with blacks. You know look there's there's room for many of us. There. This is a 30 40 50 going to 6. Trillion dollar market. There's an enormous number of. Managers that are out there and we compete with lots. Every day. This is just about us delivering for our.
Updated on