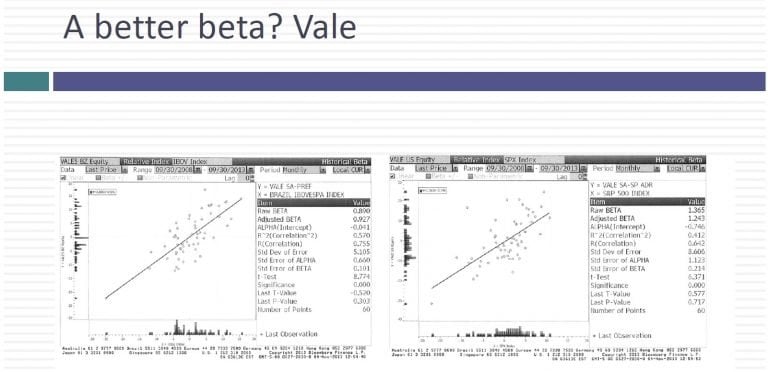 In this session, I argue that betas don't come from services or regressions but from choices companies make. Specifically, the beta of a company will reflect:
How discretionary the products or services that the company offers are, to its customers: Companies that offer more discretionary products/services will have higher betas.
Fixed Costs Tilt in Cost Structure: The greater the proportion of costs that are fixed costs, the higher the beta will be.
Financial Leverage: Borrowing increases the risk of the equity in the business, and with it the beta.
I closed the session by noting a property that betas have, i.e., that they are weighted averages and used the Disney & Cap Cities merger to illustrate.
Investing in the Next Generation of Emerging and Frontier Markets with Maurits Pot
ValueWalk's Raul Panganiban with Maurits Pot, Founder and CEO of Dawn Global. Before this he was Partner at Kingsway Capital, a frontier market specialist with over 2 billion AUM. In the interview, we discuss his approach to investing and why investors should look into frontier and emerging markets. Q2 2021 hedge fund letters, conferences and Read More
Slides: http://www.stern.nyu.edu/
Q4 hedge fund letters, conference, scoops etc
What A Company Can Do To Bring The Beta Down
Transcript
So how does that slog through the snow this morning. What snow. I mean in the annals of bad calls this was perhaps one of the worst calls of all time you could have seen it coming but what's done is done. I mean we're going to talk about some cause and arguing about whether they should have made the call about closing schools today is one that we will continue to have. But I'm not going to let this class go to waste. I'm doing it all for you. Famous last words really don't explain what I mean. I worked out that your tuition is 71000 something. Absurdly high. It's obscene. And if you break it down into 10 classes which is roughly what you take during the course of a year and twenty six sessions apiece. You know how much this shutdown cost would cost you about two hundred and seventy five dollars just for today's class. So I'm going to try to get your money back by doing the class anyway. So today's class I was planning to continue with our discussion debate. You remember in the last session. Let's review. We looked at how most people get paid. So if you work at a bank consulting firm Corporation the way most people get paid is that they get from a service. They get it from Baraa they get it from Bloomberg and they don't think any more about it. We dug a little deeper. Not that much more and we discovered that betas come from regressions regressions of returns and the stock gets returned to the market index. And we went through the process of analyzing the regression and looking at the diagnostics but essentially the slope of the line became the beta but I left with a cautionary note.
I said even though you get an estimate of beta from a regression it comes with noise the noise being distended there. So you get a range of the beta.
We're going to Birrie Beta's today but before we continue with the burial of Beta's let's think about what it is that drive data. What are the determinants betas. And that's basically going to be the focus for today is I'm going to give you a platform to get rid of a regression beta because I think a regression beta is not a great way to estimate the beta for your company but to come up with that platform we first have to understand why companies of the beta as they do. So let's go back. Betas don't come from services they don't come from integration they come from choices you make as a company to understand those choices. Let's do a couple of exercises here. The first one let's assume that you are advising a very risky tech company on its cost of equity to use for investment analysis. Remember this cost of equity is going to be a rate. You come up with a rebate of 3 for the company because the risky company you come up with the cost of equity of 20 percent. High number right so you tell the CFO what your cost of equity is 20 percent. A little shocked that the numbers are so high. So yes your question and I wanted to think about the mechanics first and then we'll talk about where the pathway to get there is even a sensible one. Is there something I can do to bring my beta down.
After all the cost of equities because of it's not because of risk free rein and risk premium are changing across companies. So here's a look my bet history is something I can do to bring my pated down. To think about it if you are advising a tech company on what he or she what that company can do to bring the beta down. What are some of the ways in which a company can bring the beta down and go wild. Because I didn't say any of these ways have to be sensible and good for the company. Just think about what you can do to bring the beta down. First you can say if you have any debt pay down as you we will see very quickly as a company borrows money. The risk of that debt carries into the equity pushes up your beta to view any debt as a company. You can ask me to bring the debt down. So let me take that easy option off the table. I'm a tech company and don't have much debt so I can't mess with my debt because there's no debt. It's the second part where I can use to bring my beta down. Think about it why is my beta so high. Because I'm in a risky business right. So if I could go out and make my business safer and my made it will come down. How can I make it safer overnight.
I can buy a safe company I can buy you turned into any of this is sensible but I could buy you 30 with regulated revenues and earnings and margins and I'd bring my Vater down. In fact if I'm in a real hurry and I wanted to bring my beta down to zero I could do it right. Or did I have to do I sell the whole company. Take the cash and buy people with that absurd you say well if my objective becomes having the lowest paid that I can that's exactly what I should do an all cash company will have paid close to zero. So if you as a company want to bring your beta down you can bring your beta down by paying off debt. You can bring your beta down by going into really safe businesses are liquidating your risky businesses and there's a third part when we're going to come back and examine there's more. One reason your beta might be you have a lot of fixed costs to the extent that you could bring those fixed costs down. You can make CUBI to lower. Go through the intuitional world but think about it. You can pay down debt. You can go to safer businesses you can try to.