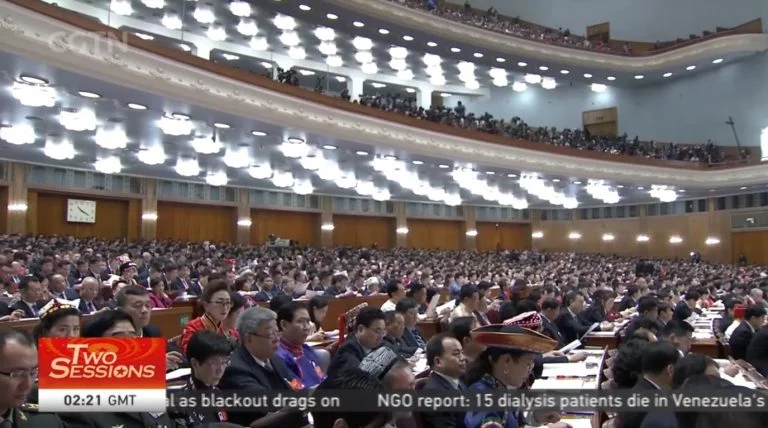 A news conference is being held at the Press Conference Hall, Media Center in Beijing during the 2nd Session of the 13th NPC, the national legislature. Yi Gang, the Governor of the People's Bank of China, the country's central bank, heads a list of senior officials who will take questions regarding the reform and development of the nation's financial system.
Briefing On China's Financial Reforms
Q4 hedge fund letters, conference, scoops etc
David Einhorn At The 2021 Sohn Investment Conference: Buy These Copper Plays
There's a gold rush coming as electric vehicle manufacturers fight for market share, proclaimed David Einhorn at this year's 2021 Sohn Investment Conference. Check out our coverage of the 2021 Sohn Investment Conference here. Q1 2021 hedge fund letters, conferences and more SORRY! This content is exclusively for paying members. SIGN UP HERE If you Read More
Transcript
You see temporary cash relieves where the market need it because we know that tax cut needs around a year to show some impact on the economy. That's what that's the case for China. So before that happened we might need some short term liquidity boost to keep the you know keep the growth stable here. And also you know the external environment for China is complicated because you know the Fed is not going to raise interest rates relatively. But the ECB has just cut the growth forecast for both 2019 and 2020. So the impact on China's currency you know the Chinese yuan currency and China's monetary policy remains to be seen seeing here also how many times will the central bank act for those temporary cash relief some analysts say that we are expecting to see two to three times the rate cuts and three times of Tipiloura cuts in the latter half of the year. Because that's the time that China actually needs some cash boost here because the tax cuts is going to show some impact and the business activities is going to rise and companies may need a lot of cash to keep things going on. So that's so far that we are expecting to hear from the CPAC conference which is about to happen Michael.
All right thanks for that. A wrap of in terms of what we can expect from China's central bank in just a few moments time in terms of financial reform and how that relates to China's future development. Earlier this week Chinese Premier Li Chrichton delivered this year's government work report. In it he highlighted the target of further deepening reforms in key sectors of Premier Li said the government will deepen reforms of the fiscal and financial systems. Take a listen.
We will reform and improve the structure of the financial system and develop private and community banks to better serve the real economy. We will reform and improve the basic systems of the capital markets to promote a healthy and steady development of multitiered capital markets. The proportion of direct financing particularly equity financing will be increased. The insurance sector's role in protecting against the risk will be enhanced. We will strengthen monitoring early warning mitigation and control of financial risks.
China's financial and asset management system are generally stable and we have many policy tools available.
So we are fully capable of ensuring no systematic risk emerge All right let's get a deeper dive into China's financial reforms and bring in Professor Jiang going from the Beijing based University of International Business and economics as well as our current affairs commentator Aigner tangan. Gentlemen thank you so much for joining us on the program. I guess I want to begin with a rather holistic view of China's financial reforms going forward because the PBC Governor Eagling spoke last year in terms of supply side structural reforms. That's going to be very important for China's central bank as well so tie this together for us in terms of how monetary policy financial reforms fit in with China's path in terms of going towards higher quality growth in terms of structural reforms. Let's start with you first.
First of all I think all financial Monk has to be not so much open for a long long time. Industry has been traditionally dominated by these very large enterprises big banks China. China Construction Bank. Contraband China. Commotion issued by these banks are being operating in China dominating the market will along on time. And I think it's about time that to change we have some you know. A joint Shiho that companies banks coming up we have some regional city banks but I think it's not enough look at the number of banks for example in the United States. We many more banks than in China other than to financial the banking history also for example the bond market. The equity market haven't been really open to private enterprises to private capital as well as to foreign capital. And I think our commitment to opening up this market is a very integral a very important part of our commitment to to open anymore to the isles especially to the more advanced economies of counterpoint would be that to rush this process is dangerous because quite frankly China is a very mature market.
I mean everything to we're talking about today is less than 30 years old. I mean all the things that the West has had for many many years. And you know I think it's very important to know that the government has a very very strong role to play here because unless they set the goals and the standards and the protections. All you're going to have is people being cheated and that is not going to help the.