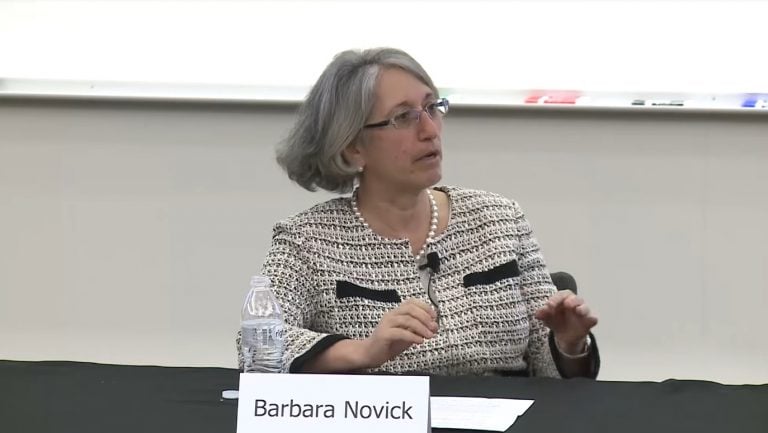 The Corporations and Society Initiative at GSB hosts Barbara Novick, Co-Founder and Vice Chairman of BlackRock, the world's largest asset manager, in a conversation on corporate purpose, governance, and responsibility.
Barbara Novick: Historical Perspective; Who Should Run The Corporation?
Q4 hedge fund letters, conference, scoops etc
Jim Chanos Unveils Lastest Short As Fund Manager Bets On Further Market Declines
Jim Chanos has a new short target in his sights. Earlier this week, the hedge fund manager disclosed that he is betting against "legacy" data centers that face growing competition from the trio of technology giants, which have previously been their biggest customers. The fund manager, who is best known for his winning bet against Read More
Transcript
OK. So you know clearly we've heard that question and you think vs Friedman which one's right. And I don't think it's a right or wrong. And I think I'm going to start with a historical perspective and then I'm going to drill into really the difference between the two and the nuances so the historical perspective is. If you go back even further than Friedman, Johnson and Johnson 1943 General Johnson writes The Credo and what is the credo for Johnson and Johnson it says we need to consider employees clients or customers and communities we live in as well as shareholders. So it's not that it's such a new concept and boy it's like this lefty thing it comes out of a blue but it's actually I would say good business common sense. So give the other historical perspective what went wrong with WorldCom and Enron. BP you know recently Wells Fargo mean or all of these things not very closely connected of people trying to in some way maximize that short term profit.
Right now especially Wells Fargo that they're going to make a quick buck. It's going to be great for the stock price maybe even great for their own compensation but is that good for long term value. Well clearly not in every one of those cases you would not be have had to be happy to have been a shareholder. So when you look at what Larry says and he does put it in that context of long termism. What are we asking people to do. Is it unreasonable you're all going to be looking for jobs I assume if you're sucking your students you know do you want to work at a company that treats its employees well or do you want to be in a bucket shop.
Do you want to be someplace where you get flexible benefits where you can wear blue jeans to work. I mean what things in everybody's definition of benefits are different. But as a company you know the company has to be thinking how do I attract and retain people to work here whether it's at a low level an assembly line or it's at a high level and in the United States today you can't help but notice we're in a war for talent and human capital management should be a really high issue on management's agenda on the board's agenda. So is that Friedman or is that Fink customers. I'm proud to say we've been in business 31 years. Starter institutional business a few years into it. We have clients today who have been clients of BlackRock for 25 years now. Why is that good one. It's a real vote of confidence. We also have clients who have left their jobs and multiple times hired us as they've gotten to new jobs.
Again tremendous vote of confidence but from a shareholder value perspective and from a economics of the firm the the saying your best new customer is your existing customer is absolutely true. The cost to acquire new business to go on board new clients that is extraordinarily expensive so if you don't retain the ones you have you're affecting the long term value. Now again could you do something that maybe Juice's your returns early on and so people things that they wake up later and realize they don't really want. I guess you could but then do you have that customer for 25 years so rather than looking at these as Friedman versus fink I would say these are fundamental business issues get through throw the communities one on there. Clearly if you are not operating in a good way I mean look at this dmna just broke. I mean what's going to happen to some of these mining companies. And are they going to even have a license to be in business in those places.
So it in looking at the multiple stakeholders I think people have to put a little bit different lens on it that this is good business judgment and this is about where you'll be in business in five years in ten years. Will I end up better off holding you as a long term investor. Because keep in mind you talked about the 6 trillion dollars that we break down that 6 trillion level. Only half of it. Only half of it is equities. Only 3 trillion. Okay. And then of that 90 percent is in index strategies Dorje index strategies and 10 percent is active.
Now we get 10 percent of 3 trillion is still a big number but 90 percent is index. Well if it's in the index we don't like what the company is doing we don't like the business and we don't like the management team. We don't like something we can't sell it. So if we're going to be.
Updated on