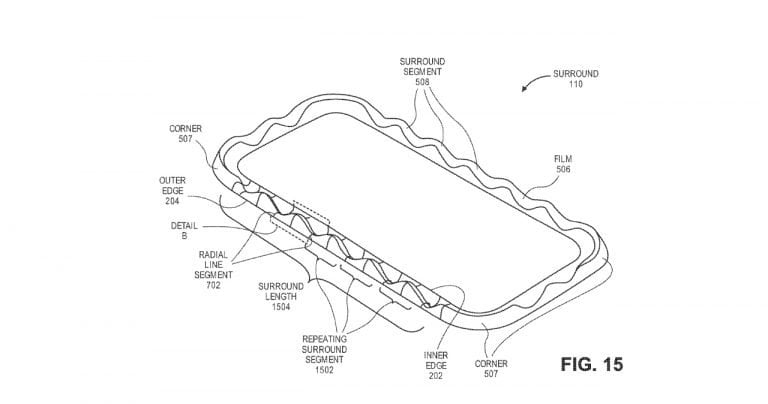 Although foldable phones are all the rage at the moment thanks to Samsung and Huawei, there's another new display technology currently in the works. The LG G8 ThinQ is the first consumer-ready phone to feature anything close to a sound-emitting display, but it probably won't be the last. Apple has now applied for a patent for speaker technology which could eventually be used in a sound-emitting display for the iPhone.
New Apple patent: sound-emitting display
The patents entitled "Audio speaker surround geometry for improved pistonic motion," describes improved speaker technology. As Digital Trends explains, pistonic movement is a reference to how the diaphragm on a speaker moves as it receives impulses before emitting sounds. Distortion is caused by non-pistonic motion in a speaker's diaphragm, which is any movement which isn't precisely up and down. Apple's patent describes a way to improve pistonic motion, which doesn't sound all that sexy to the average consumer, but what makes it even more interesting is one of the diagrams showing a potential application for the technology.
The diagram shows what looks to be a smartphone and references a "hermetically sealed barrier" around the edges of the speaker. Such barriers are used to make smartphones and other devices water resistant. The idea is that this patented technology could eventually enable Apple to make an iPhone with a sound-emitting display, although that's probably quite far off. What this patent is describing seems like more of a stepping stone in that direction.
Corsair highlights SPAC FG New America ahead of OppFi merger
Corsair Capital highlighted its investment in a special purpose acquisition company in its first-quarter letter to investors. The Corsair team highlighted FG New America Acquisition Corp, emphasizing that the SPAC presents an exciting opportunity after its agreement to merge with OppFi, a leading fintech platform powered by artificial intelligence. Q1 2021 hedge fund letters, conferences Read More
Other gadgets with sound-emitting displays
Probably the closest comparison we can make is the LG G8 ThinQ, but even this phone's display doesn't fully work as a speaker. It does feature LG's Crystal Sound OLED screen, which includes a proprietary vibrator underneath the screen to replace the earpiece. According to Digital Trends, this technology leans a bit toward bone-conduction tech in that pressing the phone to the ear helps the display emit sound.
The reason this phone isn't a pure play in the area of sound-emitting displays is because it still has a Boombox speaker on the bottom to emit stereo-level sounds. Other phone makers are working on sound-emitting display technology, however. Vivo demonstrated a concept phone with a sound-emitting display last year, although the phone is still just a concept.
For now, sound-emitting displays are essentially limited to TV sets as both LG and Sony offer OLED TVs which use the screens as a component for the speakers.