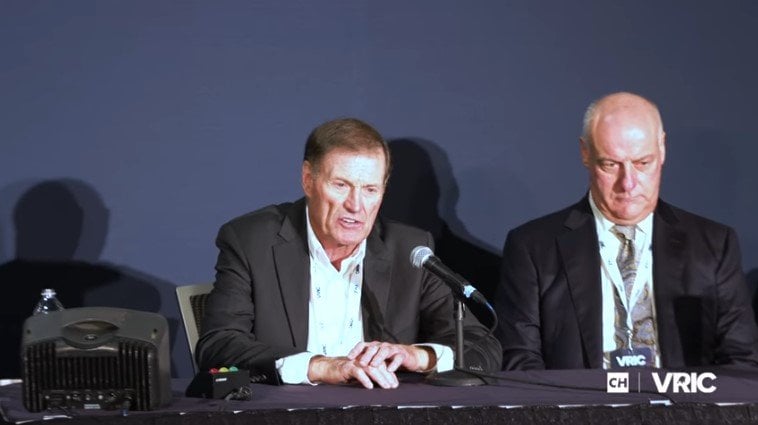 Vanadium Investment Panel with Mark Chalmers, CEO of Energy Fuels Inc., Paul Cowley, CEO of First Vanadium Corp., George Glasier, CEO of Western Uranium & Vanadium Corp., and Gerald Panneton, CEO of Prophecy Development Corp – moderated by Mickey Fulp of MercenaryGeologist.Com.

Vanadium Investment Panel with Mickey Fulp
Q4 hedge fund letters, conference, scoops etc
[Exclusive] ExodusPoint Is In The Green YTD Led By Rates And EM/ Macro Strategies
The ExodusPoint Partners International Fund returned 0.36% for May, bringing its year-to-date return to 3.31% in a year that's been particularly challenging for most hedge funds, pushing many into the red. Macroeconomic factors continued to weigh on the market, resulting in significant intra-month volatility for May, although risk assets generally ended the month flat. Macro Read More
Transcript
Western Uranium & Vanadium, we just changed the name this year last year to change to emphasize the Vanadium investment we've got prior producing mines that were developed back in the 70s and 80s by Union Carbide. Union Carbide was a major vanadium producer in those days as I think all of you at the table know because we all have projects that Union Carbide was involved in. We've got some of the mines that carbide actually produced Sunday mine complex is a permitted mine it's five mines in Western Colorado very high grade vanadium mines at about 2 percent. We actually took a sample and I've got that on my Web site that showed a 12 percent sample of vanadium in that mine.
The interesting thing about a Union Carbide with both the uranium and vanadium miner back in the 80s and at the vanadium grade was high but the uranium grade was low they just left it in the mine. And I think Mark's got the same kind of situations in his mines where he's looking at the valuable resource of vanadium that was left in the mine simply because Vanadium investment in those days was probably less than 50 cents a pound and uranium with forty dollars a pound. So the economics didn't lend itself to recovering that high grade vanadium. So that will be our emphasis to first go after that. And beyond that certainly our uranium resources.
Well that was quick I gave you two minutes used about 1 so. Okay.
Good morning everyone. Prophecy owns the Jubilee new deposit that's a Nevada EP operation we're currently in the updating of a feasibility study that was accompanied by American Vanadium for those who have been involved. Has been known for many many years. It's an oxide deposit it's actually not an open pit mine and open the hill that we're going to be mining our supreme was point two to one. Metallurgy all the work has been done to produce approximately 5000 tonne of vanadium tool 5 per year or 2500. And we're planning to continue our process of permitting this year of updating to study and drill program also to increase our resource and we'll deposit. Djibouti's fully drill's fully feasible. And we look forward to the market on the Vinny's Yumbe on this Vinny's in project over here. Thank you very much for coming today. All.
Ladies. Paul Kelly with the president CEO for first lady Amcor. And we're focused on the Carland Vanadium investment project that's in the Corlin gold trend. It's one of the largest highest grade primary Vanadium investment deposits in North America. Last year. Well a little snapshot of our of our corporate share structure. We've got a tight share structure of 39 million shares. We've got two million dollars in cash.
We've got warrants that are all in the money. That can bring another two point six million dollars into our treasury. 2018 was an exceptionally good performance year for us. We started off at about 20 cents not as high as 20 dollars rather and just a pullback in December to our levels around 80 cents. So good buying opportunity I think at this level you can see that we've already started to climb back out of the December dismal the markets that everyone has experienced. We had very good trading volumes 200 300000 shares a day. The location of the project. It's hard to beat the location of this project. We're in the Carlen vanadium story of the Carlen gold trend. So our neighbors are our Barrick and Newmont.
We're five miles six miles away by road to a major rail hub to Newmont mine to power and a great milkshake. Great jurisdiction to permit in. Simply put a black shale hosted the deposit. It's a thick deposit that's shallow dipping and near surface 35 metres thick 2 kilometers long. Three quarters of a kilometer wide. Fairly predictable there. It's got a historic resource of 28 million tons of Point 5 2 percent v2 05 which we will be in next month updating because we've done two two drilling campaigns in 2018. There's now 200 and 16 holes into it at about 40 meter centers very detailed drilling. We're anticipating a good resource number next. Next month some of the intercepts break from surface up to 73 meters of point 6 percent 48 meters.
Updated on