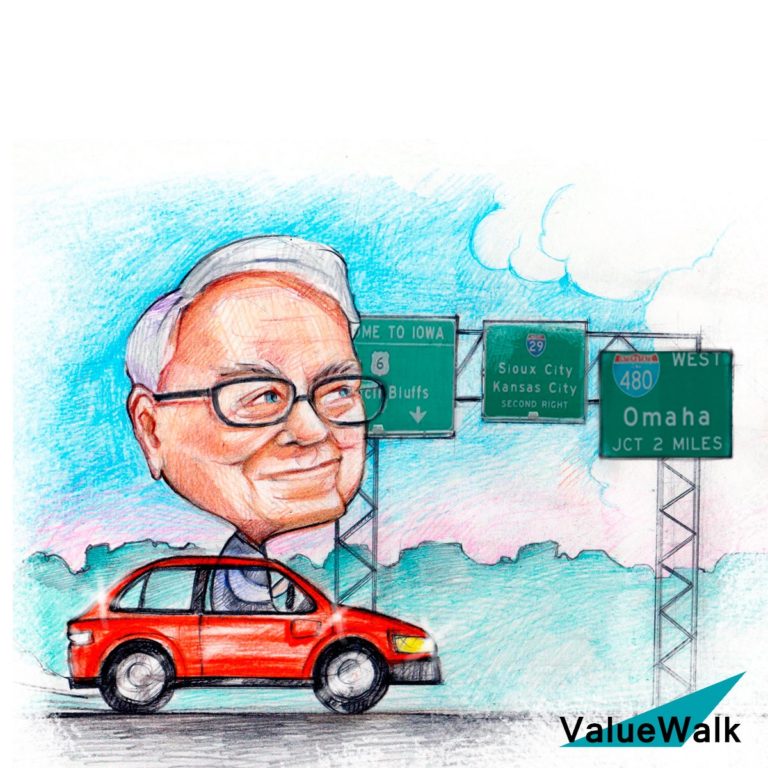 Whitney Tilson's email to investors discussing Berkshire's intrinsic value update; Elon Musk debate; Brexit; KHC debacle; Robert Kraft.

1) In Saturday's email, Glenn and I analyzed Berkshire's annual report and updated our estimate of intrinsic value.
[Exclusive] ExodusPoint Is In The Green YTD Led By Rates And EM/ Macro Strategies
The ExodusPoint Partners International Fund returned 0.36% for May, bringing its year-to-date return to 3.31% in a year that's been particularly challenging for most hedge funds, pushing many into the red. Macroeconomic factors continued to weigh on the market, resulting in significant intra-month volatility for May, although risk assets generally ended the month flat. Macro Read More
Q4 hedge fund letters, conference, scoops etc
A number of readers thought that we're being too conservative in our valuation methodology, in which "we take cash and investments per share and add an estimate for the value of the operating businesses, which we calculate as 11 times adjusted pre-tax earnings (excluding investment income and all but $1 billion of annual profit from the insurance businesses, which is about half of the average for the last decade)."
One wrote:
Using 11 times adjusted pre-tax earnings seems to me too conservative. With a 21% tax rate, this translates to less than 14 times after-tax earnings, which is less than the multiple that the market currently assigns to the companies of the S&P 500. I believe that Berkshire's operating businesses are, on average, much better than the S&P 500 companies and therefore they should deserve a higher multiple. Furthermore, with interest rates so low, 9% pre-tax yield is quite high.
Another agreed, writing:
The 11x multiple which you use is from a time period of higher interest rates. Not that I'm one to push the boundaries of valuation, but I do think it would be sensible to raise this somewhat? I assume it's part of the rationale Buffett feels comfortable buying at 1.35x book value as opposed to the 1.2x book from history - i.e. the opportunity cost of repurchasing Berkshire shares is not as high as it once was. One could also argue, that that income stream of 11x has become more diversified and perhaps less volatile than in the past, so that would justify a different multiple than history.
These are valid points. Mathematically, the tax cut from 35% to 21% means that quite a bit more of Berkshire's pre-tax income now goes to shareholders. Buffett wrote in his annual letter that this "materially increased the intrinsic value of the Berkshire shares you and I own. The same dynamic, moreover, enhanced the intrinsic value of almost all of the stocks Berkshire holds. …Overall, however, the new law made our businesses and the stocks we own considerably more valuable." Consequently, Buffett has clearly increased his estimate of Berkshire's intrinsic value, given his willingness to buy back stock around 1.4x book value.
That said, it's important to keep in mind that every year, Berkshire gets bigger (which makes growth harder), and we get closer to the end of Buffett's remarkable run as CEO (though I think he's got at least another five years). Both of these factors argue against a higher multiple.
Net net, for 2018 (the year the new, lower tax rate took effect), we're increasing the multiple to 12x.
In addition, a smaller tweak: I think we've been too conservative in only adding $1 billion annually to Berkshire's pre-tax operating earnings to reflect the normalized profits of its vast insurance operations, which have had only one unprofitable year in the last 16 (a $3.2 billion loss in 2017). The average profit over the last 10 years is $1.4 billion and the 15-year average is $1.7 billion, so we're increasing our estimate of normalized insurance profits to $1.4 billion annually.
As a result of these two changes, we're increased our current estimate of Berkshire's intrinsic value to $364,000, a 19% premium to today's price of $305,000. This table shows the steady increase in intrinsic value over the last 18 years: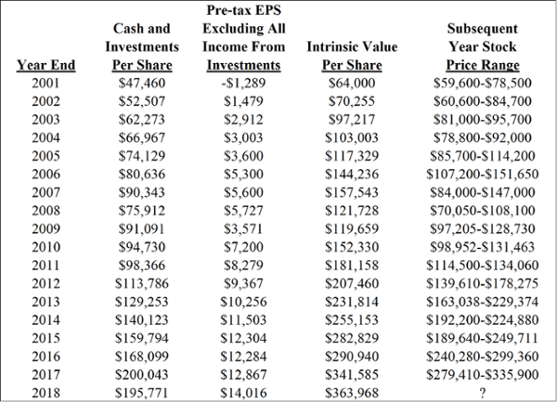 2) In last Wednesday's email, I wrote about Tesla CEO Elon Musk's reckless behavior:
Another possible explanation for the general counsel's departure is frustration with Musk, who rivals you-know-who in being a pathological liar and using Twitter in reckless ways – the most infamous example being his "funding secured" tweet, which got him in trouble with the SEC (though he only received a slap on the wrist).
He apparently hasn't learned anything, as just last night, he tweeted "Tesla made 0 cars in 2011, but will make around 500k in 2019." This caused the stock to spike in after-hours trading, since the company's current guidance is to only produce 400,000 cars this year.
It took Musk four hours to tweet a correction around midnight: "Meant to say annualized production rate at end of 2019 probably around 500k, ie 10k cars/week. Deliveries for year still estimated to be about 400k."
A minor issue some would no doubt argue, but it shows that no adults are monitoring him, notwithstanding the promises to the SEC. If I were his lawyer, I would quit, too…
It's good to see that the SEC is taking seriously Musk's clear violation of their agreement: S.E.C. Wants Elon Musk Held in Contempt of Court for Tesla Post on Twitter. He is a brilliant entrepreneur who's made the world a better place, but is also a narcissistic brat whose inability to control himself could destroy all that he's built.
He is Exhibit B (you know who Exhibit A is) of a person of high stature who so regularly engages in behavior that was once considered unthinkable that his apologists come to see it as acceptable. Not me!
I hope a judge slaps him hard (though I don't think he should be forced out of Tesla… yet). Maybe it'll knock some sense into him.
3) Speaking of Tesla, in response to an earlier email in which I wrote "Tesla is an amazing company and founder Elon Musk is an extraordinary entrepreneur," I engaged in an email exchange with my friend and well-known Tesla bear Mark Spiegel of Stanphyl Capital, which I'm sharing with his permission:
Mark: Funny, I looked up "entrepreneur" in every on-line dictionary and nowhere was it defined as "cash-burning con artist." I'd love to see where the operator of multiple money-losing fraudulent companies is defined as "extraordinary" (in a GOOD sense of the word)! Was the Swedish Match guy an "extraordinary entrepreneur"?
Me: I think you're taking an extreme position that overstates the case, which leads people to view you as a zealot primarily talking your book. You would be a much more effective critic if you acknowledged that Tesla and SpaceX, under Musk's leadership, by developing some AMAZING products that customers LOVE, have shaken to the core two of the largest, most hidebound global industries. Questioning whether he is an entrepreneur and comparing him to the Swedish Match guy is batshit crazy.
Mark: What difference does it make if they're structurally unprofitable businesses? Lockheed Martin developed a reusable rocket in the 1970s and realized the economics didn't work. You realize that SpaceX is probably on the financial balls of its ass right now, right? (And yet for years lied about being profitable.)
Me: If TSLA and SpaceX had never existed, the world would be a worse place. Maybe neither company will every reach profitability. But by creating very real technologies and products, they've shaken up, in the best way, two huge industries. I have a hard time thinking of many things more important for the future of humanity than shifting away from fossil fuels – and Musk, pretty much singlehandedly, accelerated this by a decade I'd guess. Yes, he overpromises and may have cut some corners, but these risks are well known so it's hard for me to believe that TSLA shareholders have been deceived. They believe in the man and the dream he's selling – even knowing the risks. You and I think he's never going to reach profitability and that shareholders will eventually take a beating. But I think history will judge him kindly – more Steve Jobs than the Match guy, Bernie Ebbers, Ken Lay, Elizabeth Holmes, etc.
Mark: We're talking about (a) evaluating BUSINESSES that are (b) run by a cash-burning pathological liar. You could say Hitler built the Autobahns and Mussolini made the trains run on time. So what? I don't even agree with your premise re Tesla making the world "a better place"-- his fraudulent Autopilot has killed a number of innocent people who believed in his lies and Li-ion batteries to power cars (as opposed to hybrids or even hydrogen) is a massive, multi-trillion-dollar kluge/capital sink. Few people buy them without massive subsidies, and try getting somewhere with one in the winter. This would actually make for a good debate if you're willing to publicly defend that guy, lol.
4) Before a Brexit revote can happen, there must obviously first not be a disorderly withdrawal on March 29, so this is an important step: Theresa May Promises U.K. Parliament a Vote to Delay Brexit. Excerpt:
Prime Minister Theresa May of Britain bowed on Tuesday to overwhelming pressure to reduce the risk of a disorderly departure from the European Union, accepting that Parliament should have the chance to delay Britain's exit if it rejects her withdrawal plans next month.
Mrs. May's concession, in the face of an internal rebellion, was the latest in a long line of retreats as she has struggled to cajole her fractious party into supporting a revised version of the deal on withdrawal, or Brexit, that lawmakers threw out by a massive margin last month.
PS—I called Brexit a "stupid idea" in yesterday's email, which prompted one of my readers to write: "By all means pass your judgement on what you believe to be the merits of the arguments but I don't think that it enhances your good reputation by labelling the views of others as 'stupid'."
I replied: "I appreciate the feedback. I think Brexit is a really dumb idea – so that's exactly what I tell my readers. That's why a lot of people read my emails – because I have opinions and am not afraid to express them strongly. I'm deliberately provocative at times because the only thing worse than offending people is boring them!"
5) A few quick follow-ups on Kraft Heinz (KHC):
The WSJ has a story today on how the company may have hurt itself by being too focused on short-term profits, thereby alienating retailers: Supermarkets Soured on Kraft Heinz and Its Pricing Tactics. Excerpt:
Kraft Heinz Co.'s yearslong quest for cost-cutting and profit hurt a key element for success in the packaged-food business: good relationships with supermarkets.
When the food giant made the surprise announcement last week that it was slashing the value of its Kraft and Oscar Mayer brands by $15.4 billion, it became clear its strategy failed to address the broader consumer shift away from processed meats and other packaged items toward healthier, more natural options.
Another problem for Kraft Heinz was its decision to scale back in-store promotions and discounts that could have helped boost sales of Kraft cheese slices, Capri Sun drinks and other signature products, according to people familiar with the industry and food sector analysts.
"We may have made a mistake in terms of trying to push hard against certain...retailers and finding out that we weren't as strong as we thought," said Warren Buffett, whose Berkshire Hathaway Inc. owns more than a quarter of Kraft Heinz, in discussing the company's troubles on CNBC on Monday. "You've got the weaker bargaining hand than you had ten years ago," Mr. Buffett said.
After Kraft and Heinz's 2015 merger, and as retailers increasingly felt competition from deep-discount chains and online sales, Kraft Heinz moved to raise prices on some items, including a 25% hike on Capri Sun drinks. Kroger executives balked at the move, arguing that price-sensitive shoppers drawn to the low-cost fruit drink would stop buying it, people briefed on the discussions said.
"We lost a lot of business for eight months," said one of the people about the increases. "It didn't achieve the sales that Kroger wanted. It achieved the profit Kraft wanted."
..."The maniacal focus on cost cutting will not ultimately serve the interest of company stakeholders," said Bob Goldin, co-founder of the Pentallect Inc. consulting firm, in a recent note to clients. "We urge all companies to recommit themselves to growing the old fashioned way."
And a hat tip to two more folks who deserve credit for nailing what would happen to this stock and sector:
- Montaka Global Investments published a seven-page piece in July 2018 titled "How to Profit From Global Myths." Click here to read it (shared with permission). Excerpt:
We question the conventional wisdom of the safety of the major CPG businesses. By dispelling five big myths about the space, we believe we have uncovered a wonderful investment opportunity for our global equity long-short strategy.
- Grant's Interest Rate Observer expressed skepticism in three issues:
Sell Big Food, August 24, 2016
Price war for Warren Buffett, March 24, 2017
Fountain of youth, June 15, 2018
6) Speaking of Kraft, which one had a worse day last Friday: KHC, down 27.5%, or New England Patriots owner Robert, who was charged with two counts of soliciting prostitution for receiving happy endings at a massage parlor???
It's so tawdry as to be comical – this cracked me up:
But it's serious for two reasons:
a) It underscores what Buffett and Munger are always saying: "It takes a lifetime to build a reputation and five minutes to destroy it." So act accordingly!
b) While it's hard to get too worked up over an old, widowed man getting a few rub n' tugs, Kraft and the others like him (including John Havens, former president and chief operating officer of Citigroup, and John Childs, founder of the private equity firm J.W. Childs Associates) were providing the demand for a "multimillion-dollar human-trafficking and prostitution operation." As State Attorney Dave Aronberg noted:
"Human trafficking is evil in our midst. It is fueled on the demand side…This is not about lonely old men or victimless crime. This is about enabling a network of criminals to traffic women into our country for forced labor and sex."
For more on this, here's a NYT article: 'The Monsters Are the Men': Inside a Thriving Sex Trafficking Trade in Florida. Excerpt:
Beyond the lurid celebrity connection, however, lies the wretched story of women who the police believe were brought from China under false promises of new lives and legitimate spa jobs. Instead, they found themselves trapped in the austere back rooms of strip-mall brothels — trafficking victims trapped among South Florida's rich and famous.
"I don't believe they were told they were going to work in massage parlors seven days a week, having unprotected sex with up to 1,000 men a year," said Sheriff William D. Snyder of Martin County, whose office opened the investigation. "We saw them eating on hot plates in the back. There were no washing machines. They were sleeping on the massage tables."
PPS—Speaking of dirty old men behaving badly with massage therapists, this is one of the many things that got Les Mooves fired from CBS. Here's what Ronan Farrow reported in The New Yorker, As Leslie Moonves Negotiates His Exit from CBS, Six Women Raise New Assault and Harassment Claims:
Other new allegations against Moonves relate to women who worked with him as massage therapists. Two former senior members of the staff at the Four Seasons Hotel in Washington, D.C., told me that, in the late nineties and early aughts, massage therapists at its spa repeatedly complained of sexual misconduct by Moonves. "I just remember he always had to have a female; it always had to be in his suite," Debra Williams, the spa director at the time, told me. "And it was quite a few times that those women would come back and say, 'I'm never going up there again.' " The massage therapists, who worked as contractors, told Williams that Moonves would remove his towel, expose himself, and proposition them. "They would come to me in my office just kind of shaken," she recalled. She said that she struggled with what to do, given Moonves's position and prominence in the entertainment industry. "I was, like, 'Damn, this guy runs CBS. This is a big deal,' " she told me. Eventually, Williams said, she reported Moonves to the hotel's rooms director at the time, who asked to remain anonymous but confirmed that Moonves had been the subject of the complaints. (His wife also recalled him mentioning the matter at the time.) The rooms director said that he contacted Moonves and warned him that, if the behavior didn't stop, "We're not gonna be able to offer you services anymore."
Deborah Kitay, who formerly worked as a massage therapist in Los Angeles, told me that Moonves harassed her when she gave him massages at his office and home in the late nineties. "Bottom line is, every time I went in there for about a year and a half to two years, he would ask me to work higher up his leg in a way that was clearly sexual," she told me. On one occasion, she said, as she drew closer to his penis, he asked her to "touch it." On another, Moonves threw off the sheet covering him and exposed himself to her. She said she repeatedly told Moonves that she didn't "do that kind of work," and brought up his wife in the hope that it would discourage him. She said that Moonves continued to proposition her, until she told him that she was attracted to women. "I'm actually bisexual," she said, "but I thought if I told him that, he'd leave me alone. And it worked." She called the experience "very stressful," but said that she always stopped short of terminating their sessions, fearing that the fallout from embarrassing Moonves might harm her career.
PPPS—What is it about old guys behaving badly? I just finished listening to a podcast, The Dropout, about Theranos, in which George Shultz was so blind to the massive fraud going on right under his nose that he attacked his own grandson (a hero in this sorry saga) after he tried to warn him.
Updated on