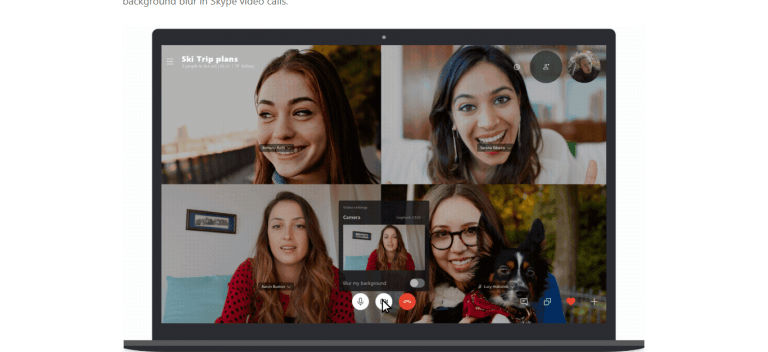 How many times have you gotten a video call but refused to answer just because you didn't want the caller to see how untidy your room is? To ensure this doesn't happen to you again, Microsoft has added a new Skype feature called background blur.
Here's what the new Skype feature does
As the name suggests, the new Skype feature blurs the background, easily hiding hide any mess behind you in the video.
"[Background blur] takes the stress out of turning on your video and puts the focus where it belongs—on you," Skype said in the post announcing the new feature.
Consistency is what makes the top 50 best-performing hedge funds so strong
Every month and quarter, multiple reports on average hedge fund returns are released from several sources. However, it can be difficult to sift through the many returns to uncover the most consistent hedge funds. The good news is that Eric Uhlfelder recently released his "2022 Survey of the Top 50 Hedge Funds," which ranks the Read More
According to Skype, the feature is similar to the background blur functionality added to Microsoft Teams in September. The company said the feature uses artificial intelligence to detect users' hair, hands and arms to locate them in a video and then blurs everything else in the shot. This new feature sounds similar to the portrait or "bokeh" mode present in most high-end smartphones.
To use the feature, go the Skype video button and click "Blur my background." Skype will then subtly hide the background in your shot while keeping you in focus. The feature can also be enabled via Skype settings or with a right-click.
Skype's background blur feature is available only on desktop PCs and laptops. There is no word on if or when this background blur feature will be available on Skype's smartphone app. However, although the new Skype feature is useful, it does come with this warning: don't rely on it too heavily.
"We do our best to make sure that your background is always blurred, but we cannot guarantee that your background will always be blurred," the company said.
Nevertheless, this new Skype feature could come in handy to save you from potential embarrassments on video calls.
Could background blur have prevented this?
Perhaps the biggest video call embarrassment happened to a professor whose live BBC interview was interrupted by his children. After the  incident went viral, Robert Kelly, an associate professor of political science at Pusan National University in South Korea, told The Wall Street Journal that the interview was a "comedy of errors."
Kelly said his 4-year-old daughter, the first to interrupt the call, entered the unlocked room after seeing his face on a TV in another room. He appeared for several interviews via Skype from his Busan apartment, and he did the interviews in a jacket and tie with jeans. At the time, Kelly thought it was the "end of my career as a talking head," and he was surprised later to see the clip go viral. Kelly described the incident as "terribly cute," adding that he saw everything "on my screen and so immediately saw that Marion had come in behind me."
Kelly's hardship just didn't end that day; the following days were not uneventful. He started receiving a lot of calls and emails from newsrooms and TV studios. Some reporters even contacted his parents in Cleveland, Ohio and his current and former students. His family also received an invitation from The Ellen Show.
His daughter also stole some of the limelight. Her kindergarten called in a security guard because the administrators "were worried some weirdos would show up," Kelly said.
There was some backlash as well, including a racial controversy after many assumed the Korean woman who pulled the children out was a nanny, when in fact she was Kelly's wife. He also faced criticism for the way he tried to push his daughter away.
"People were reading stuff into our relationship and, oh my God, I didn't want to get near any of that crap so we didn't say anything," he said.
Kelly may never have faced any of this if Skype had released its background blur feature earlier. Although it is unclear whether the feature would have saved him the embarrassment, it could have been the best real-life test of this new Skype feature.
Updated on