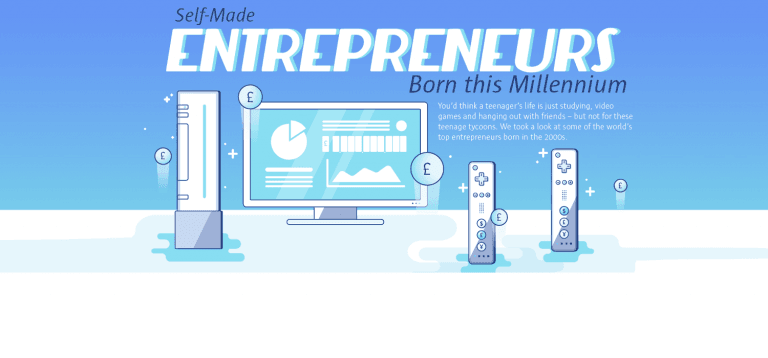 Thinking of starting a business? Feel like you need more experience? Meet 15 children who will leave you inspired with their business stories.
Across Britain, America, and Australia, young CEOs are signing deals for their products worth up to $11 MILLION.
Their innovative companies include a trainer reselling website, a braille printer for the visually impaired and a childcare agency.
February 2019: Children are naturally creative, but these entrepreneurs capitalised on their ideas by creating huge businesses from scratch. Comparethemarket.com has compiled profiles for 15 of the most successful entrepreneurs born in the 2000s. Their companies often started while they were still living with their parents and in full-time education. This study reveals their successes.
[REITs]
Option Trading and the Future of Option Alpha with Option Alpha's Kirk Du Plessis
ValueWalk's Raul Panganiban interviews Kirk Du Plessis, Founder and CEO of Option Alpha, and discuss Option Alpha and his general approach to investing. Q1 2021 hedge fund letters, conferences and more The following is a computer generated transcript and may contain some errors. Interview with Option Alpha's Kirk Du Plessis
Q4 hedge fund letters, conference, scoops etc
5 Innovative Start-Ups:
Braigo – Created by Shubham Banerjee when he was just 12 years old, this company creates Braille printers to help the visually impaired access expensive technology. His invention uses LEGO and robotics to design a product and sell it at less than half the price of others on the market. Banerjee is the youngest entrepreneur to receive Venture Capital funding.
Sneaker Don – At only 16 years old, American Benjamin "Kickz" Kapelushnik created a rare trainer reselling website as a hobby. As his business grew, he began to gain celebrity clients including DJ Khaled and Odell Beckham alongside an ever-growing customer list. As he made more contacts, he was able to bulk buy sought-after items. His sales are now worth over $1 million.
Nannies by Noa –  While growing up in New York, Noa Mintz discovered a gap in the market for an easy way to locate the best nannies available in the area. She used her first-hand experience of being a child in the city and founded Nannies by Noa when she was just 12 years old. This agency provides services including thorough background screening, workshops for their nannies and ongoing support for their users. Noa now has a net worth of $375,000.
Mr. Cory's Cookies – Founded by six-year-old Cory after he sold hot chocolate on the streets of New Jersey to help his mother buy a new car. Now aged 14, Cory is the CEO of Mr. Cory's Cookies. His delicious all-natural cookies have landed him collaborations with huge department stores including Bloomingdales, Macy's, Viacom and Whole Foods. Marcus Lemonis invested $100,000 into the company when Cory featured on The Profit in 2017.
Me & The Bees Lemonade – When Mikaila Ulmer was four years old, she entered a children's business competition. Fascinated by bees, she decided to sweeten her Great Granny's flaxseed lemonade recipe with honey. She began to sell her Me & The Bees Lemonade at youth entrepreneurial events and it was an instant success. At the age of 11, she went on to make an $11 million deal with Whole Foods. She donates a percentage of her profits to Texas Beekeepers Associations, hence her slogan 'Buy a Bottle… Save a Bee'.
To find out about 11 more of the world's youngest business creators, please visit the Self-Made Entrepreneurs Born This Millennium graphic here.