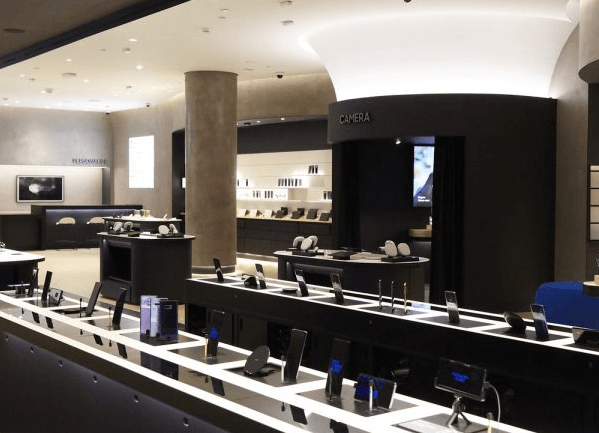 Samsung in a bid to further expand its presence in the US and also to take on arch-rival Apple on its home turf, plans to open its first retail stores in the US. Last week, the South Korean firm announced that it would inaugurate three retail stores on Feb 20. The new Samsung retail stores, called Samsung Experience Stores, will also mark ten years of the Galaxy phone.
Samsung Experience Stores – what to expect?
Samsung's plan to open retail stores will also help the company to aggressively promote its upcoming flagship, which is expected to debut on Feb 20. All three Samsung retail stores will be located in major metropolitan areas – Los Angeles (at the Americana at Brand), Long Island (at Roosevelt Field) in New York and Houston (at the Galleria).
"They told us that they love having the ability to walk into a store and experience how the latest technology from Samsung works together to create a unique, immersive experience," the Korean firm said in a statement. "Galaxy fans, in particular, mentioned that they were looking for a space to call their own, a place where they can get a feel for Samsung products first-hand."
This mining and metals fund is having a strong year so far
The Delbrook Resources Opportunities Master Fund was up 9.2% for May, bringing its year-to-date return to 33%. Q1 2021 hedge fund letters, conferences and more Dellbrook is an equity long/ short fund that focuses exclusively on the metals and mining sector. It invests mainly in public companies focused on precious, base, energy and industrial metals Read More
Visitors will be allowed to try devices like smartphones, TVs and VR glasses at Samsung retail stores. Similar to Apple's strategy, Samsung retail stores will also include walk-in repairs and in-person customer support. Not to mention, users will also be able to buy the products.
"We want to build a 'playground' for Samsung fans – a place to learn about and try out all of the amazing new products we have to offer," Samsung said.
First major push in retail
Even though Samsung is the world's biggest manufacturer of phone and TVs, it doesn't operate its stores to sell the gadgets it makes. Instead, the Korean firm relies on partners, including carriers and retailers to sell its gadgets. So far, Samsung's brick-and-mortar stores have only been pop-up shops and Experience storefronts located within Best Buy.
Since 2013, Samsung has been partnering Best Buy to set up pop-up shops to showcase Samsung's products. Though the company opened a Samsung 837 showroom at 837 Washington in New York's Meatpacking District to display its products, it doesn't sell devices at this store.
Thus, the new Samsung retail stores are the first major push from the Korean firm to expand its presence in the US. Samsung has opened dedicated stores in the UK, but many of the stores are witnessing low traffic.
Apple's brick-and-mortar shops, on the other hand, are an important part of Apple's retail strategy. Apple Stores allow users to try the devices and also get in-person troubleshooting help. As of now, the iPhone maker has about 506 stores across 24 countries.
Samsung retail stores – how it could help?
It remains to be seen if Samsung retail stores in the US will also see traffic issues like in the UK, or give a tough fight to the already established retail fronts like Apple and Microsoft. One thing is for sure that Samsung Experience Stores will help the company to have a direct link with the customers, provide better tech support and customer service.
And, if the first there stores prove a success, then we would more Samsung Experience Stores in the US and other parts of the world. Samsung, in its announcement, already noted that the first three locations are "just the beginning."
Along with the retail stores, Samsung also has plans to open pop-up stores throughout the US next month. On February 20, Samsung will host an "Unpacked" event in San Francisco, where the company is expected to showcase Galaxy S10 and its first foldable smartphone.
Hopefully, the Samsung Experience Stores will also help the company overcome slowdown in the smartphone sales. In January, Samsung reported a noticeable drop in revenue and profits. Most of Samsung's business units, including chips and displays, are feeling the effect of stiff competition and weaker demand in the smartphone market.
Meanwhile, Apple is also expected to better its retail presence. Apple's current head of retail, Angela Ahrendts could leave Apple in April. Ahrendts is credited with revolutionizing the concept of retail by turning Apple Stores into gathering places with the state-of-art design. Apple's HR chief – Deirdre O'Brien, is expected to take over Ahrendts' responsibilities.