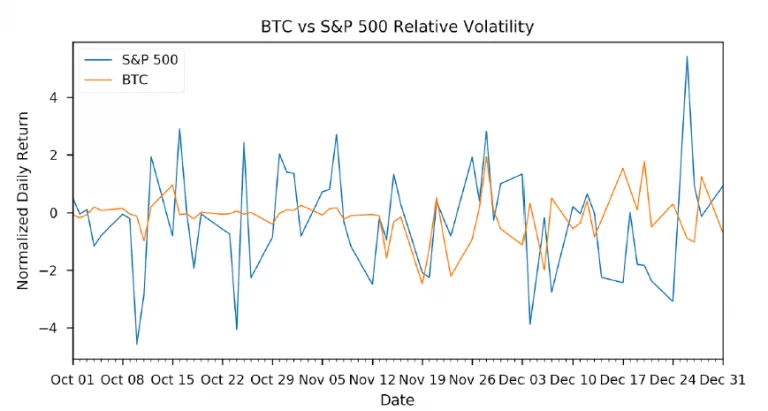 Here's something we weren't expecting. The big story about cryptocurrencies for about the last year has been their tumbling prices, but then December hit, bringing a bear market down hard on the stock market. Today the bitcoin price continues to struggle, falling to its lowest level in six weeks. It was exceptionally difficult for equity-focused funds to post gains for the month of December, but a select few did manage to do it. Interestingly, one fund which posted a very respectable gain last month did so because of its crypto holdings. ProChain Capital was up 2.4% for December, according to the fund's January letter to investors, which was obtained by ValueWalk.
We also obtained the fund's December letter. The fund outperformed its benchmark Bloomberg Galaxy Crypto Index for the month, which declined 1.7%. ProChain said its equity portfolio recorded "modest losses" in December, while its crypto holdings and machine-learning trading recorded gains.
[REITs]
This Value Fund Is Well-Positioned For The COVID Recovery
DG Value Partners II, LP Class A was up 1.36% net for May, while Class C returned 2.56%. Class A has returned 18% net so far for 2021, while Class C is up 34.5% net for the first five months of the year. DG Capital touts itself as "experts in middle market event-driven investing." The Read More
Q4 hedge fund letters, conference, scoops etc
ProChain Capital wins thanks to cryptoassets
Since ProChain Capital's inception in August, it is down 12.2%. Fund management said they are "comfortable" with this level of loss for now because they launched in a cryptoasset bear market. They also pointed out that the Bloomberg crypto index was down 56.6% from August through the end of December. Bitcoin was down 50.9%, while ether lost 68.1%.
ProChain Capital did not say which equities it holds stakes in or say how much of its portfolio is in which cryptocurrencies, but the fund had some very interesting commentary on the crypto market.
Building value in the "cryptoasset ecosystem"
ProChain Capital management highlighted some important news on cryptocurrencies in their December letter. Fidelity Goldman Sachs and Bakkt, which is backed by ICE, all announced crypto solutions in 2018. Although these projects have been delayed for various reasons, ProChain expects their launches to "trick out" through this year. The fund's management also expects them to "bring a lot of value to the cryptoasset ecosystem."
They also noted that Malta has officially approved regulation for cryptoassets and "Virtual Financial" assets last year, and the nation is now building out the necessary infrastructure to issue licenses and provide oversight. They added that even though the U.S. is "a much more tricky jurisdiction" for crypto companies, they see "almost exclusively positive" developments underway.
"Cryptoassets become securities"
ProChain Capital management also said it's been "fascinating to watch" the story unfolding as cryptoassets gradually become securities. They pointed out that tens of companies—if not 100—are "stampeding" to secure broker/ dealer or alternative trading system licenses to start operating trading portfolios for blockchain-based securities.
The Bakkt derivatives exchange is expected to launch at some point this year, and the fund's management highlighted "progress" on efforts launch bitcoin ETFs. They describe exchange-traded funds as a "stretch goal" for cryptoassets, but they think it's important that these proposals are receiving "serious consideration by the whole commission, rather than being rejected by staff."
Decorrelation of cryptoassets highlighted
One of the key benefits crypto enthusiasts have focused on for quite some time is the lack of correlation between cryptoassets and other assets. ProChain Capital management highlighted an interesting trend in correlation within the crypto space in their December letter.
"We also saw what seemed to be increasing correlation in the 'altcoin' space, with bitcoin becoming somewhat of a 'flight to quality,'" they said. "For most of the year, the performance of cryptoassets was only distantly correlated with traditional financial markets, though the Q4 strong 'risk off' and high volatility seemed to impact the cryptoasset markets and the broader financial markets uniformly."
They emphasized that even though cryptoassets were affected by the Q4 bear market, the lack of correlation with other assets was important. They also included this graph to show the relative volatility and lack of correlation between the bitcoin price and the S&P 500.
ProChain Capital has two targets for investment in 2019
"We see tremendous growth potential in the cryptoasset space, and are well-positioned to take advantage of that growth," they wrote. "It is hard to time the impact of technological revolutions, though in the cryptoasset space we do have a very precise 'ticker' on the underlying technology."
For this year, ProChain Capital plans to target two main areas of the crypto market for its investments. The first is companies offering services "in a much more efficient way using blockchain technologies or principles." The second is Layer-2 or Lightning institutions which will start laying down the infrastructure needed for the adoption of the technology.
ProChain Capital management expects this year to be a year of rebuilding and stabilization for the bitcoin price and other cryptoassets. They predict "modest (by crypto standards) growth" in prices this year.
This article first appeared on ValueWalk Premium