Analysing over 1,483 films from 1902, research from Music Magpie reveals the movie that's been remade the most – and the truth behind Hollywood's long-standing relationship with remakes.

Music Magpie researched the world's most remade movies, along with the average time between an original and a remake.
Maverick Capital Slides 22.9% In Q1, Short Bets Yield Positive Returns [Exclusive]
Maverick Capital's flagship hedge fund lost -22.9% in the first quarter of 2022 according to a copy of the firm's quarterly update, which ValueWalk has been able to review. The firm's flagship fund, Maverick Fundamental Hedge, accounts for $3.7 billion of the group's $8.1 billion of assets under management. Even after losses in the first Read More
[REITs]
Q4 hedge fund letters, conference, scoops etc
Over 100 years of IMDb ratings were also analysed, revealing whether remakes are really better than the classics.

The most remade movies
Taking the top spot as the most remade movie of the last century is Scrooge, the festive favourite based on Charles Dickens' novella, A Christmas Carol.
Since the 1935 original, which starred Seymour Hicks as Ebenezer Scrooge, there have been 7 remakes, with the most recent being released in 2009 starring Jim Carrey.
But it's not just Scrooge that inspired a large number of remakes. There were 13 films in our list which have been remade 5 times, including Brewster's Millions, Jungle Book and Robin Hood.
Classic literature Jane Eyre, Great Expectations, and Oliver Twist have all seen success on the big screen, but directors seem to think they can make the movies better – and have remade them five times since the originals were released.
How long are we waiting before remaking movies?
According to our analysis, the average time between an original film and its first remake is 23 years, with this gap becoming shorter with each subsequent remake.
The movie with the longest time between remakes was The Cabinet of Dr. Caligari, with the original coming out in 1920 and the remake coming out in 2005, 85 years later.
Following closely behind is Dumbo, with 78 years between the 1941 original and 2019 remake due out later this year. But it's not all long waits.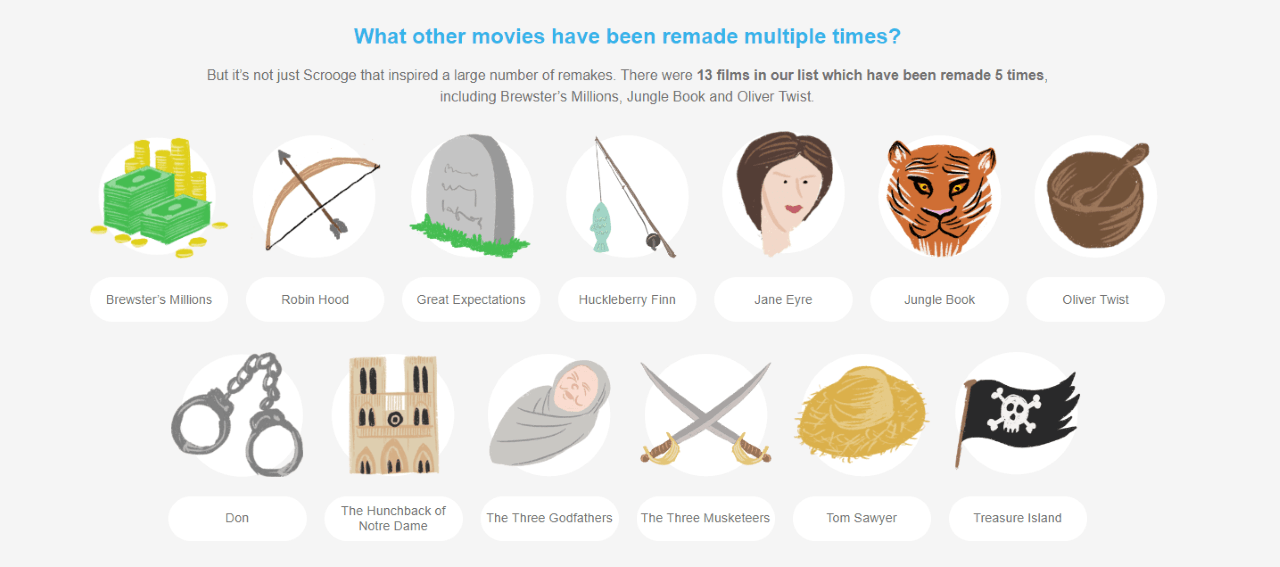 The decade of remakes
Despite what some people may believe, Hollywood is not currently at its peak when it comes to remakes.
The noughties was the decade which saw the most remakes, with a total of 189 – that's an average of 19 per year.
Digging even deeper, 2005 came out on top overall, with an incredible 33 remakes being released that year, closely followed by 2004 with 30.
Looking at genres, dramas proved to be the most popular when it comes to remakes, followed by comedy, romance and horror.
Are remakes really better than originals?
Looking at IMDb ratings, the remakes in our analysis received a score of 1.85 lower on average than their predecessor. However, this isn't always the case.
Reefer Madness saw the biggest rating increase, with the 2005 musical-comedy remake earning an IMDb score of 7.1, while the 1936 original only managed a score of 3.7.
At the other end of the scale, 2019's The Upside, which stars Bryan Cranston, Kevin Hart and Nicole Kidman, takes the crown as the worst remake of the last century.
The 2011 French original, The Intouchables, earned an impressive score of 8.5, being nominated for a BAFTA, a Golden Globe and a number of other international awards.
The American remake didn't have quite the same success, being panned by critics, receiving a score of just 3.6 on IMDb.
With the new anticipated Disney, live action releases, movie directors have some big boots to fill.
For this research, we only focussed on movie remakes, not reboots. While at first these two terms may sound interchangeable, there's a key difference. A remake is when the basic story remains the same, just with a new cast, crew and other minor changes. For example, while each re-telling of Scrooge has featured different actors, the basic story has not changed.
Reboots, however, can be a totally different story, a complete reimagining of the original source material. Comic book adaptations, like Spiderman, would fall under this definition. While each new release is based on the same comic book character, the stories are noticeably different.
Updated on