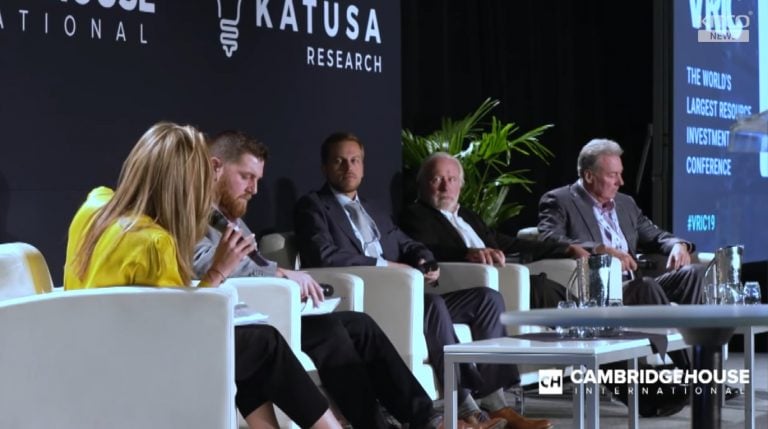 What do the mega mergers tell us about the mining sector's future? What is the outlook on gold prices from the most seasoned mining analysts and geologists in the space? This panel discussion at the Vancouver Resource Investment Conference answers these, and more.
The Mining Sector's Future From The Experts That Know Best
Q4 hedge fund letters, conference, scoops etc
Dan Sundheim Founder Of D1 At Sohn 2021 On His Favorite Stock
At this year's Sohn Investment Conference, Dan Sundheim, the founder and CIO of D1 Capital Partners, spoke with John Collison, the co-founder of Stripe. Q1 2021 hedge fund letters, conferences and more D1 manages $20 billion. Of this, $10 billion is invested in fast-growing private businesses such as Stripe. Stripe is currently valued at around Read More
Transcript
Thank you to the VRIC for having a moderate. The final panel of this incredible conference. So we have Brand Cook on the panel, Editor of Exploration Insights, David Morgan editor of The Morgan Report, Nick Hodge of The Outsider Club and Peter Espina of Gold Goldsby thank you so much for joining us. So I always look forward to this conference because I really feel it sets a baseline for the year so before we dive into things here I think would be good to start and see where you guys are are what your sentiment is right now. India in the mining space might start us off.
Yeah it's not extremely positive. I'm carrying over my sentiments from late 2018 which was I've been calling an abysmal year some very high quality companies that I've owned and financed over the past couple of years that have good teams and good managements were thrown out with the bathwater during the end of the year with tax loss selling in November December. We haven't seen gold be able to punch through 3800 with any sort of strength. The spot price of uranium has seemingly been stuck at 2088 for weeks and weeks and weeks might be twenty nine dollars now but no I'm not seeing. The improved sentiment that we need to see to buoy these equities and and quite frankly that's okay because it gives us time to do our research and diligence and come to conferences like this and find the real quality teams and assets that are undervalued. And my last point would be that we're avoiding disappointment by not getting ourselves too excited.
Okay.
PETER Well it's nice to see the focus back on precious metals opposed to crypto. Last year was Jash focus on creating here I've been. It's been difficult for me to be a buyer of precious metal stocks last year but been the last several weeks I have been buying accumulating says is a good conference to meet with the various companies. So I'm in the same process like you said it's kind of the yearly reset the portfolio look ahead and see what you want to invest in the coming year. The sentiment seems to be you know it's not great but it's also you know I've seen worse conferences in the last year or so seems like there is interest and I think there's good reasons to be interested in the coming year. There are some big shifts on the macro level so I think it's a good time to be taking a look at Precious Metals right now.
Well last year was certainly a tough year. This year. Joined are not terribly positive on the outlook for base metals. I think the global economy is slowing. Markets are rolling over what it really comes down to in terms of sentiment it's all about gold and gold is reciprocal US dollar in my view the US dollar confidence in the US dollar is waning and I think with the president we've got he will continue to wane. So our bet this year is going to be more on precious metals and in particular early stage discovery. That's where the real money is going to made because that's that's what is desperately needed ITC's megamergers going on that's all about them. To a large degree not being in her place what they're mining with new deposits.
DAVID I pretty much agree with Brett. I think it's always going to be made my favorite junior explorer and the silverside is doubled in price this year and tripled its land position. So that's not too bad. Kirkland Lake has been kicking it for us that we had the highest rated Mateer the whole time up so you can make money is sector but it's been tough. I think the sentiment has gotten about as low as it's going to get. I'm looking forward to a better year this year.
We're going to get to some names in a bit just continue on the steam and Bradham going up ask you this question because I've got a lot of feedback especially after I interview you. Brett cook so bearish and shouldn't you be more bullish if you're covering the sector especially if you have a newsletter.
It's a good idea I should try that. You know I'm not bearish on the sector per se and I come across as being bearish not. On purpose but that what we're looking at is the exploration stage doors we're looking to for discoveries and the reality is it is really tough to find a new economic deposit. I mean gold doesn't sell for what Twal 9D because it's easy to find. So I would say a more realistic and critical. When looking at projects looking at companies and what the potential of those prospects are and that's what we do. We went to 33 countries last year projects I should say Joe and I just looking for the few that might make it so I'm really positive on the potential for discovery but the reality is you've got to look at these realistically and make a decision is this going to work and is this going to increase the share price. So I'm actually a pretty positive guy.
I think you are I'm just buying the feedback I get. So Nic just on your thoughts you said.