Stocks surged on Friday amid increasing hopes for a U.S.-China trade deal as equities posted another solid weekly gain.
The 30-stock Dow's eight-week winning streak is its longest since the one ending Nov. 3, 2017. The Nasdaq also posted its eighth consecutive weekly gain. The S&P 500, meanwhile, closed its seventh weekly gain in eight extending its post-Christmas rally past 17 percent. The indexes rose at least 2.4 percent each this week. The S&P 500 now sits 6% off the all-time highs.
Q4 hedge fund letters, conference, scoops etc
Qualivian Investment Partners July 2022 Performance Update
Qualivian Investment Partners performance update for the month ended July 31, 2022. Q2 2022 hedge fund letters, conferences and more Dear Friends of the Fund, Please find our July 2022 performance report below for your review. Qualivian reached its four year track record in December 2021.  We are actively weighing investment proposals. Starting in November Read More
As we suggested in our December 30th newsletter, the selling was in fact overdone and December marked a near term low. As such, U.S. stocks are now bouncing back from their worst December since the Great Depression, triggered in part by concerns over a slowdown in earnings.
Interestingly, most other asset classes are also bouncing back:
Oil: +21% YTD
Small caps: +17% YTD
MLPs: +16% YTD
REITs: +14% YTD
S&P 500: +11% YTD
Commodities: +10% YTD
EAFE: +8% YTD
EM: +8% YTD
Preferreds: +6% YTD
High Yield: +6% YTD
Investment Grade: +3% YTD
Gold: +3% YTD
US Dollar: +1% YTD
US Bonds: +1% YTD
Furthermore, some of the most economically sensitive and important market industry groups are finally showing signs of strength - and even leadership - after lagging the S&P 500 Index last year. Among the late-comers to the bounce back party are the critical homebuilders, the transports, and the semiconductors.
With three of the most economically sensitive industries showing signs of being in full-fledged recovery mode, investors can feel more confident about the bear finally going into hibernation. With real estate, transportation and semiconductor stocks all in sync to the upside, the probability of a bear market occurring anytime soon is low.
Our Take
Given the intensity and velocity (irrationality) of the sell-off last fall, the market is finally becoming more rational. The pendulum is swinging back down from extreme fear.
Nevertheless, based on the average of analysts estimates, U.S. firms are on the verge of suffering two consecutive quarters of profit declines, the common definition of a recession.
Earnings are said to contract in the first quarter, and while a small increase is currently projected for the following period, that is likely to evaporate. Analysts have been lowering forecasts since the start of the year as companies continue to slash outlooks, citing everything from a stronger dollar to weaker demand in China and rising costs.
Interestingly, the coming profit slump won't necessarily kill the bull market. In a recent piece in Bloomberg, it was suggested that lower interest rates will likely act as a buffer to support equity valuations. That is, even as profits contract, an expansion in the price-earnings ratio would be able to absorb the blow. At 16.2 times forecast profit, the S&P 500's multiple is down from a peak of 18.5 in 2017, trailing its five-year average.
In addition, BMO's Brian Belski studied the 15 earnings cycles during the past seven decades and found the stock market has tended to rise even after the start of a profit recession. In the six and 12 months after one began, the S&P 500 on average climbed 3.4 percent and 13 percent, respectively. Ben Carlson comes to a similar conclusion.
The last profit recession, beginning in mid-2015, brought five straight quarters of shrinking income. While the S&P 500 suffered two 10 percent corrections over that stretch, stocks erased the losses and returned to record highs in July 2016. A soft patch need not lead to a recession.
Musings
I came across a wonderful blog this month entitled "Of Dollars and Data" and found one post entitled "Even God Couldn't Beat Dollar Cost Averaging" of particular interest.
Given most financial pundits' (and most people's) favorite pastime is to attempt to "market time" and predict when to "buy the dip", are these approaches useful?
Is a "Buy the Dip" approach better than simple "Dollar Cost Averaging (DCA)"?
What are we talking about?
DCA: invest $100 (inflation-adjusted) every month for 40 years.
VS.
Buy the Dip: You save $100 (inflation-adjusted) each month and only buy when the market is in a dip. A "dip" is defined as anytime when the market is not at an all-time high. But, for good measure we sweeten the strategy. Not only will you buy the dip, but you are the greatest market timer out there: you are omniscient (i.e. "God") about when you buy. You will know exactly when the market is at the absolute bottom between any two all-time highs. This will ensure that when you do buy the dip, it is always at the lowest possible price.
The author suggests that logically, it seems like Buy the Dip can't lose. If you know when you are at a bottom, you can always buy at the cheapest price relative to the all-time highs in that period. However, he demonstrates that if you actually run this strategy you will see that Buy the Dip underperforms DCA over 70% of the time.
This is true despite the fact that you know exactly when the market will hit a bottom. Even God couldn't beat dollar cost averaging.
Why is this true? Because buying the dip only works when you know that a severe decline is coming and you can time it perfectly. Who can do that even once let alone over long periods of time?
This revelation is particularly important given the dip we are currently exiting. While markets were selling off I had many conversations with investors as well as other asset managers who were selling their stock positions and talking about holding cash and cash equivalents ready to "buy the dip" or "buy the next dip" or some variation.
As the market has rebounded many of these investors and managers are still on the sidelines emotionally invested in the idea that there will be "another dip" just around the corner.
Whether they are right or wrong about an impending dip isn't the point. In fact, it is this kind of thinking about investing that is counterproductive.
The more broad point is that "if you attempt to build up cash and buy at the next bottom, you will likely be worse off than if you had bought every month. Why? Because while you wait for the next dip, the market is likely to keep rising and leave you behind."
"Missing the bottom by just 2 months leads to underperforming DCA 97% of the time! So, even if you are somewhat decent at calling bottoms (which you are likely not), you will still most certainly lose in the long run.
Keep calm and buy continuously and regularly. Successful investing is undoubtedly simple but rarely easy...
Charts of the Month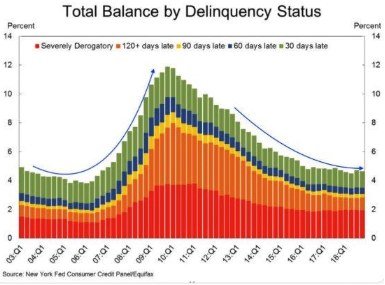 The situation today looks far different from what we saw before the financial crisis hit.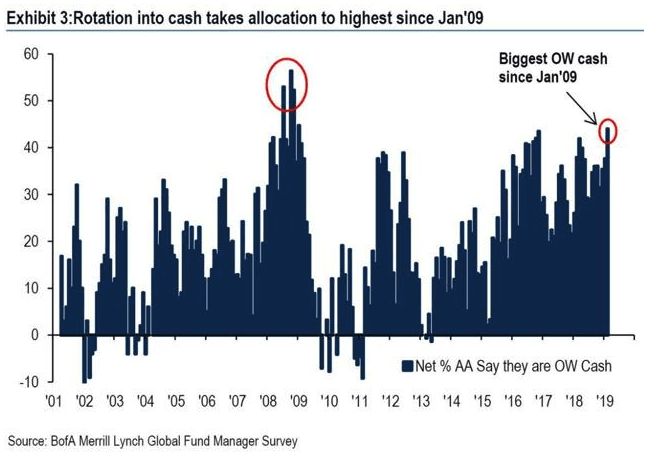 Underinvestment and lack of participation are conditions ripe for a heavy FOMO melt up. Market timing at its ugliest.
Logos LP January 2019 Performance
January 2019 Return: 5.22%
2019 YTD (January) Return: 5.22%
Trailing Twelve Month Return: -14.36%
CAGR since inception March 26, 2014: +12.99%
Thought of the Month
"Plus ça change, plus c'est la même chose." -- Jean-Baptiste Alphonse Karr
---
Articles and Ideas of Interest
Our best wishes for a fulfilling month,
Logos LP
Updated on