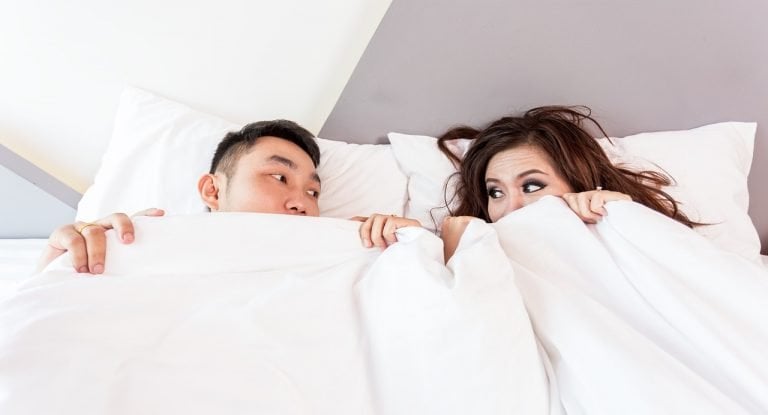 At least two cases have come to light where intimate photos of women were shared on social media platforms without their consent. The matter came to light after two Irish women complained about the same to the authorities.
Intimate photos were posted online without consent
A report from The Journal notes that intimate photos were posted online on a Reddit sub forum. Further, the report notes that the images shared include the photos of women from their social media accounts, images clicked in public or at the gym, and images clicked in an intimate environment as well.
Along with the intimate photos, their details included their name, address, where they attend college or school were also shared. Additionally, the Reddit forum where these photos were shared also carried lewd remarks from the users. Also, the report notes many of the shared images were taken in public without the subject knowing about it.
Option Trading and the Future of Option Alpha with Option Alpha's Kirk Du Plessis
ValueWalk's Raul Panganiban interviews Kirk Du Plessis, Founder and CEO of Option Alpha, and discuss Option Alpha and his general approach to investing. Q1 2021 hedge fund letters, conferences and more The following is a computer generated transcript and may contain some errors. Interview with Option Alpha's Kirk Du Plessis
Moreover, the forum included requests from the members for "nudes" of people from certain specific areas in Ireland.
How she found out?
One woman, whose intimate photos were posted online, told The Journal that she came to know about her image making the rounds on social platforms after her friend saw it in a WhatsApp group. "I got a call from a friend of mine who said that my photo was being sent around lots of WhatsApp groups," she said.
Further, the woman told that at first she wasn't "really surprised" as she uses Instagram a lot. But, when the friend sent her the image being circulated, she was shocked as she had never shared that image on Instagram.
"It wasn't like, fully nude or anything like that, but it was a photo I didn't want everyone to see," she told. Further, the woman said that she sent that picture to a man she was dating earlier and to a very small WhatsApp group with three of her closest friends.
The woman said she has complained to the authorities, but has yet to make a formal statement. According to the woman, she was told by the guard (also a woman) at the local station that she had to file a formal complaint, but the authorities wouldn't be able to help unless she was "underage."
"She advised me to get in touch with the group itself," the woman said.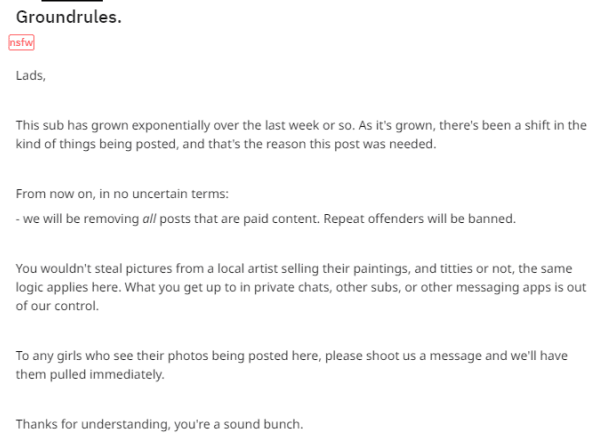 It must be noted that the admin of that Reddit forum updated the "ground rules" a few weeks back. One of the rules is directed to the women who "see their photos being posted here, please shoot us a message and we'll have them pulled immediately."
Should you post intimate photos on the Internet?
Revenge porn, where sexually explicit images of a person are posted without their consent, is a widespread issue, including in Ireland. In 2018, Labour leader Brendan Howlin noted that the country does not have adequate laws to fight the revenge porn issue, and that they will come up with their own bill to address it.
Meanwhile, the matter has sparked a debate about whether or not a woman should be responsible while sharing their photos in private and on social media platforms. There are comments both for and against. You can read all the comments from this link, while some are mentioned below.
"…there are young ladies who post pictures of themselves naked on the internet (off to a bad start right away!)…and they are upset that they are being distributed without their consent!? The internet…it's the internet!" one user said.
"If a woman chooses to send a picture to someone she thinks she can trust. Who then abuses that trust and passes that picture on, the only person to blame is the horrible person who betrays her trust!" said another user.
What's your view on the matter? Let us know in the comments section.
Massachusetts Gov. refiles bill targeting revenge porn
In separate news, Massachusetts Gov. Charlie Baker is resubmitting a bill, which aims to curb the revenge porn issue. Specifically, the bill targets pornographic images posted by people of their former lovers. Also, the bill carries a provision offering diversion programs to the teenagers involved in revenge porn.
Minors, who are found to be sending explicit images of others, will be registered for an educational diversion program, instead of going through the juvenile justice process. Under the current law, minors found distributing explicit images of peers are subject to prosecution.
On Wednesday, Baker said that the bill got support from lawmakers during the last legislative session. The bill was first filed in April of last year.