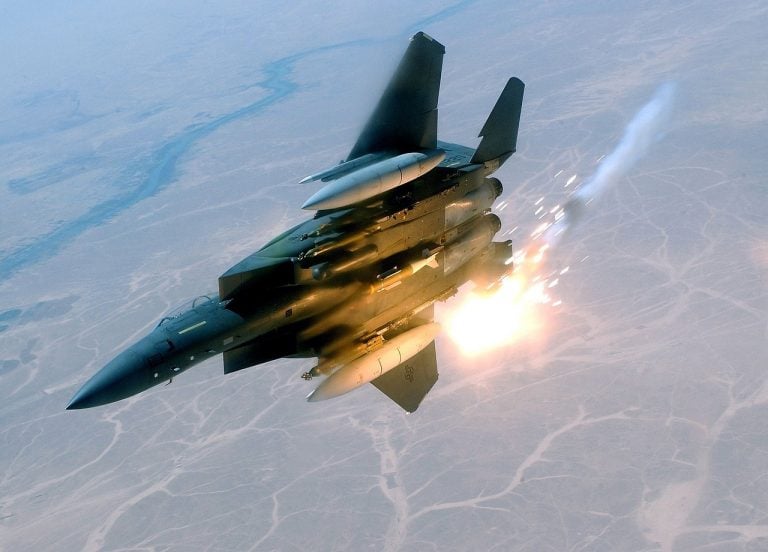 The dispute between Pakistan and India just got a lot more serious. New Delhi claims to have bombed terrorist camps in Pakistan and killed 200 to 300 militants. However, Islamabad denies both of those claims. Pakistan officials now accuse India of crossing the Line of Control and entering their country just to drop bombs on an empty field—and make its officials look good going into elections.
Amid the growing number of "witness" accounts, news reports and lack of evidence, it's beginning to look like New Delhi has some explaining to do.
Here's what India is claiming
According to multiple media reports, Indian officials said they launched air strikes to take out a large camp inhabited by the Jaish-e-Mohammed (JeM) militant group in Pakistan early Tuesday morning. JeM is the group which reportedly claimed responsibility for attack on a convoy transporting officers with India's Central Reserve Police Force earlier this month. The group's ultimate goal is said to be claiming the disputed Kashmir region entirely for Pakistan.
Consistency is what makes the top 50 best-performing hedge funds so strong
Every month and quarter, multiple reports on average hedge fund returns are released from several sources. However, it can be difficult to sift through the many returns to uncover the most consistent hedge funds. The good news is that Eric Uhlfelder recently released his "2022 Survey of the Top 50 Hedge Funds," which ranks the Read More
Foreign Secretary Vijay Gokhale said in New Delhi that the strike was carried out "in the face of imminent danger." He also said they had received "credible" intelligence that JeM was preparing to carry out more suicide attacks in their country.
Prime Minister Narendra Modi told a crowd at an election rally in Rajasthan that his country was "in safe hands" and describes today as a "glorious day," although he did not mention the air strike on Pakistan.
Islamabad counters New Delhi's claims
We should point out that Indian officials have been very vague about exactly where the air strike took place. There's no doubt that an air strike was indeed carried out in Pakistan, but officials there deny the details claimed by Indian officials and media outlets.
Residents of Balakot in northwestern Khyber Pakhtunkhwa province have told media outlets that they were awakened by what they initially thought was an earthquake, but it was later determined that there had been explosions there in the early morning hours.
Although New Delhi claimed to have bombed a militant camp, Islamabad said the air strike actually hit a field. Residents of the nearby town told BBC Urdu that after sunrise, they went out to the place where the explosions had occurred. They discovered " a huge crater" and saw "four or five houses" that had been damaged.
As soon as Pakistan's military detected the incoming Indian air strike, the air force scrambled fighter jets, forcing a "hasty withdrawal" from the Indian planes, which reportedly flew only four or five kilometers into Pakistan's border. According to Islamabad, there were no casualties in the Indian air strike—despite New Delhi's claims that their air force had killed 200 to 300 militants.
Here's why India's claims are suspect
There are several problems with India's claims about the air strike. For example, officials were very vague about the details and offered no solid evidence. Additionally, Pakistan's Director General of Inter-Services Public Relations tweeted photos of the place where the air strike hit, and it's an open, barren field.
Payload of hastily escaping Indian aircrafts fell in open. pic.twitter.com/8drYtNGMsm

— Maj Gen Asif Ghafoor (@OfficialDGISPR) February 26, 2019
He states that there were no casualties or damage caused by the attack. This seems to conflict with the BBC's report that four or five houses may have been hit, but in either case, it certainly sounds like India's version of events involving 200 to 300 casualties could be fabricated.
Defense analysts interviewed by The Express Tribune were also skeptical about India's story. Several analysts noted that if the air strike had happened as New Delhi claimed, there should have been footage from the aircraft which dropped the bombs.
Some pointed out that even media outlets in India were using images from Pakistan's Inter-Services Public Relations (ISPR), so apparently, there is no actual footage of it. Indian officials also seem confused about where the air strike actually took place and refused to take questions about it during the press conference.
Analysts are now calling on the ISPR to grant foreign media outlets access to the place where the attack took place.
Indian air strike condemned
Pakistani officials tied the attack to India's upcoming elections, which are now only weeks away. They suggest that the Bharatiya Janata Party could be trying to earn another term in office. In a statement, they describe the incident as "a self-serving, reckless and fictitious claim" which has been "done for domestic consumption, being in an election environment, putting regional peace and stability at grave risk."
Islamabad has vowed to respond to the air strike, and Prime Minister Imran Khan has now called a special meeting of the National Command Authority set for tomorrow. Geo TV reports that officials plan to flag India's "violation" of the Line of Control with the United Nations, the Organization of Islamic Cooperation and possibly other international forums.
Whatever actually happened, simply violating the Line of Control is a very grave offense in a part of the world which has been unstable for decades. According to Bloomberg, the last time the Indian Air Force intentionally crossed the LoC to carry out air strikes was in 1971 at the time of the Indo-Pak War. Tensions have remained between the two nations, and this event stands to escalate an already-fragile situation.
On one hand, if New Delhi did indeed fabricate the story, at least it sounds like they chose an empty field where no one would be injured. That may be the only thing saving them from all-out war. However, there will likely still be a very stern response. If Indian officials did in fact lie about the bombing, that raises an entirely different set of concerns, not just for Pakistan, which is now on even higher alert, but for Indian citizens as well. Would the Indian masses really choose to reelect officials who fabricate stories for their own gain?
Updated on