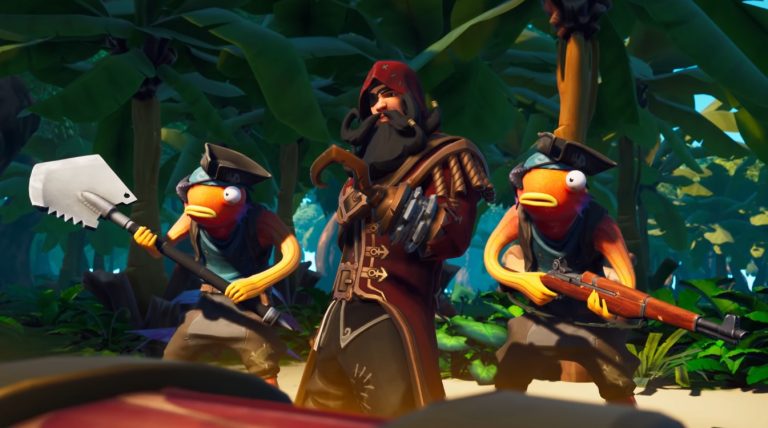 Fortnite Season 8 is finally available and as was expected it comes with plenty of big changes. Like with the earlier seasons, this new season also introduces new features, tools, skins and maps.

Fortnite Season 8 – what's new?
The theme of Fortnite Season 8 is pirates, and complementing it are the new skins, including a banana suit, pirates and snakes. "The Season 8 has arrived and a monstrous volcano has appeared! Freed from the Ice King's castle, the now-powerful Prisoner has brought fire and flame to Fortnite and its islands," read the Season 8 patch notes.
The entire top right corner of the map has been redesigned. Sunny Steps has now replaced Walling woods. There is also an active volcano in the top right. The snowy portion, which came with Season 7, is still in place, making Season 8 the most diverse Fortnite Island yet.
This Long/ Short Equity Firm Sees A Time-Arbitrage Opportunity In This Pest Control Merger
Yost Partners was up 0.8% for the first quarter, while the Yost Focused Long Funds lost 5% net. The firm's benchmark, the MSCI World Index, declined by 5.2%. The funds' returns outperformed their benchmark due to their tilt toward value, high exposures to energy and financials and a bias toward quality. In his first-quarter letter Read More
Talking of the new weapon, players get a pirate cannon, which can give 100 damage when there is a direct hit and 50 damage to those in the impact area. Moreover, pirate cannon can also be used to fire players to new locations.
"Damage enemy locations or structures by launching a cannonball or become a special delivery by launching yourself!," Epic says in the patch notes. These cannons can be found inside the pirate ships, where one can also find a range of treasure.
In Season 8, players have to watch out for the lava, stepping on which gives one damage point per touch. On the other hand, there are volcanic vents, which use a gust of hot air to push a player or a vehicle into the air.
"For those daring enough to explore, the new Lazy Lagoon and Sunny Steps locations are just a jump away with the help of Volcanic Vents," read the patch notes.
In terms of gaming, Fortnite Season 8 adds a "Party Assist" mode, which allows players to get their friends into the daily or weekly challenges. "Party members are able to provide progress to the selected challenge in addition to yourself," Epic says.
These challenges help players to unlock treasures, including skins. In Season 7, some challenges even allowed players to earn a free Battle Pass for Season 8.
Other changes with Season 8
Apart from these bigger changes, Epic Games has made a few little touches as well, like increasing the "infinite dab" feature from 11 hours to 12. So, your character will now dance a bit longer when left in the lobby.
Epic also introduced a new chest, which the developer says will be the "rarest chest of the match." Collecting map pieces will help you find the location of this hidden treasure chest, and then you will have to make your way over there.
Planes, which were introduced with Season 7 have now been vaulted. Other vaulted items include Chiller Grenade, Shopping Cart, All Terrain Kart and Sneaky Snowman. Vaulting an item does not mean that these items are gone permanently, we may see any of these make a comeback either with a regular mode or an LMT. Additionally, the cargo container park is gone and so is the motel.
This latest season will run for ten weeks, i.e., from Thursday, Feb. 28, until Wednesday, May 8. The season is free to play, but those who want the Season 8 battle pass have to shell out 950 V-Bucks (1,000 V-Bucks cost about £8/$10). Players with a battle pass will be able to unlock 100 tiers worth of cosmetics and other goodies, including new skins and gliders, adventurous theme music and a dog carved out of wood.
Buying a battle pass does not give any leverage to a player and has no impact on the game. Rather, the battle pass is all about looks and cosmetic options, like skins, wraps, emotes, gliders and pets.
Season 8 – why it's more important than previous seasons?
With Fortnite Season 8, Epic continues with its strategy to keep the game fresh by adding new features, locations and challenges for the players. This helps to maintain the interest of the players. Such a strategy reportedly helped Epic to pocket $3 billion in profit in 2018, thanks primarily to the success of Fortnite.
It will be interesting to see if Epic is able to carry (or even accelerate) the momentum in 2019. For that to happen, the success of Season 8 is very important. For Fortnite and Epic, Season 8 is apparently more important as it comes amid the rising competition in the battle royal space.
Moreover, a recent report also suggested that revenue from the game dropped in January. However, many believe a drop in January is not all that surprising considering increased spending around the Christmas holidays.
Updated on