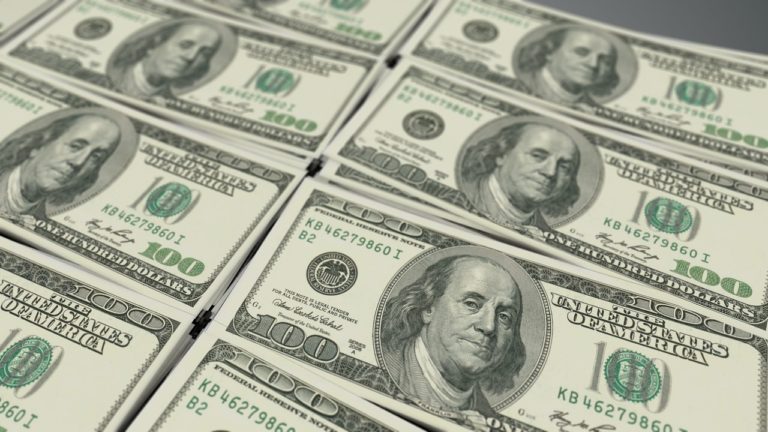 In late November 2018, CVS Health Corporation (NYSE:CVS) announced the completion of its acquisition of diversified health-care benefits company Aetna Inc. (AET). When the marriage of the two was first conceived, CVS management hailed it as a transformational transaction. The hope was that the synergies from both companies would unlock value from the new acquisition, and reward shareholders with improved revenue and greater earnings power.
Q4 was the first quarter in which CVS investors got to enjoy the fruits from the AET acquisition, as revenue growth was primarily attributable from the transaction. However, other segments of the company's operations lacked the same shine as AET delivered.
Q4 hedge fund letters, conference, scoops etc
Alkeon: Big Tech Is Only Just Getting Started
The ACAP Strategic Fund's managers see a "significant scarcity of attractive asset allocation choices globally," but also a strong environment for fundamental stock picking. Q2 2021 hedge fund letters, conferences and more According to a copy of the fund's second-quarter investor update, which ValueWalk has been able to review, its managers currently hold a balanced Read More
Earnings up despite Q4 loss
The company reported results for the past year, and for Q4 it reported a loss of $421M loss for the, compared to a $3.28B profit in same-period last year. The company also reported revenue of $54.4B – amounting to a 12.5% increase same the same-period last year.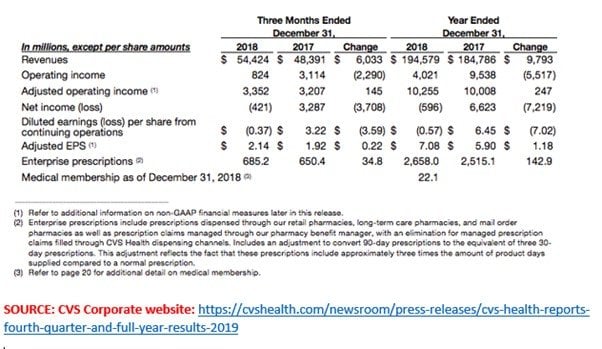 Clearly, Aetna's acquisition has been accretive to CVS shareholders. CEO Larry Merlo stated that the $70B acquisition of Aetna, which occurred last fall, was well past the finish line, and integration efforts were now in full swing. In Merlo 's opinion, those efforts, once complete, will give the company's' shareholders greater value over the long term. But the company's Omnicare Long-Term Care (LTC) arm dragged performance down.
CVSs GAAP diluted loss per share from continuing operations came in at -$0,37 per share, which included -$1.99 per share (or $2.2B) in impairment charges associated with its Long-Term Care (LTC) business.
The company earned $2.14 per share for the quarter, on an adjusted basis, beating analysts' expectation of $2.07. However, revenue disappointed many company watchers, as did management's outlook for 2019.
The year in numbers
On a full-year basis, the company reported a 5.3% increase in its 2018 revenues, to $194.6B, up from $184.8B in 2017. It's GAAP diluted loss per share from continuing 2018 operations was -$0.57 per share, which included a whopping $5.89 per share (or $6.1B) in impairment charges for its LTC business.
A bright note for investors was that Adjusted EPS came in at $7.08, which was 20% higher than what was reported for full-year 2017.
Another lukewarm patch in full-year reporting was Net Operating Cash Flow (NOCF) and Free Cash Flow (FCF). Management reported that the company earned NOCF of $8.9 billion, which was more than the $8.0B – though barely! – from full-year 2017. FCF for the full-year 2018 came in at $6.8B compared to $6.08B from 2017 - which also didn't mesmerize investors.
Looking at what drove the company to these losses, it would appear that the root cause is mainly a one-time issue – goodwill impairment and increased interest charges related to the AET acquisition. It is highly unlikely that those types of one-time events will occur going forward.
Investor reaction
Shares of CVS closed at $64.22 following the earnings report. That's a decline of $5.66 (or -8.10%) from its pre-earnings close. Investor reaction was also apparent in the volume of trading, with 43,365,550 shares changing hands – a more 232% spike from the 13,064,700 of the previous day's trading volume.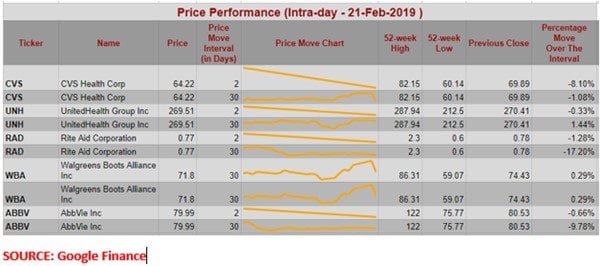 In sympathy with CVS, investors also punished some names in the broader healthcare space. Shares of Rite Aid Corporation (RAD), AbbVie Inc. (ABBV), Walgreens Boots Alliance (WBA) and UnitedHealth Group Inc. (UNH) declined significantly during intra-day trading, even though such harsh punishment might not rationally be warranted of investors – at least not for all those names.
A case in point: Entering the date of CVS's earnings report, UNH was up by nearly 1.8% over the course of a month. To put that in perspective, the broader S&P 500 gained 4.28%, while the medical sector inched 3% higher during that same period. UNH's performance wasn't all that bad – comparatively. The company is even expected to report robust earnings for the year when it reports in mid-April.
And yet, investors punished it in empathy over CVS!
Looking behind the numbers
And looking closely at what CVS had to report – was it all that bad? Did CVS truly deserve to be judged as harshly as investors judged it?
There's an old investing adage that says "One quarter does not make a trend!" – but judging at the post-earnings stock price beating, it seems many CVS investors did not really heed that saying.

If we look at what CVS has delivered to its investors over the past 4-quarters, including the most recent quarter, one can't but help wonder whether investor disappointment in the company is warranted. On the average, the company has posted an average analyst consensus beat of 4% in its EPS – and that's no laughing matter!
What the future holds
There's no doubt that 2018 – especially in the last quarter – has been a brutal year for the stock market. And with trade wars, tariffs, global economic woes spilling into 2019, and political uncertainty plaguing Washington, this year might not be too good either. And CVS's forward guidance seems to point that way too.
For Q1-2019, the company continues to show growth in revenue – albeit an anemic 0.5% above what analysts had modelled. With respect to full-year revenue forecast for 2019, the company promises to beat analyst expectation by a margin of 1.8% - which isn't saying a lot!
First-quarter 2019 EPS is expected to come in the range of $1.49 and $1.53, which is well short of the $1.67 that the analyst community expects. The company expects GAAP diluted EPS from continued operations for 2019 to come in the range of $4.88 and $5.08; and it expects to deliver shareholders diluted EPS in the range of $6.68 and $6.88 for the whole year. Even the upper end of that guidance is significantly lower than the $7.41 per share that many on Wall Street were hoping for.
On the earning's conference call, CEO Merlo as much as admitted that Omnicare LTC was the Achilles heel of the company. These woes were attributed to a trio of evils that LTC operations face, including reimbursement pressures from Medicare, higher than expected vacancy rates, and significant personal financial pressures on LTC facility customers and potential clients.
Still, it's not all doom and gloom for shareholders and prospective investors in CVS.
Operationally, there was good news too. For the 3-months ended Dec 2018, the number of claims processed by the company rose (compared to same-period 2017) by nearly 6% (485M vs. 459M). There was also a 5% increase to its pharmacy network during that period. On a year-over-year basis, those metrics improved by 6% and 5.58% respectively. And that's a good news story!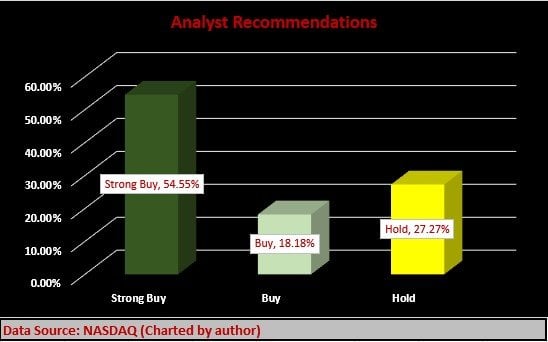 While this quarter did see slightly lack-luster performance from Omnicare, the long-term vision seems to be in the company's favor. Aging demographics indicates that LTC facilities will be in greater demand over the next few years, and that's a good place for investors to be in.
And it seems as though the professionals might agree with that thesis. If analysts are to be trusted - and there's no reason why they shouldn't! – then CVS is a resounding buy, with nearly 55% of the analysts covering the stock believing it to be a Strong buy. However, there are those that aren't convinced yet (18% Buy), and those that aren't too sure (27% Hold).