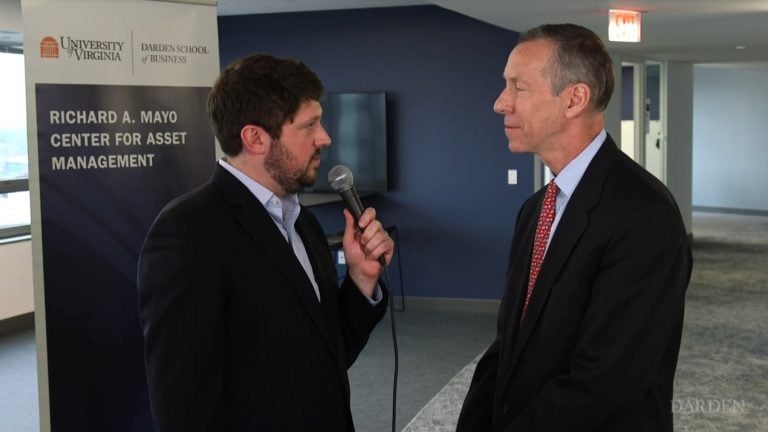 Former Chairman and CEO of Vanguard Bill McNabb discusses the future of the investment industry from the 2019 Academic and Practitioner Symposium on Mutual Funds and ETFs. Presented by UVA Darden and the Investment Company Institute.
Former Chairman and CEO of Vanguard, Bill McNabb Discusses the Future of the Investment Industry
Q4 hedge fund letters, conference, scoops etc
Li Lu On Understanding Competitive Advantage In 2021
On April 9th 2021, Bruce Greenwald, the founding director of the Heilbrunn Center for Graham and Dodd Investing at Columbia Business School, sat down for a Fireside Chat with Li Lu, the founder and chairman of Himalaya Capital as part of the 13th Columbia China Business Conference. Q1 2021 hedge fund letters, conferences and more Read More
Transcript
We're here at the 2019 academic and practitioners symposium on ETFs and mutual funds. We're here with Bill McNabb former chairman and CEO of Vanguard Bill. Thanks so much for being with us. Great to be here Aaron. Thanks. So Bill. Help us understand what the future looks like for the industry.
So look I think the industry is going through a ton of change right now and you know what we've really seen the last decade is the true revolution from higher cost product to low cost. Most people put this as an index versus active. I really think it's high cost to low cost. And so what we're seeing is investors and professionals who advise investors really embrace the idea of low cost product and you know wrapping it with different services and so forth you know maybe advisory maybe other elements but that low cost product idea has really taken hold.
Now that makes sense. I mean with with fee budgets compressing I mean do you see some elasticity kind of in fees for higher performing higher active things.
You know it's interesting. The answer would be yes but the you know the ability to predict higher performing active funds in particular is almost nonexistent when you look at all the academic literature. Actually the best predictor of outperformance is actually fee level. And so the low cost products have actually historically done better. Morningstar did you know just amazing amount of work on this over the years and what they found was to predict top portal fund performance look at bottom cortical cost and bottom quarter I'll be lowest. And that was your best predictor.
So interesting you know for our students that want to go into the industry. I wonder if you might reflect on some lessons that they would find useful as they make their way into careers in asset management.
You know there's a lot of consternation right now out there because you know this compression of fees on the product side I think a lot of students are thinking you know is the business going to be as robust and vibrant as it's been. I actually think it's going to explode in terms of vibrancy but it's going to continue to morph and evolve. And I think what are very productive ways for the investor. So I think for students who can embrace that there's going to be terrific opportunities. So what I mean by that. So you know if you're going to be an active manager you ought to be looking for a shop that espouses low fees because that way the investor gets to keep more of any outperformance that you generate. I think high cost is going to be really challenging. The second area though is going to be on the whole service and advisory side to the end investor. And there's so much opportunity there for you know really bright students to come in and help you know traditional players like us innovate and reimagine what we can do for our and investors. And I think that's where there's going to be some really exciting career opportunities as well.
Is it a straight path or are there bumps and grinds along the way or different directions.
You know the career pathing thing I think is one of the things I hope business schools. I know Darden does a good job with this but I wish other schools did as well. There's no straight path. You know the best advice I ever got was to find people to for whom to work who are going to teach you the most. And sometimes they were assignments that didn't in a sense make sense on a traditional career path. But because the boss the mentor was so powerful and you know could teach you so much. It ended up helping propel you know your career. And I continue to think that that's the best way to think about careers.
Bill McNabb, thanks so much for being with us. You're welcome Erin. Thank you.