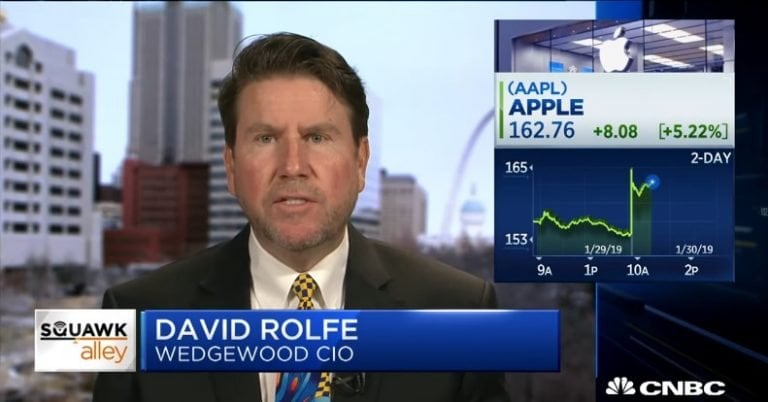 David Rolfe, Wedgewood CIO and Apple shareholder, and Tim Long, BMO Capital Markets U.S. managing director and senior analyst, join CNBC's "Squawk Alley" to discuss Apple's earnings.

H/T Dataroma
David Rolfe On Apple: We've Had A Significant Reset Of Earnings Expectations
Fund Manager Profile: Zhang Hui Of China's Southern Asset Management
Historically, the Chinese market has been relatively isolated from international investors, but much is changing there now, making China virtually impossible for the diversified investor to ignore. Earlier this year, CNBC pointed to signs that Chinese regulators may start easing up on their scrutiny of companies after months of clamping down on tech firms. That Read More
Q4 hedge fund letters, conference, scoops etc
Transcript
Speaker: Is this all about. Not as bad as feared. Is it about the services number which is also pretty strong. Other data they gave 5 percent were pretty nice.
Tim Long: Yeah it's pretty good. I'm a little bit surprised by we've seen a lot of technology companies have bounces like this. The semiconductors and cyclical type of companies so it implies to me that people think the worst is over. But I think the. Focus over the next several months might start moving to what's the next product cycle going to be. And. At this point we don't really know anything compelling coming out later this year. So it's a little harder for me to make a cyclical haul on the stock here given how much numbers have come down in our numbers compared to two months ago are down 16 percent stocks up a few percent so we've seen a real gap in valuation and fundamentals which makes me a little bit more concerned right now.
Speaker: So David what's the new investor thesis for Apple if you believe in it if you're long it now. Is it still about the iPhone or is it more about services. Is it just consistency.
David Rolfe: I think consistency and certainly services step back and think about where we were when the stock was up in the 30s and it declined dramatically. John down to 140. We've had a significant reset of earnings expectations. Looks like the numbers right now for for fiscal 2019 is about 11 in the half of maybe 13 bucks a share in 2020. But I think. What we have at resetting our Street expectations. I think I'll take the other side of of the of the debate with your other guest. I don't think street expectations have been fully reset if we don't have any more earnings cuts and we start focusing on that 13 number as we get through the balance of this year. No more cuts. Right now the Sox had 162 that's about 12 and a half times 2020 that's. That's not taking into consideration the cash. I think the stock slowly moves higher as street expectations come around that the stock is still cheap and we've had a significant reset. So we're bullish and we expect a higher stock price through the year.
Speaker: Tim companies cutting prices on icons outside of U.S. due to stronger repricing in local currencies. What seems unclear to me right now is whether you see that begin to push through the services and the prices on services. If that happens what does it do to the shifting narrative towards the growth in that business.
Tim Long: It's a very complex math here because on the one hand the services were a little weaker on a growth standpoint than most expected largely because there is a component that you need new device sales so obviously there's a price plasticity issue here. So the company at some point is going to need to lower pricing but handset stocks have covered handset stocks for over 20 years. They're very sensitive to that gross margin line. So the gross margin guidance to march below 38. It's kind of a psychological level. Now whether or not they cut it on services we'll see. But there's certainly other pressures on services where some of the app developers and content providers are trying to bypass the iPhone in the in the process to to avoid that payment. So there are certainly a lot of different pressures on that services line other than just new phone purchases.
Speaker: I mean we've asked this question so many times about whether Apple should be valued as a services company but now that we saw the profit margin and the continued growth despite the iPhone decline. Does Apple deserve a different valuation on that on the services business to be valued more like other services competitors.
Tim Long: Well I think look it's still 15 percent of revenue so it's a small percent I'd covered 20 some odd hardware companies and that's the lowest percentage of any company that I cover Cisco and others. So it is a component it's growing faster than those others so I do get that but that's been happening over the last two or three years and still gross margins have come down. Operating margins have come down. So despite that positive it's just not big enough it's not big enough and it's not like I personally would not do as some of the parts valuation because they're not going to share that out and sell it. So it's harder for me. So I think it's a nice thing to have the wearables so they have some good growth businesses but they add up to 25 percent of total revenue so unfortunately people want this to be more than an iPhone story. But I think ultimately it still is.
Speaker: Very much. David it seems to me the number we really want from Apple on services is paid accounts right. They talked a bit about paid accounts but they keep giving us this overall active device number even active iPhone's 900 million is an impressive number but just because I get a new Apple device doesn't mean all of a sudden I'm going to start paying for more services. If I already have five or six Apple devices in my home don't we care about just how many individual paying accounts there are to measure services growth.
David Rolfe: Oh yes sure. And again..
Updated on