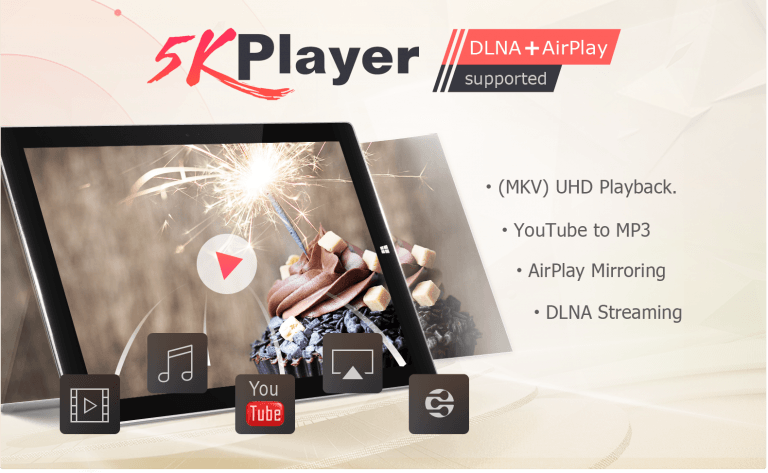 There is no shortage of media players out there. Most of them do a decent job at audio and video playback without any issues. But today we need feature-rich video players that can do much more than just playing music and video files. We want a powerful, feature-rich and versatile player that can perform a wide range of functions – a single software with features of many different tools. That's where the 5KPlayer comes in. It's easier and more powerful than VLC, Windows Media Player, and others.
Please see important disclaimer at the end of this article
Why 5KPlayer is better than VLC and other media players
After having used VLC, Windows Media Player, and a few others for years, I got my hands on the 5KPlayer and found it to be a refreshing experience. It lets you play videos and music, convert files, download videos from services like YouTube, listen to the radio, and stream media via AirPlay. You can also add music and videos on your hard drive to the 5KPlayer library to manage them easily. It's a free 4K video player that gives you a complete entertainment experience.
Investing in the Next Generation of Emerging and Frontier Markets with Maurits Pot
ValueWalk's Raul Panganiban with Maurits Pot, Founder and CEO of Dawn Global. Before this he was Partner at Kingsway Capital, a frontier market specialist with over 2 billion AUM. In the interview, we discuss his approach to investing and why investors should look into frontier and emerging markets. Q2 2021 hedge fund letters, conferences and Read More
When you install 5KPlayer and launch it for the first time, it will ask for your details like name and email address. Then you'll see a well-designed and modern interface that is easy to navigate. I was able to watch 4K videos without any issues on my desktop. Now let's take a look at all the features that make it the best video player out there. By the way, you can download 5KPlayer for Windows 10 here and the Mac version here.
Supports a wide range of audio and video files
This media player can stream 4K/5K and Full HD videos effortlessly. It supports a wide range of video formats including MP4, MKV, M2TS, WMV, FLV, and AVI. The supported audio formats include AAC, MP3, ALAC, FLAC, APE, and AC3. The 5KPlayer lets you convert videos from one format to another, meaning you won't have to download another tool for converting videos. What's more, it lets you convert videos to music files in AAC and MP3 format.
To ensure that you don't experience any stutter or glitch while playing 8K or 4K HDR videos, 5KPlayer uses hardware acceleration on Windows and Mac both. It lets the GPU do much of the heavy lifting to minimize load on the CPU while decoding and rendering.
AirPlay and DLNA support
The DearMob-made media player supports AirPlay, allowing you to stream content from your iPhone, iPad or iPod to your Mac. You just have to click on the AirPlay button and select the device you want to use for streaming. The 5KPlayer also supports DLNA, meaning you can stream music and videos from one compliant device to another, whether it's a Mac, PC, tablet or gaming console. The library section inside the app lets you manage all your audio and video files in one place.
Download videos and music for offline entertainment
It's not always possible to stay connected to the Internet. The 5KPlayer offers a simple and easy way to download music and video files from YouTube, Vimeo, DailyMotion, SoundCloud and over a dozen other sites for offline viewing. It lets you download videos in MP4, MOV, MKV, and AVI formats in 4K, 5K Ultra HD or 1080p Full HD resolution. It can also convert online video soundtracks to MP3.
Most other video players out there don't allow you to download online videos. In 5KPlayer, all you have to do is copy the video URL, come back to the media player and click on the YouTube icon and paste the link. You can also choose the resolution and video format by clicking the gear icon.
Built-in radio player and DVD support
The 5KPlayer has a built-in radio player to let users listen to the radio without leaving the app. The app comes with many preset radio stations including the BBC, Chill, Heart, NBC, ABC Lounge, Hotmix, and more. You can also enter your own radio URL to listen to the station of your choice.
It can also play DVDs. It supports multi-region DVDs on Windows, meaning it can play DVDs no matter in which country you purchased them.
Participate in the sweepstakes and win big!
The 5KPlayer is free to download and use for both Windows and Mac. Currently, DearMob – developer of 5KPlayer – is running a giveaway and sweepstakes to celebrate the 5KPlayer 4th birthday. All you have to do is enter your email address on the giveaway page before February 28th, 2019.
Ten lucky winners will each get an HD Projector and indoor screen worth $140, a Roku Ultra worth $80, and a Popcorn maker worth $100. What's more, all the giveaway participants including the ten lucky winners will get a giveaway version of VideoProc – a tool I have used and highly recommend. VideoProc is a 4K video processing tool that costs $79, though the giveaway participants will get it for free.
About DearMob:
DearMob, a vigorous software provider with forefront developing outlook. DearMob is led by its innovative tag-line products including: DearMob iPhone Manager, free apps like 5KPlayer, iPhone Photo Manager, iPhone Music Manager, etc. The brand is ready to enable more dynamic growth with compact and competitive products for Mac/Windows/iOS/Android users in the near future.
You can download the 5KPlayer for Windows here and the Mac version here.
Full disclosure: 5KPlayer offered us a free product and compensation in return for an honest review – ValueWalk had entire control over the editoral process