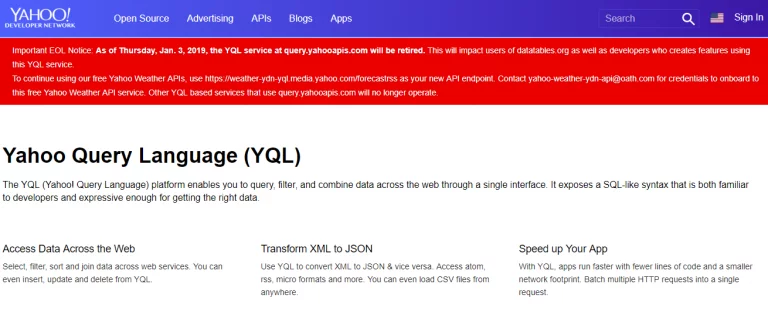 If you are a web developer who uses the Yahoo! Query Language (YQL), you might have noticed that query.yahooapis.com and weather.yahooapis.com have stopped working altogether. Yahoo said in a statement on its developer website that it has retired both the services. Folks at Piunikaweb were the first to spot it. The YQL services for both query.yahooapis.com and weather.yahooapis.com were retired on January 3rd.
Why did Yahoo retire these YQL services?
Yahoo Developer Network said in a tweet that YQL services that use query.yahooapis.com "will no longer operate." It will affect users of datatables.org as well as developers who build features using these YQL services. Developers are actively looking for replacements.
On Jan. 3, 2019, YQL service at https://t.co/g4W9RhdMLk will be retired. YQL based services that use https://t.co/g4W9RhdMLk, including users of https://t.co/5IkUaEykdl, will no longer operate. Yahoo Weather API users see the tweet below for info about continuing your service.

David Abrams Explains How To Value Stocks

Continued from part one... Q1 hedge fund letters, conference, scoops etc Abrams and his team want to understand the fundamental economics of every opportunity because, "It is easy to tell what has been, and it is easy to tell what is today, but the biggest deal for the investor is to . . . SORRY! Read More

— Y! Developer Network (@ydn) December 31, 2018
The company has also retired query.yahooapis.com and weather.yahooapis.com for Yahoo Weather API. If you want to keep using the free Yahoo Weather APIs, you have to use weather-ydn-yql.media.yahoo.com/forecastrss as your new API endpoint.
On Jan. 3, 2019, the https://t.co/fsJ4qmcvuu and https://t.co/g4W9RhdMLk for Yahoo Weather API will be retired. Contact [email protected] for credentials for the free Yahoo Weather API service at https://t.co/NnRPnx9jZw.

— Y! Developer Network (@ydn) December 31, 2018
The company has given no explanation on why it is retiring these YQL services. For the uninitiated, YQL is a platform that allows you to query, filter, and combine data across the web through a single interface.
The Verizon-owned company announced last month that it was also shutting down the Yahoo Classic Mail. It will officially shut down on January 31, 2019. People who are still using the Classic Mail will be upgraded automatically to the latest version of Yahoo Mail or Basic Mail. Some Yahoo Mail users have been holding on to the Classic version, and they are likely to be disappointed.
Yahoo has been a headache for Verizon
The mighty Yahoo that was once a dominant force in the Internet world had been going down for years. Back in 2008, Microsoft had offered to acquire it for a staggering $45 billion. But Yahoo turned down the offer. Eight years later, Verizon purchased Yahoo's core business for just $4.8 billion.
Right before Verizon acquired it, Yahoo suffered a massive data breach – the biggest in the history of the Internet – that exposed personal data of more than 3 billion users. It means every single account on Yahoo, Flickr, Tumblr and other Yahoo properties was compromised. It had also suffered another attack that leaked the personal details of roughly 500 million users to "a state-sponsored actor."
Last month, Verizon took a $4.6 billion non-cash goodwill impairment charge on its balance sheet, reducing the value of its Oath division to just $200 million. Oath operates Yahoo, AOL, HuffingtonPost and other digital media brands. At one point, the combined market value of Yahoo and AOL was above $200 billion. Now it has been reduced to under $200 million.
Verizon had spent about $10 billion on these digital media acquisitions to build a rival to Google and Facebook, but things didn't go as planned. It was expecting the Oath division to generate $10 billion in revenues by 2020. Verizon said in a filing with the Securities and Exchange Commission (SEC) that it wrote off the value of Oath after a strategic review.
It's a strong evidence that digital media businesses haven't tasted the same success that investors were hoping. Disney recently wrote off $157 million of its investment in Vice Media, which was valued at $5.7 billion. BuzzFeed, another digital media juggernaut, has also been struggling to meet its own revenue target. BuzzFeed has laid off more than 100 people and delayed its plan for a stock market listing.