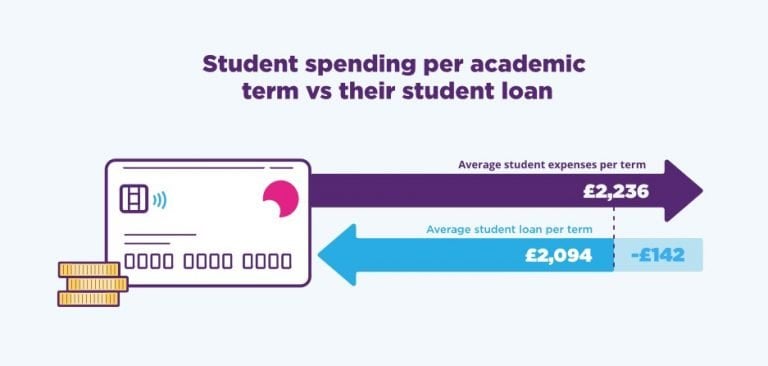 New research into the state of student debt in the UK – as MoneySupermarket have revealed that student loans are not enough to live off for the vast majority of the UK, but are still leaving us facing a financial crisis.
Some of the key facts of the study include:
Hedge fund managers present their best ideas at Robinhood [In-Depth]
The latest Robinhood Investors Conference is in the books, and some hedge funds made an appearance at the conference. In a panel on hedge funds moderated by Maverick Capital's Lee Ainslie, Ricky Sandler of Eminence Capital, Gaurav Kapadia of XN and Glen Kacher of Light Street discussed their own hedge funds and various aspects of Read More
42% of students rely on overdrafts as well as their loans, and 1 in 3 worry about their financial situation daily.
The average graduate leaves university with £50,000 worth of debt.
The UK's student debt is projected to reach £1.2 trillion by 2049.
[REITs]
Q3 hedge fund letters, conference, scoops etc
3 Percent Of Graduates Will Never Repay Their Student Debt
UK student debt set to hit £1.2 trillion by 20491
The average UK student leaves university with £50,000 worth of debt2
30 per cent of students worry about their financial situation every day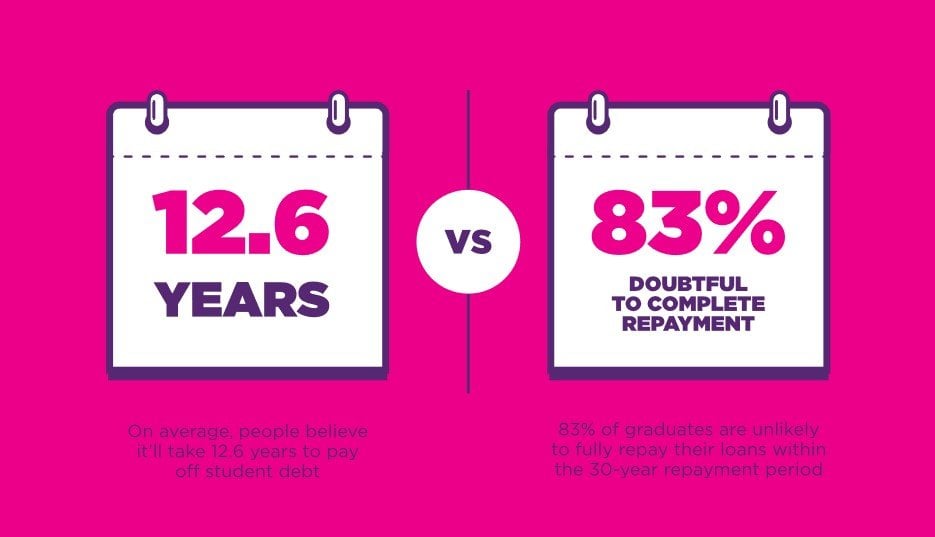 New analysis by MoneySuperMarket, the UK's leading price comparison site, explores the state of the UK's student debt and the impact this has on the students themselves. Whilst higher education is subsidised by the government through student loans, is it enough to save students from financial stress, and how has this affected the UK economy?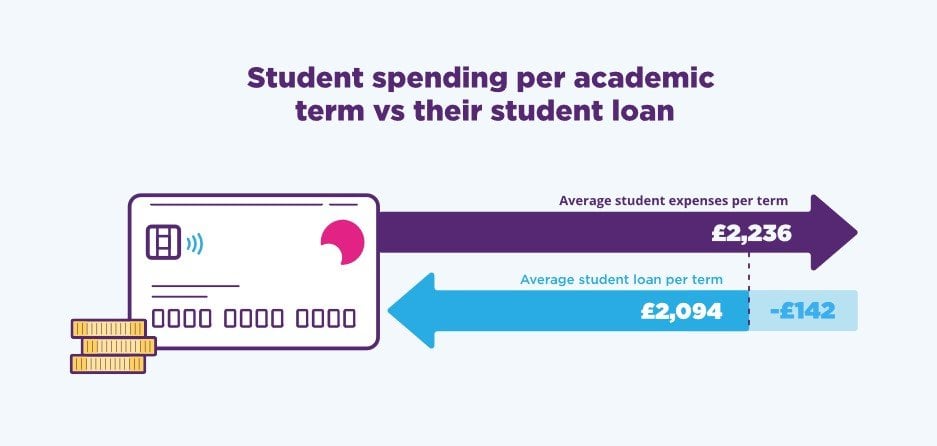 The UK's student debt is currently just over £100 billion3, and is projected to hit £1.2 trillion by 2049. The debt currently breaks down to £50,000 worth of debt per capita, which 83 per cent of graduates will never pay back4.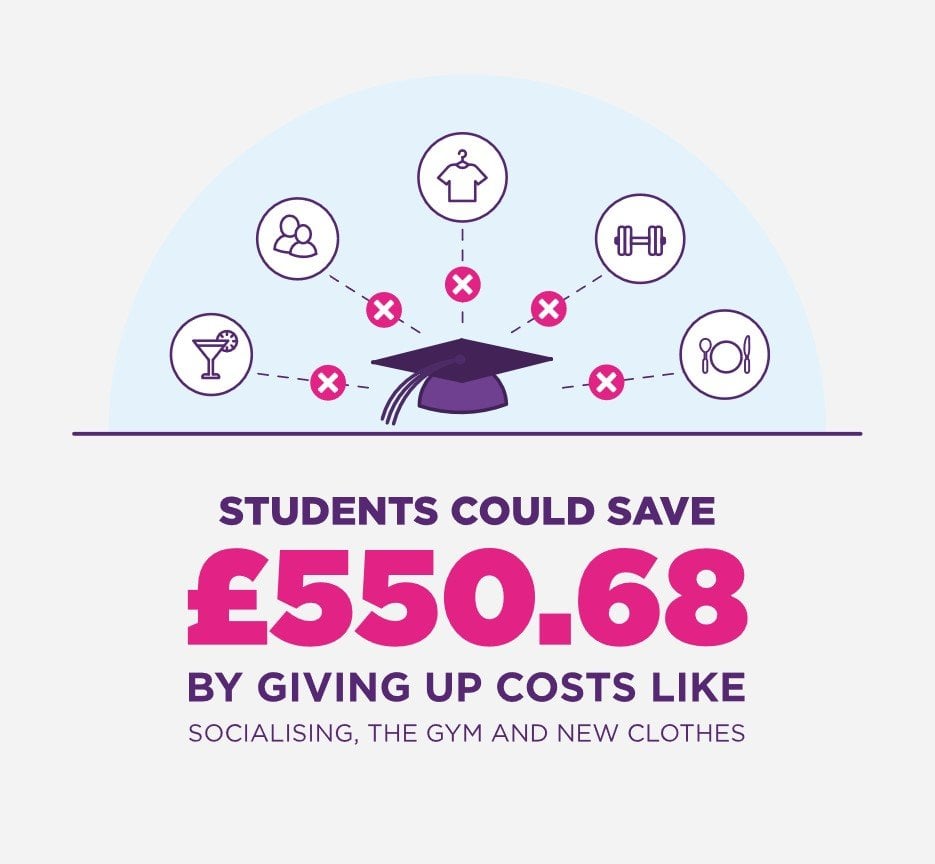 Furthermore, the results reveal that the average student loan does not cover the entirety of a student's costs; while the average student loan is reported to be £2,094 per term5, a student's total spend comes in at £2,235.836, £141.83 more than the loan offers.
Breakdown of student spending
| | |
| --- | --- |
| Category | Average Cost (£) Per Month |
| Accommodation | £465.54 |
| Groceries | £76.30 |
| Nights Out | £46.10 |
| Study Materials | £13.70 |
| Travel Back Home | £25.00 |
| Clothes | £30.10 |
| Gym | £10.60 |
| Laundry | £17.12 |
| Alcohol | £41.07 |
| Eating Out | £36.10 |
| Household bills | £45.20 |
| Trips | £22.90 |
| Day to Day Travel | £41.20 |
| Mobile Phone | £15.00 |
| Home Entertainment | £8.40 |
| Total | £894.33[i] |
Due to the disparity between student spending and student loans, an incredible 85 per cent of students reported that they had to rely on additional sources of income outside of their loan in order to cover their spending. 46 per cent receive money from their parents or family, and 42 per cent decide to work part-time.

With that being said, overdrafts feature heavily in student spending habits, with 61 per cent using them to pay for their groceries, 48 per cent for their rent, and 28 per cent on bills.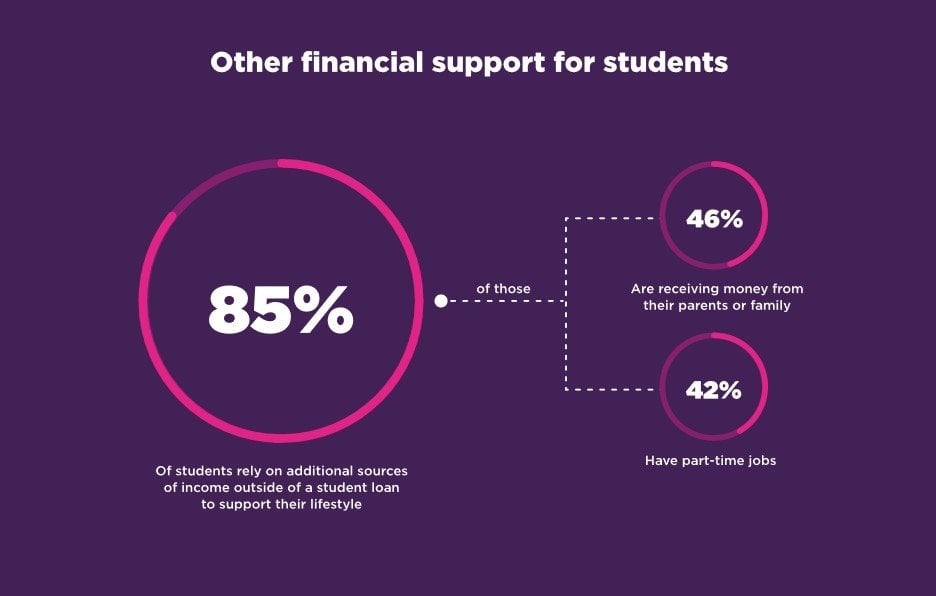 In fact, 30 per cent of students chose their current bank accounts because of the overdraft options available – and 42 per cent regularly dip into their overdrafts to an average total of £548.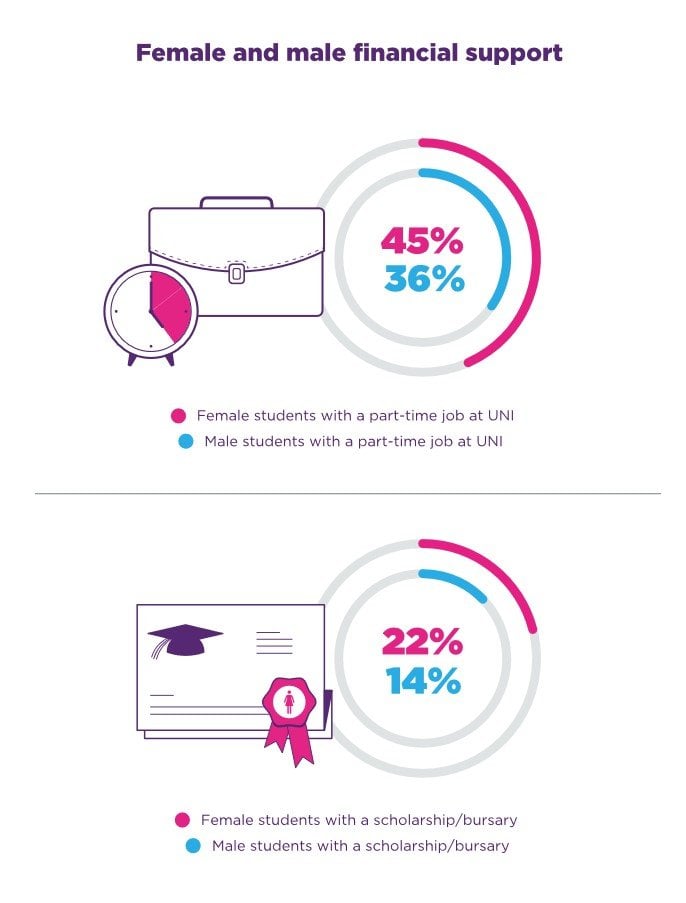 Student spending tips
30 per cent of students worry about their finances every day, while a further 31 per cent are concerned on a weekly basis.

MoneySuperMarket have created eight tips to help students manage their spending better. These include:
Cut down you travel costs – As a student you are eligible to travel discounts by means of a 16-25 railcard through National Rail, which costs £30 and will save you 1/3 on all rail fares. Some banks provide this as a sign-up "freebie", or you can apply for one through Transport for London (TFL).
NUS card – The NUS card is something known among college and university students alike, giving students great discounts across the UK with a wide variety of brands like River Island, Superdrug, ASOS and National Rail. The NUS card is a great way to save money without limiting what you normally buy.
Seek financial advice – Of the students who admitted to worrying about their finances every day, only 19 per cent sought any form of financial advice. Most banks offer free support when it comes to choosing accounts or managing overdrafts. For those that don't, government-backed companies like the Money Advice Service or debt charities can help guide you through difficult times.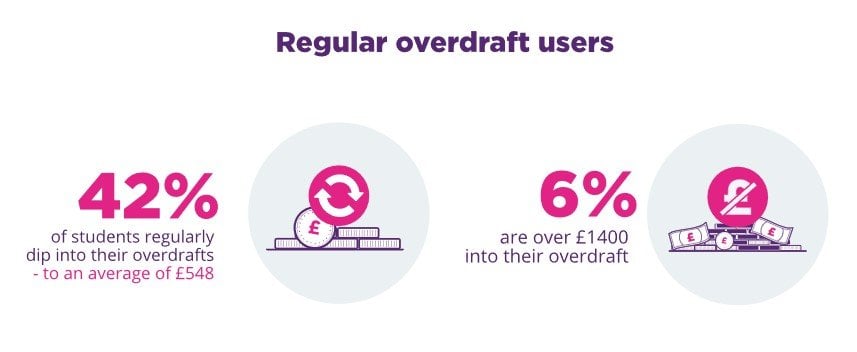 For the full list, see here.
Sally Francis-Miles, money spokesperson at MoneySuperMarket, commented: "It's not surprising that student loans don't cover the cost of living for students. The Government takes into account that parents will support their child in addition. Obviously, that's not always the case so it then falls on the student to get a part-time job or to save before going to make up the shortfall.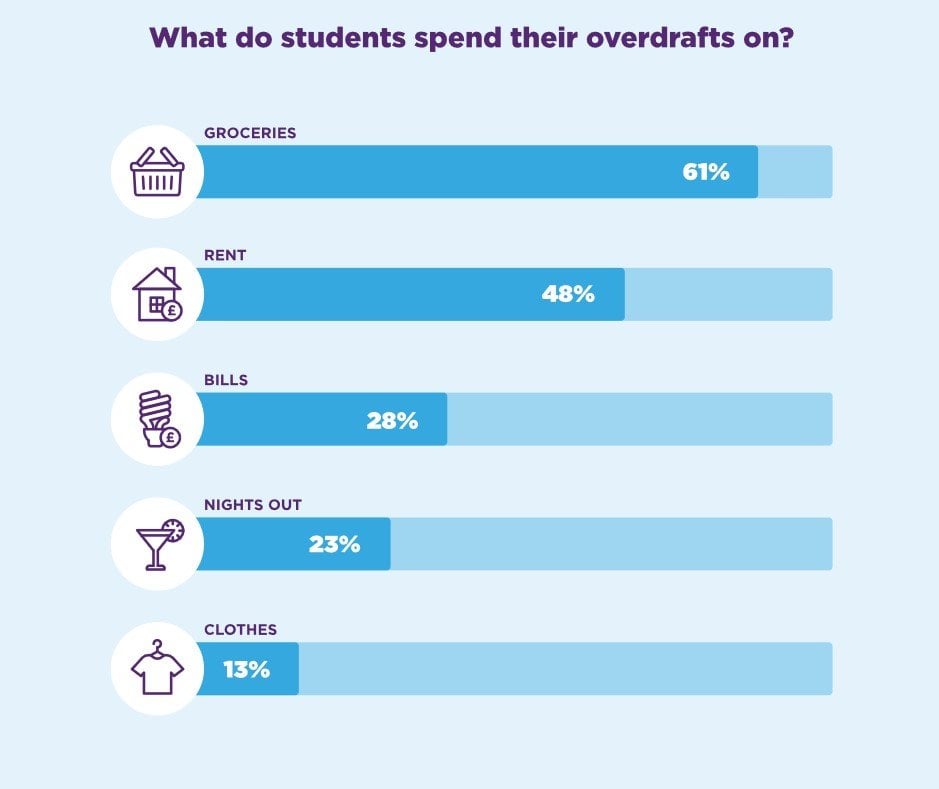 "While they can cut back on unnecessary costs – takeaways and cinema trips for example – expecting students not to spend any money on socialising or visiting family and friends is unreasonable.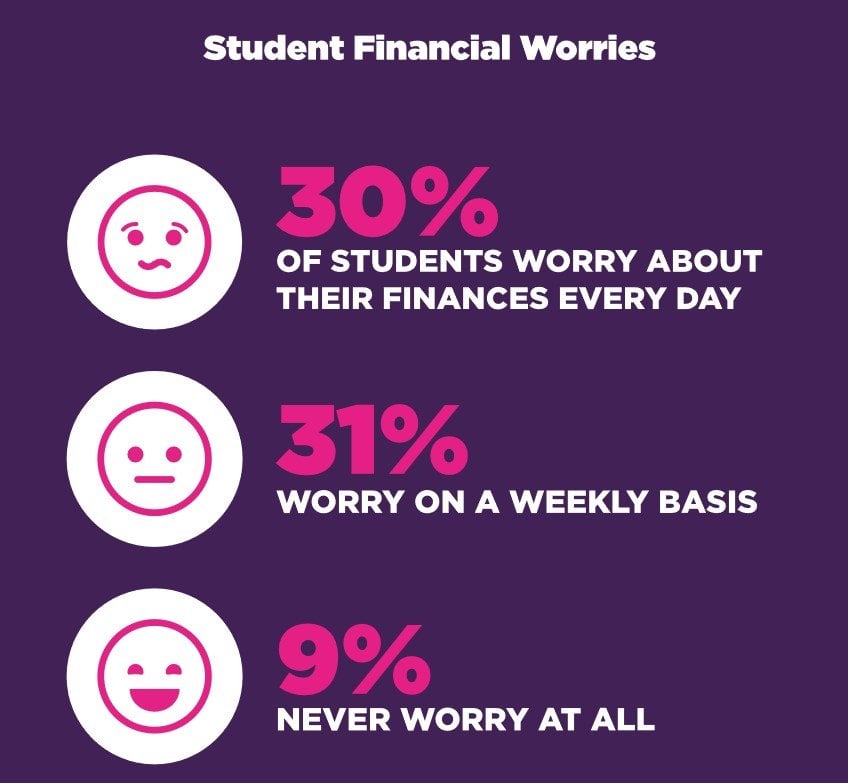 "We recommend that students always look for ways to save money where they can, but for those who have real financial concerns, there are often financial support offices at universities to help."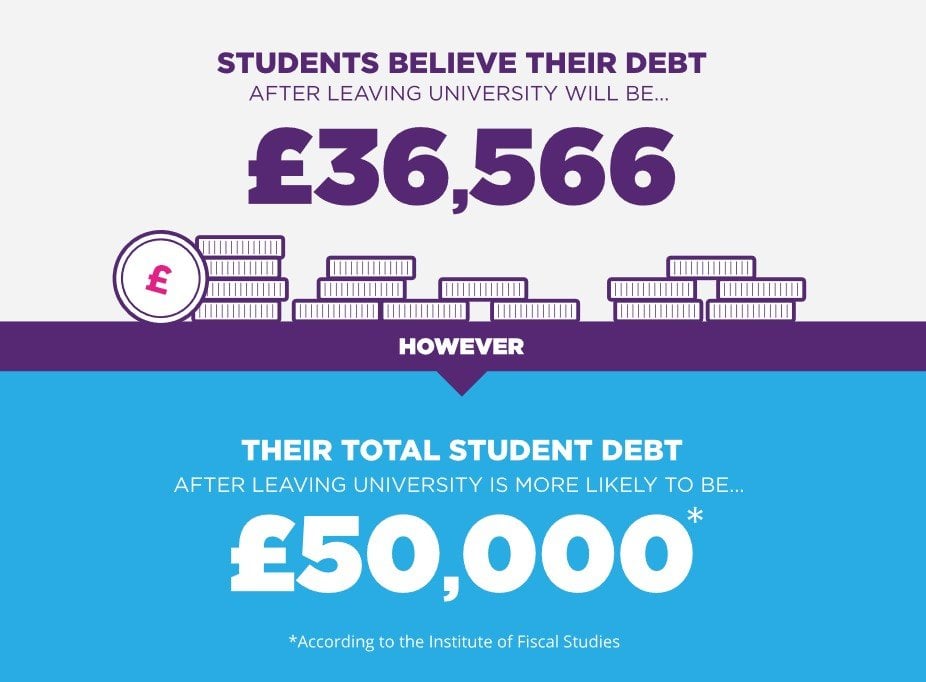 For more information on managing student finances, visit the MoneySuperMarket student spending guide.