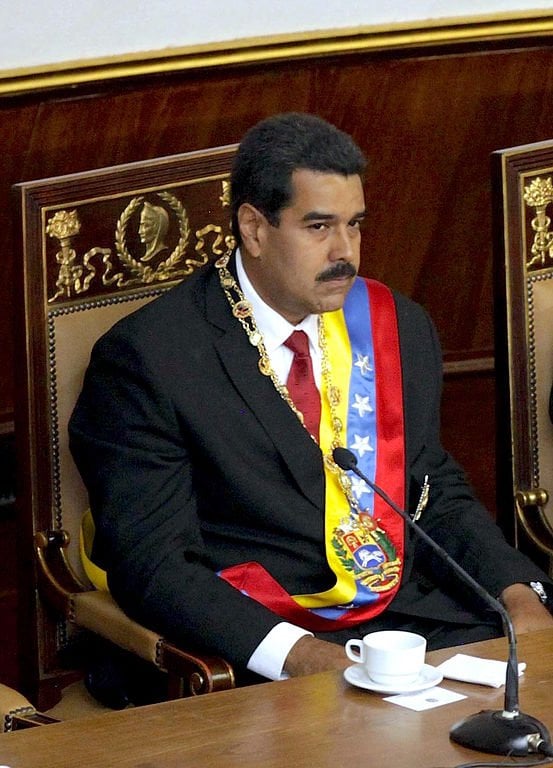 "Russian authorities have moved to quash suspicions that 20 tonnes of gold are about to be moved from the Venezuela's national bank to Moscow," The Telegraph began detailing a peculiar development in the ongoing political turmoil in Venezuela. "Allegations that a Russian jet which landed in Caracas was due to load an $840 million portion of the country's gold reserves surfaced early on Wednesday," they continued, explaining what could be an effort for Russian President Vladimir Putin to support his ally and Venezuelan counterpart, Nicolas Maduro.
"The Boeing 777, with space for some 400 passengers and belonging to Russia's Nordwind Airlines, was parked by a private corner of the airport after flying direct from Moscow, according to flight tracking data and Reuters photos," Reuters detailed after obtaining photos of the plane in Caracas, Venezuela.
Reuters was able to verify that the plane in question was the same which flew from Moscow to Caracas on December 3rd of last year, the same date Maduro traveled to Russia in order to meet with Putin. While public outcry in Venezuela was not at its current levels in December, the rising swell of discontent was beginning to manifest — the culmination of years of economic and social frustrations of the Venezuelan working class.
DG Value Adds 36.4% YTD As Distressed Stocks Surge
Dov Gertzulin's DG Capital is having a strong year. According to a copy of the hedge fund's letter to investors of its DG Value Partners Class C strategy, the fund is up 36.4% of the year to the end of June, after a performance of 12.8% in the second quarter. The Class C strategy is Read More
Putin's Support For Maduro
Last week Reuters would also report Russia sent private military contractors to Venezuela to improve the security of the embattled President Maduro. For months, Maduro has claimed he had intelligence that members of the Donald Trump administration were planning a coup with the goal of assassinating him.
"Yevgeny Shabayev, leader of a local chapter of a paramilitary group of Cossacks with ties to Russian military contractors, said he had heard the number of Russian contractors in Venezuela may be about 400," stated the aforementioned Reuters report from last week. The military personnel is said to be 'associated' with the 'Wagner group' who are linked to Russian operations in Syria and Ukraine.
Last week, President Putin again reaffirmed his public support for the Maduro presidency in Venezuela after a phone conversation between the two:
The President of Russia expressed support for the legitimate Venezuelan authorities amid the worsening of the internal political crisis provoked from outside the country. He emphasized [sic] that destructive external interference is a gross violation of the fundamental norms of international law. He spoke in favour [sic] of searching for solutions within the constitutional framework and overcoming differences in Venezuelan society through peaceful dialogue. The President of Venezuela provided his assessment of the dangerous turn of events in his country in recent days and expressed gratitude for the principled stance taken by the Russian Federation. The presidents reaffirmed their shared desire to continue Russian-Venezuelan cooperation in a variety of areas.
In hindsight, the public statement was a sign that Russia was going to send Maduro support and possibly help him stash assets in Russian banks. Putin aiding in the transportation of gold from Venezuela to Russia may be a part of a negotiation between the two leaders. "In total, Russia and Rosneft have delivered Venezuela at least $17 billion in loans and credit lines since 2006, according to Reuters calculations based on loans and credit lines announced by the government. Venezuela does not publish the full details of the debts it owes Russia," reads an excerpt of an August 2017 investigative report by Reuters on the financial ties between the nations.
At the time a 'top Venezuelan official' spoke to Reuters on background, informing the outlet that Maduro was pressured by Russia to take powers away from the National Assembly of Venezuela so Maduro could 'cut new oil deals to clear the way for Rosneft's [Russian oil company] expansion.'
The leader of the right-wing nationalist Liberal Democratic Party of Russia, Vladimir Zhirinovsky on Russian state TV that Russia should intervene militarily in Venezuela if asked by Maduro. "When dozens of Tupolev Tu-22 planes will ply Venezuela's airspace, I assure you no country will dare to intervene," he threatened. While it is unclear if Putin maintains the same hardline stance, recent actions suggest that he may have a similar view on the situation at hand.
What Is The Endgame?
"Mr. Navalny has been a driving force behind a recent series of anti-government protests held in cities and towns across Russia. He claimed authorities had recently imprisoned him for 30 days to prevent him from leading a 9 September protest against the government's pension reforms," The Independent details the Putin administrations orchestrated series of arrests for opposition leader Alexei Navalny in September of last year. Navalny was banned from running for the Russian presidency in March of 2018, an act of electoral fraud committed by Putin in his domestic allies.
The incident shows how little regard and respect Vladimir Putin has for the democratic process. His consistent backing of President Bashar al-Assad of Syria provides insight of the loyalty of convenience he could show Maduro in Venezuela. Putin wishes to expand his power on the international scene, therefore, it's in his best interest to ensure Maduro remains in power, even if Russia's economic ties with Venezuela are not as entrenched as they are with Syria.
If Maduro is a rational actor he will continue to welcome the support of Russia as the international community continues at large pushes for immediate elections, while many recognize opposition leader Juan Guaido as interim President of the nation.
The potential of moving gold and other assets of Maduro's to Russia opens the doors of the maligned President seeking sanctuary in Russia if the military begins to turn on him in unison.