Activist Insight data show the average reimbursement of activists disclosed in a settlement increased in 2018.
Agreements to end proxy fights for board seats at U.S. companies saw activists receive an average $431,831 to cover their expenses, according to an Activist Insight investigation into documents filed with the Securities and Exchange Commission, comfortably exceeding 2017's average reimbursement of $157,000.
Q3 hedge fund letters, conference, scoops etc
Crossroads Capital up 55.8% YTD after 32.5% in 2019 explains how it did it
Crossroads Capital is up 55.8% net for this year through the end of October. The fund released its 2019 annual letter this month after scrapping its previous 2019 letter in March due to the changes brought about by the pandemic. For 2019, the fund was up 32.5% net. Since inception in June 2016, Crossroads Capital Read More
Reimbursement of activists disclosed in settlements for board seats*
A large part of the difference is explained by the higher incidence of settlements at larger companies. In 2018, there were nine settlements where reimbursements were recorded at companies with a market capitalization of more than $2 billion, compared to three in 2017 – when the likes of Procter & Gamble and Automatic Data Processing chose to go the distance. However, in the more comparable sub-$2 billion categories, reimbursements generally averaged higher in 2018, perhaps indicating a greater willingness to appease activists.
Average reimbursement of activists disclosed in settlements for board seats, by market-cap*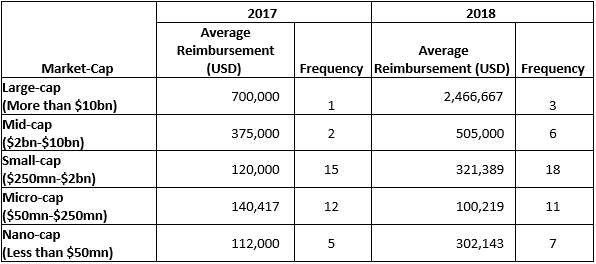 Quotes 
"The data underline the cost of soliciting shareholders at some of the largest companies," said Josh Black, Activist Insight editor-in-chief. "Although it should be noted that many deep-pocketed activists often don't request reimbursements, many others see it as fair that the cost of bringing about changes they argue will be felt widely should be borne by all shareholders."
The data were collected as part of an in-depth article on reimbursements by Activist Insight reporter Iuri Struta that featured commentary by industry experts and can be read by Activist Insight subscribers here.
Notes
*Data only includes instances where a reimbursement amount was agreed and disclosed. Data is limited to disclosures made on the SEC.
N.B. An unusual settlement between activist Mantle Ridge in which CSX reimbursed the activist for a $55 million indemnification of Mantle Ridge's CEO candidate, Hunter Harrison, was excluded from the 2017 data.
---
About Activist Insight 
Since 2012, Activist Insight has provided its diverse range of clients with the most comprehensive information on activist investing worldwide. Regularly quoted in the financial press, Activist Insight is the trusted source for data in this evolving space. Activist Insight offers five industry-leading products: Activist Insight Online, Activist Insight Governance, Activist Insight Vulnerability – a tool for identifying potential activist targets – Activist Insight Shorts, and Activist Insight Monthly – the world's only magazine dedicated to activist investing.