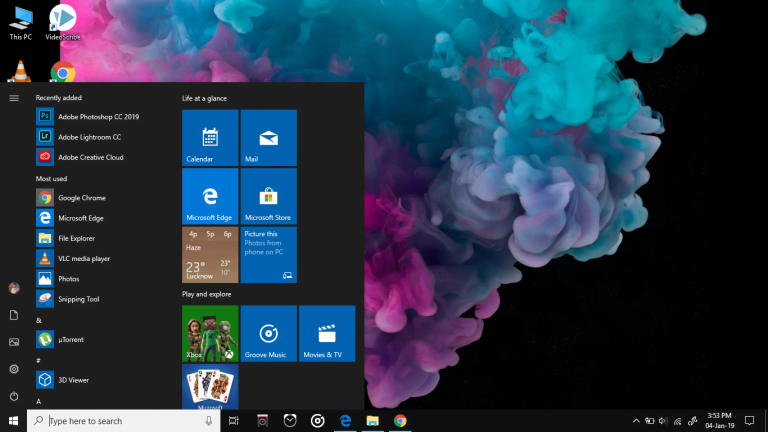 Remembering a bunch of passwords for different platforms and services could be annoying. So, Microsoft is pushing for a password-less future with the latest Windows 10 build. The software giant has released Windows 10 Insider Preview Build 18309 to Insiders in the Fast ring. It's a minor upgrade with only a small number of new features, but it brings some interesting improvements.
Besides supporting password-less logins on Windows 10, it brings improvements to the Narrator app, security, and accessibility. The software giant introduced password-less logins with the Insider Build 18305 in December last year. But it was limited to Windows 10 Home edition. The latest Windows 10 build 18309 brings it to all the different versions of the software in an attempt to do away with passwords altogether. These features will be released to the public as part of the 19H1 update in a few months.
Here's how it works
The Redmond giant is offering a more secure way to let users log-in to its services. People can log-in using their phone. The feature sends a one-time code to your phone number via SMS, which you can use to log-in. The new Windows 10 build also enhances the experience for resetting your PIN on Windows 10 devices.
Consistency is what makes the top 50 best-performing hedge funds so strong
Every month and quarter, multiple reports on average hedge fund returns are released from several sources. However, it can be difficult to sift through the many returns to uncover the most consistent hedge funds. The good news is that Eric Uhlfelder recently released his "2022 Survey of the Top 50 Hedge Funds," which ranks the Read More
If you have a Microsoft account with your phone number, you can use the one-time SMS code to sign in and setup your Windows 10 account. After setting up the account, you can use Windows Hello Face, Fingerprint or PIN to sign in to your device. No password required at all!
If you don't yet have a Microsoft phone number account, you can download any of its apps on your Android or iOS device and sign up with your phone number under "Sign in or Sing up for free." After creating the password-less phone number account, you can add this account to Windows by going to Settings > Accounts > Family & other Users > "Add someone else to this PC". Now lock the device and select your phone number account on the Windows sign-in screen.
Since you now have a password-less account, select the Sign-in Options > PIN  > Sign in. Now go through the web sign-in and Windows Hello setup. During subsequent log-ins, you will be using Windows Hello to access your account. You don't have to remember a password (because there isn't one) and you don't have to enter a one-time code sent via SMS. You'll have to use the one-time code only when you are signing in on a new PC.
Microsoft has also revamped the Windows Hello PIN reset experience. Now it has the same look and feel as signing-in on the web. You can check it out in the latest Windows 10 build by clicking the I forgot my PIN when signing in to Windows with a PIN.
Other features and improvements in the new Windows 10 build
The build 18309 includes minor improvements to the Narrator as well. Users can now download additional voices in other languages without having to download entire language packs. The Narrator Home navigation has also been improved. It offers improved interaction with Chrome menus and improved table reading in PowerPoint.
Microsoft has also removed the Cortana voice-over from Windows 10 setup for enterprise users. Enterprise customers complained that Cortana on the Windows 10 setup experience was borderline useless and annoying. The software giant later made it easier to disable but the feature was still turned on by default. With the latest build, the voice assistant has been disabled for enterprise users (Windows 10 Pro, Enterprise, and Education versions), but Home users will continue to suffer the horror.
The company has also added 11 additional mouse pointer sizes in the Cursor and Pointer settings, taking the total number of sizes to 15. The Insider Build 18309 doesn't bring any radical new features that will blow your mind. Now that the 19H1 update is only a few months away, we are more likely to see stability improvements and bug fixes rather than new features.
Recently, online stat-tracking firm Net Market Share revealed that Windows 10 has finally surpassed Windows 7 in terms of usage. It now accounts for 39.22% of usage compared to 36.9% for Windows 7. Another tracking firm StatCounter estimates Windows 10 surpassed Windows 7 about a year ago, and it now accounts for more than 50% of the installed base. It means there are still tens of millions of people using the older Windows 7, which will undergo planned obsolescence in January 2020.
Updated on