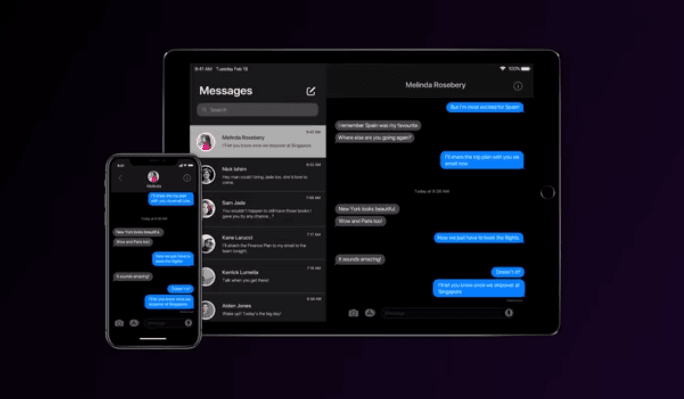 The iPhone and iPad users have wanted a system-wide dark mode, a better Files app, and many other features for a long time. Apple decided to focus on reliability and performance improvements with the iOS 12. Now the tech giant is working to introduce tons of new features with this year's iOS 13 software. And it looks like the tech giant has picked these features directly from the wish list of its hardcore fans.
iOS 13 software to feature dark mode, new home screen
Apple is expected to unveil the iOS 13 software at its annual Worldwide Developers Conference (WWDC) in June before rolling it out to the public in September. Citing sources familiar with the matter, Bloomberg contributor Mark Gurman reports the iOS 13 would offer a system-wide dark mode for "easier nighttime viewing." It would match the dark mode that Apple introduced with macOS Mojave for Mac devices last year.
Almost every iOS 13 concept we have seen so far has highlighted the dark mode. Many individual apps have already added the dark mode, and users can get a similar effect using Apple's Smart Invert option. But these are not as good as a system-wide dark mode. Google's upcoming Android Q is also rumored to have a full-fledged dark mode along with a Face ID-like facial recognition system.
Star hedge fund macro trader Colin Lancaster warns: Inflation is back
Talk of inflation has been swirling for some time amid all the stimulus that's been pouring into the market and the soaring debt levels in the U.S. The Federal Reserve has said that any inflation that does occur will be temporary, but one hedge fund macro trader says there are plenty of reasons not to Read More
Sources told Bloomberg that the iOS 13 software would also offer CarPlay improvements and some iPad-specific enhancements. The home screen on the iPad leaves a lot of extra space that could be better utilized. Rumors about a redesigned iPad home screen have been circulating for months. It's unclear what the new home screen would look like, though.
The upcoming iOS would also improve the file management, though it's not yet known whether it would have an open file system. Apple has been promoting the iPad Pro as a laptop replacement. But without a full-fledged file management system and mouse support, it remains a half-baked laptop replacement.
Gurman added that the iOS 13 software would allow users to tab through multiple versions of the same app, just like they can do in a web browser. The tech giant is also expected to make its cross-platform initiative available to developers, allowing them to easily port their iOS apps to macOS.
Given Apple's focus on the services business, we wouldn't be surprised to see the company's new magazine subscription service and the TV subscription service integrated into iOS 13. Sources familiar with the matter recently told The Information that the tech giant would announce its TV subscription service in mid-April. Apple is also working on a gaming subscription service, but that's unlikely to arrive anytime soon.
Apple is telling entertainment companies that its streaming video service will be ready for launch by mid-April https://t.co/nsGRb5KgZz

— Aaron Tilley (@aatilley) January 29, 2019
Apple working on 3D cameras for iPhones
Mark Gurman also spilled the beans on the 2019 and 2020 iPhones. Apple is reportedly working on a more powerful 3D camera that could find its way into the 2020 iPhones. The long-range 3D camera would also feature a laser scanner to enhance the augmented reality experience. Compared to the dot projection system on the front-facing TrueDepth camera of current iPhones, the laser sensor will have a range of up to 15 feet. The TrueDepth camera has a range of just 25-30 centimeters to power the Face ID technology.
The new 3D camera would scan the environment to create a 3D model of the real world. It would use the Time of Flight (TOF) technology, which measures the time taken by the pulses of light to travel to and from objects in the scene. Apple is said to be interested in Sony's TOF sensors. The 3D camera technology could first appear in the 2020 iPad Pros, which would launch before the 2020 iPhones.
This year, Apple would launch three new iPhones that would succeed the iPhone XR, iPhone XS, and XS Max. The XS Max successor will reportedly have three camera lenses on the back. The third lens could provide more zoom options and a wider field of view. All three devices would run the iOS 13 software out of the box. Apple is said to be testing versions of 2019 iPhones with USB-C cable instead of the Lightning connector.