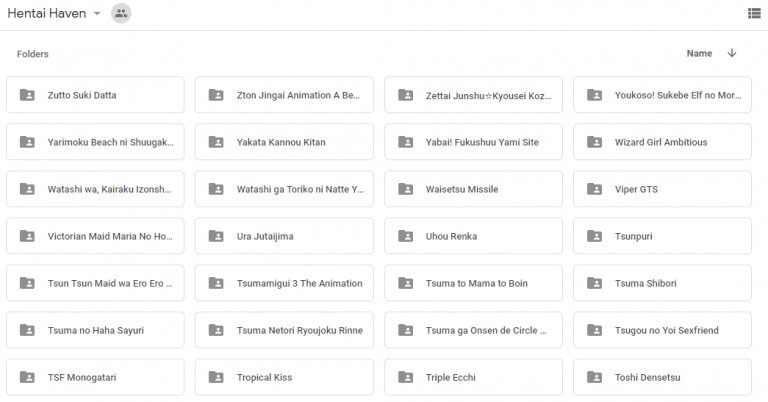 We all like backing up the important photos, videos, music, and data to ensure that we still have a copy if something goes wrong with our server, phone, or computer. Since the popular adult website Hentai Haven announced that it was shutting down, someone had started backing up Hentai Haven videos to Google Drive, in case there is an HH apocalypse. We are not sure if it's legal to access the Hentai Haven videos from Google Drive or if this collection contains any adware, malware, or virus.
For the uninitiated, Hentai Haven announced last month that it was shutting down its website, leaving millions of its fans shocked and disappointed. The developers offered no explanation about why they were shutting it down. Their Facebook page was purged and Twitter handle removed. Just days later, Hentai Haven told fans on its official website that it had partnered with Fakku to save itself.
Late last month, a website called HentaiHaven.me emerged on the scene, and claimed it was the official Hentai Haven with a .me domain name. Who developed this website remains a mystery. The official Hentai Haven website – which has a .org domain name – called it fake and urged users to stay away from that website. It means HentaiHaven.org remains the original and official HH home.
Benjamin Graham GEICO Buy Was Just A Simple Value Play
Was Ben Graham's big purchase of GEICO shares actually a value investment? Perhaps it was contrary to what many believe. "In 1948, we made our GEICO investment and from then on, we seemed to be very brilliant people." -- Benjamin Graham, 1976 Both Benjamin Graham and Warren Buffett can attribute a large part of their Read More
It doesn't have all the Hentai Haven videos
There is no word on when the official Hentai Haven website will come back to life, though the developers have promised to provide more details soon. It's been almost two weeks since HH joined hands with Fakku but the site is still not up. The official Twitter and Facebook accounts have been restored now. But there is still a sense of uncertainty around the whole episode. So, someone thought backing up as many Hentai Haven videos to Google Drive as possible would be a good idea, at least from the perspective of fans.
Piunikaweb discovered that someone created a Google Drive folder titled Hentai Haven on Dec.23 and uploaded as many videos as they could. The folder was shared on Twitter by C-T208-G7. The Twitter user says the Google Drive folder would prove useful if Fakku puts the HH content behind a paywall or ends up messing with Hentai Haven.
hey
so i found hentai haven archive through all the way from start to closing
it's google drive
so incase fakku fucks up hh and paywalls this is your best bet
make sure you bookmark it or copy the link or whateverhttps://t.co/Ti7qXjNqxq

— den (@dendeadahahaha) December 31, 2018
update not very "all the way from start" it seems but it holds well i think

— den (@dendeadahahaha) December 31, 2018
It doesn't contain the entire archive of Hentai Haven videos, though the collection seems to be pretty large. In fact, Piunikaweb found some of the video folders to be empty.
HH urges users to stay away from fakes
The official Hentai Haven website hasn't yet said anything about their videos being saved to Google Drive by someone who might not own the rights to that content. In the last couple of weeks, the adult entertainment platform has issued several warnings about fake Discord servers and sites claiming to be the "new" HH. The developers said the only official Discord server for HH was at the .org extension.
They also warned that the copycats "are fake and could compromise your security." The HentaiHaven.me website – which isn't official, by the way – claimed "We moved site to Hentaihaven.me. Please bookmark new site. Thank you!" It's unclear whether the HentaiHaven.me developers had any nefarious plans or they were just trying to capitalize on Hentai Haven's debacle. But it's always a good idea to stop visiting the copycat websites and run antivirus software on your computer to ensure that there is no adware, virus, or malware on your device.
It remains a mystery why Hentai Haven decided to shut down last month. Was it due to financial problems, legal troubles, regulatory hurdles, or something else?