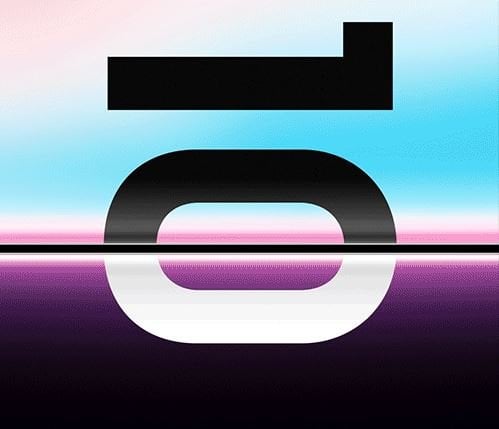 When folks at SamMobile reported last month that Samsung would launch its own cryptocurrency wallet with the Galaxy S10, the Korean company dismissed it as "rumor and speculation." Newly leaked pictures of Galaxy S10 suggest the device will indeed have a built-in cryptocurrency wallet called the Samsung Blockchain KeyStore app.
The leaked images also show off the punch-hole display to accommodate the front-facing camera. There is only a single hole on the display, meaning it's the Galaxy S10 rather than the larger S10 Plus, which would have dual cameras on the front. Samsung introduced the punch-hole Infinity-O display with the Galaxy A8 in China recently. Other vendors like Huawei have also adopted a similar technology on their newer devices such as the Honor View 20 and Nova 4.
Samsung Blockchain KeyStore to be highly secure
The latest leak comes via Twitter tipsters Gregory Blake and Ben Geskin, and was first spotted by SamMobile. As per the images, Samsung describes its native cryptocurrency wallet on the splash page as a "secure and convenient place for your cryptocurrency." The Samsung Blockchain KeyStore will not only allow users to create new wallets but also import existing ones.
Philip Carret And Warren Buffett: Why Sell If There's Nothing Wrong?
Philip Carret was an investor and founder of Pioneer Fund, one of the first mutual funds in the United States. Carret ran the mutual fund for 55 years, during which time an investment of $10,000 became $8 million. That suggests he achieved a compound annual return of nearly 13% for his investors. Q1 2021 hedge Read More
Galaxy s10 with crypto wallet? pic.twitter.com/6IICujXEnm

— Gregory Blake (@GregiPfister89) January 22, 2019
— Gregory Blake (@GregiPfister89) January 22, 2019
The splash page shows it would support Ethereum, but SamMobile noted that it's going to support other virtual currencies as well including Bitcoin, Bitcoin Cash, Ethereum-derived ERC20, and more. The Samsung Blockchain KeyStore app is said to have two parts. There will be a crypto wallet for viewing your account information, transaction history, and transfers. The second part, a cold wallet, would save your digital currencies, private and public keys, and sign private keys for transactions.
New #GalaxyS10 live images leak with 'Samsung Blockchain KeyStore'

(images via @GregiPfister89) pic.twitter.com/g0FipTooe6

— Ben Geskin (@BenGeskin) January 23, 2019
SamMobile revealed last month that the Settings app on Galaxy S10 would also have a dedicated menu item for the cryptocurrency wallet under the Biometrics and Security section. You can manage your blockchain private keys from there. It's unclear if the Samsung Blockchain KeyStore app will become available on day one or will be rolled out as an over-the-air (OTA) update after the Galaxy S10 launch.
Samsung's decision to add a built-in cryptocurrency wallet could attract a lot of cryptocurrency fans to the Galaxy S10. It could also help boost the popularity of virtual currencies. We will find out all the details soon at the Galaxy Unpacked event in San Francisco on February 20. The upcoming flagship will reportedly go on sale on March 8th.
How much will the Galaxy S10 cost?
Italian website TuttoAndroid shared the Galaxy S10 prices and color options earlier this week. It's no secret that the Korean company would launch a budget-friendly Galaxy S10 E, a standard Galaxy S10, and a larger Galaxy S10 Plus with triple rear cameras. All three of them would run the same Exynos 9820 or Snapdragon 855 processors depending on the market. According to TuttoAndroid, Samsung has done away with the 64GB and 256GB storage options, making 128GB the base storage.
According to the Italian publication, the Galaxy S10 E would cost €780 ($885) for the 6GB/128GB model. The budget model would have only 128GB internal storage, though there will be a microSD card slot for external memory. The standard Galaxy S10 would start at €930 ($1,056) for the 6GB/128GB variant and jump to €1,180 ($1,340) for the 8GB/512GB version.
The highest-end Galaxy S10 Plus is going to cost €1,050 ($1,192) for the 6GB/128GB model, €1,300 ($1,477) for the 8GB/512GB version, and €1,600 ($1,819) for the 12GB/1TB variant. The US prices are unlikely to be that high, but a price hike does appear to be on the cards, so be prepared to shell out more than before.
TuttoAndroid added that the Galaxy S10 E would launch in Black, Yellow, White, and Green colors. The standard Galaxy S10 would be available in White, Black, and Green options, meaning it would ditch the yellow color. The larger S10 Plus is said to be available in Black, White, and Green options. The Plus variant would also arrive in two non-ceramic special editions.
The Galaxy S10 and S10 Plus would sport a secure and blazing fast ultrasonic in-display fingerprint sensor. It will allow you to unlock the device and authenticate payments by placing your finger on the screen. But don't get your hopes too high because recent reports suggest the ultrasonic fingerprint sensor might not work if you place a screen protector over the display. The budget model is said to have a side-mounted fingerprint reader to keep its production costs down.
According to Twitter tipster Ice Universe, the S10 E would include a decent 3100mAh battery. The S10 and S10 Plus would feature 3500mAh and 4000mAh batteries, respectively.
TuttoAndroid added that Samsung could unveil a few more products at the Galaxy Unpacked event next month. A fully-functioning foldable phone as well as a 5G smartphone seem highly likely. But the publication says we could also see new headphones, a new smartwatch called Galaxy Fit, and new Android-based tablets at the event.