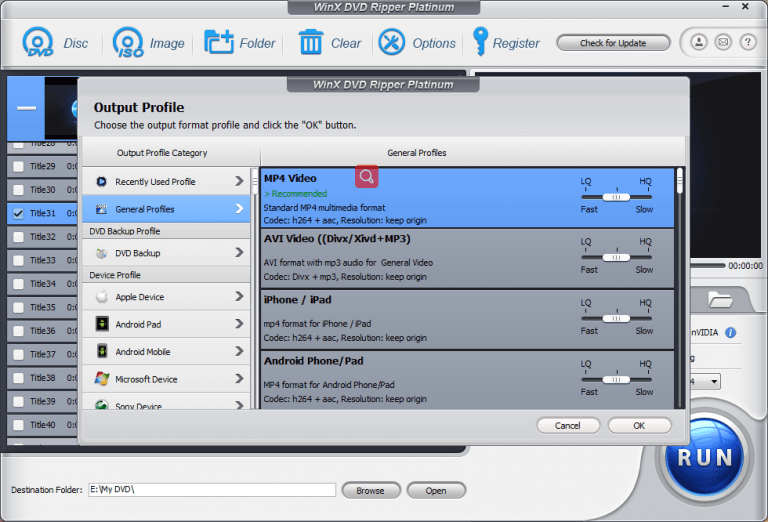 As the world becomes increasingly digital, you may find yourself wanting to convert your DVD to MP4 instead. You may want to convert your DVDs to protect your videos from being scratched or broken or if you want to watch them on your phone or tablet. Converting DVDs to MP4s can also help you save space so you don't have piles of DVD cases sitting around. You may even just want to have a digital backup in case something happens to the physical DVD.
Two good ways to convert DVDs are Handbrake and WinX DVD Ripper. If you're ripping unprotected DVDs like home videos, then Handbrake works quite well. However, if you're ripping protected video content like DVDs you purchased, then you'll need a solution like WinX DVD Ripper.
Q4 hedge fund letters, conference, scoops etc
Finding Value In Spin-offs
Some of the best trades during the past few years have been spin-offs. Of course, I'm taking about deals like Kraft Foods Group Inc (NASDAQ:KRFT) / Mondelez International Inc (NASDAQ:MDLZ) and ConocoPhillips (NYSE:COP) / Phillips 66 (NYSE:PSX) both of which have continued to achieve record performances year-to-date. What's more, there are a number of spin-offs Read More
How to convert DVD to MP4 using Handbrake
Handbrake is a popular freeware program for ripping unprotected DVDs. You can use it to import DVDs or folders and ISO images. The software allows you to convert DVDs to MP4, MKV and sometimes M4V files. The videos can then be played on Android devices, iPhones, iPads, and PlayStation and Xbox consoles.
How to convert DVD to MP4 files using Handbrake:
After downloading Handbrake, open the software on your computer and then look for your DVD drive in the list of sources available to select from. Handbrake will scan the DVD that's in the drive. If it's protected, then the software will tell you that it can't be read.
If the DVD is not protected, then Handbrake will display a list of the content that's on it, so select the appropriate file(s). Then go to "Destination" and then "Browse" and then tell the software where to put the video after the DVD is ripped.
Next you'll need to select the quality of the video you want to save. Just remember that the higher the quality, the more space the video will take up and the longer it will take to rip it. In general, U.S. users will almost always want to select 480p, while European users will usually want to select 576p.
After entering your title and quality, just click "Start Encode," and Handbrake will start converting the DVD to MP4.
In general, you're looking at about 18 minutes to rip 2.5-hour videos using Handbrake.
How to convert DVD to MP4 using WinX DVD Ripper
Most of the DVDs you buy are copyright-protected. Handbrake does support some protected DVDs if you also use Lbdvdcss with it, but the procedure can get complicated. As a result, we recommend using an all-inclusive solution like WinX DVD Ripper instead. WinX DVD Ripper also offers a number of other advantages over Handbrake, which you can read about below.
Here's how to convert DVDs using WinX DVD Ripper:
Download this DVD ripper free, and then open it.
Click "DVD Disc" and then insert the DVD you want to rip.
Select MP4 as the format and then click "Run.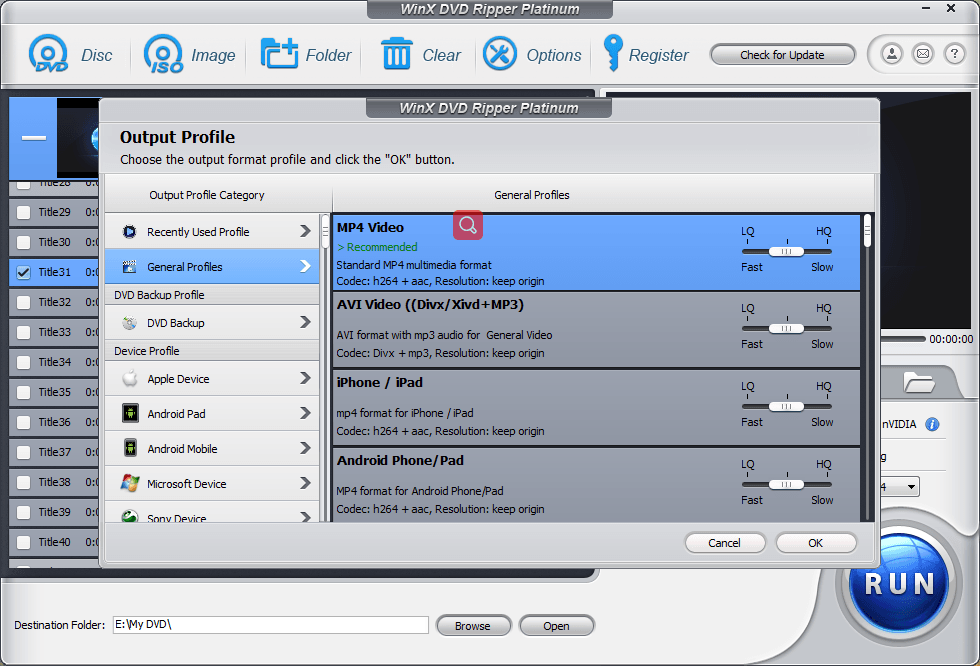 And that's it. One good thing about WinX DVD Ripper is that you don't even need a high-end computer to use it because lower-end PCs are generally capable of running the software. You can even continue to work on other things on your PC while the software does its work.
Handbrake vs. WinX DVD Ripper in digitizing DVDs
Like Handbrake, WinX DVD Ripper can be downloaded free, but as you can see from the steps listed above, it's much easier to use than its freeware counterpart. There are also other advantages to using the WinX software.
For example, WinX DVD Ripper preserves much more of the quality of the content you rip from DVDs. The developer says 98% of the original DVD quality is retained with WinX, while only 70% is kept using Handbrake. In some cases, WinX DVD Ripper may even allow you to recover content from old DVDs which have been scratched or otherwise damaged, but Handbrake does not.
WinX DVD Ripper is also a much faster way to convert DVDs to MP4s. It will generally take you about nine minutes to convert a 2.5-hour disc. Here is more information about the differences between WinX DVD Ripper and Handbrake: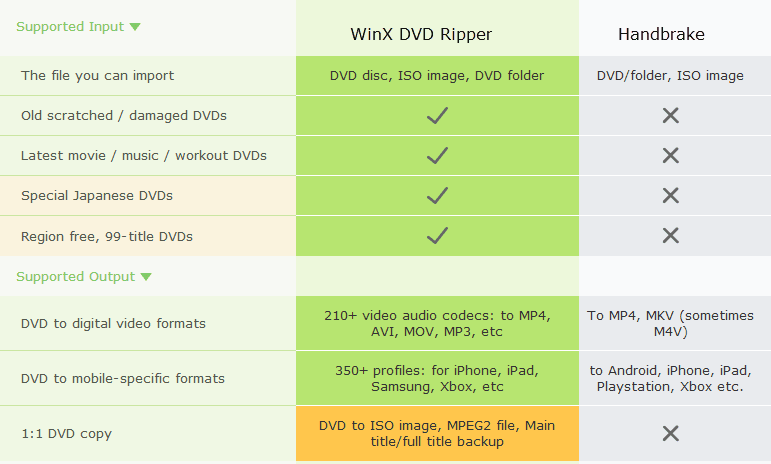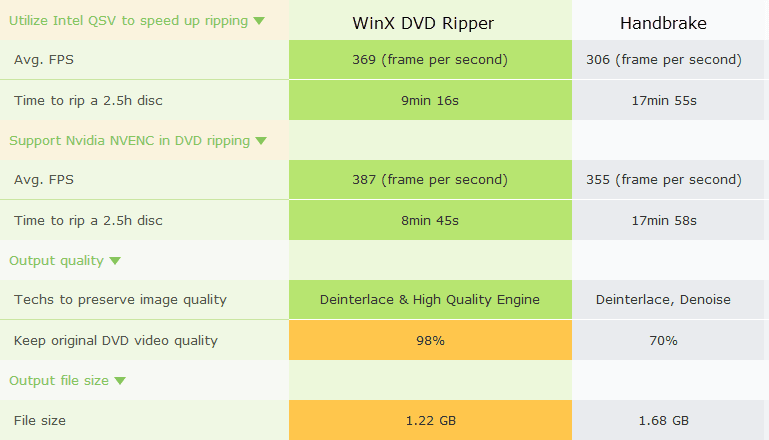 To learn more about converting DVDs to MP4s, you can also check out WinX DVD Ripper's official video introduction: