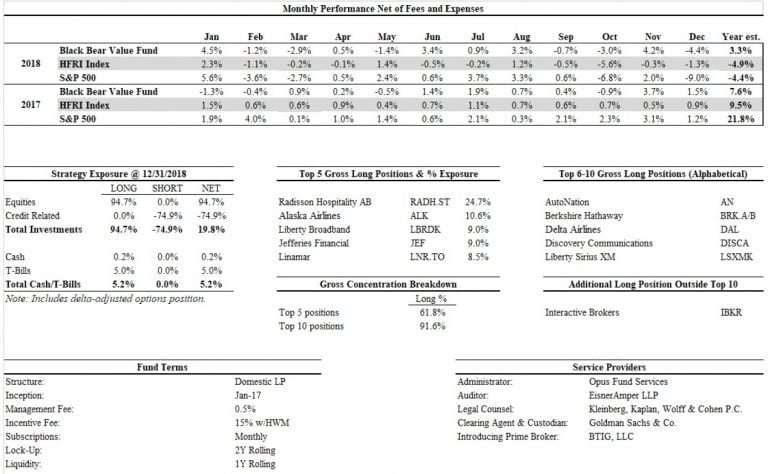 Black Bear Value Fund portfolio update for the fourth quarter and the full year ended December 31, 2018.
Dear Partners and Friends,
The Fund's year-end letter will be sent later this quarter. In the meantime, please see our 4th quarter and full year 2018 portfolio update. Included are additional portfolio details as of year-end. We had a good amount of fund inflows for January resulting in increased sizing of positions as of 12/31.
Star hedge fund macro trader Colin Lancaster warns: Inflation is back
Talk of inflation has been swirling for some time amid all the stimulus that's been pouring into the market and the soaring debt levels in the U.S. The Federal Reserve has said that any inflation that does occur will be temporary, but one hedge fund macro trader says there are plenty of reasons not to Read More
Q3 hedge fund letters, conference, scoops etc
The Black Bear Value Fund returned approximately -3.2% net in the 4th quarter bringing the 2018 net return to +3.3%. The S&P 500 returned -13.8% in the 4th quarter bringing the 2018 return to -4.4%. The HFRI index returned -7.2% in the 4th quarter bringing the 2018 net return to -4.9%. While we are pleased with our out-performance, there are no guarantees looking forward.
Thank you to our LP's who provide us a great competitive advantage. In hectic times (such as this year) you allow me to focus on developing our ideas to both compound and protect our capital. We are lucky to have you in our Partnership. Thank you to my family (especially Lauren) for their patience, love and support. Lastly, thank you to our service providers, friends and fellow fund managers. You all help in different ways and provide helpful advice and counsel as we continue on this journey together.
The timing of your investment could result in different returns, so please consult your statement which should be arriving shortly from our fund administrator. Please click on the link below to access our tear sheet.
Fund Strategy
Black Bear Value Fund, LP is an opportunistic, concentrated and fundamental value investment partnership. Our partnership operates with low fees and high levels of alignment between the Investment Manager and the Limited Partners. The Investment Manager seeks to preserve capital and achieve long term capital appreciation with sensible risk by focusing on the margin of safety of an investment. We actively seek undervalued and concentrated investments in the stock and bond markets that can be purchased at discounts to their intrinsic value/recovery value.
Thank you for your trust and support,
Adam
Black Bear Value Fund
This article was first posted on ValueWalkPremium