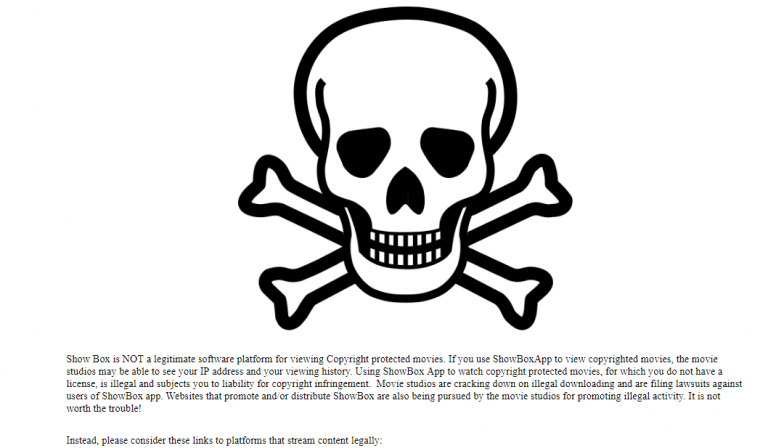 The popular app ShowBox is back up and running after a days-long outage. Distributors of the embattled app have been locked in a legal battle with movie studios and other content providers, which have been pursuing users. Because of all the copyright-related legal problems, many had speculated that ShowBox was finally gone for good, but users are now reporting that it has started working again after a new update.
ShowBox is back… for now
The popular ShowBox app allows users to download and watch movies and TV shows using Android devices. However, we must emphasize that it's not an official app, and users should not expect to be protected from piracy-related claims over downloaded content.
We started hearing reports from ShowBox users who complained about "connection error" messages several days ago. There was no official word from the developer about the app shutting down, but many speculated that ShowBox was finally caving under all the legal concerns. However, at least one Twitter user claimed the app was going through a bug fix, and now we know they were correct because the app is back.
Ray Dalio At Robin Hood 2021: The Market Is Not In A Bubble
At this year's annual Robin Hood conference, which was held virtually, the founder of the world's largest hedge fund, Ray Dalio, talked about asset bubbles and how investors could detect as well as deal with bubbles in the marketplace. Q1 2021 hedge fund letters, conferences and more Dalio believes that by studying past market cycles Read More
Multiple users have tweeted their delight that ShowBox is back up and running. However, Piunikaweb noted that many of those tweets contain an apk, and unfortunately, many of the shared apks are riddled with malware and viruses. Because of that, we aren't going to share any of the tweets about Showbox, but we can say that many users are excited that the app is back.
Warnings about ShowBox
If you are among those who are excited that ShowBox is back, or you're thinking about trying it out, we have several warnings for you. One of the results of the ongoing legal battle over Showbox is that distributors of the app agreed to warn potential users that they may be sued if they are found to have downloaded and viewed copyrighted content via the app.
Many users mistakenly think movie studies and other content providers can't know who is using the app, but the app does supposedly collect information like users' IP address and complete viewing history. Some viewers might want to take their chances by using ShowBox or another similar app to view copyright-protected content without paying for it, but there will always be a chance of a lawsuit. Even though major movie houses don't usually pursue individuals for downloading and viewing pirated content, it isn't totally without precedent.