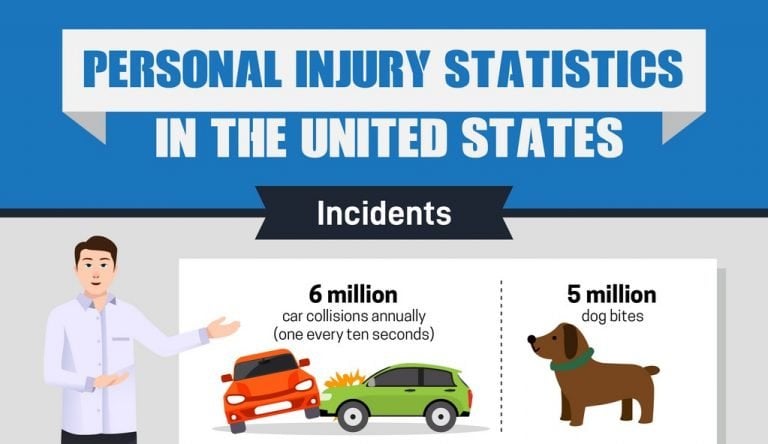 In the United States alone, we see a vast range of causes for personal injuries that lead to litigation. Injuries may occur on the road, on the job, or in a variety of other settings. Common causes include motor vehicle collisions, slip and fall incidents, and medical malpractice. Discover the injury rates, compare between various demographics, and find out what has a tendency to happen when these matters are brought before a court. This infographic can help you make an informed decision as to how you will handle your own personal injury suit.
Causes of Personal Injury
When we refer to personal injury, we are talking about an injury to oneself as opposed to damage sustained by one's property. Personal injury can take the form of physical injury or mental or emotional trauma.
Benjamin Graham GEICO Buy Was Just A Simple Value Play
Was Ben Graham's big purchase of GEICO shares actually a value investment? Perhaps it was contrary to what many believe. "In 1948, we made our GEICO investment and from then on, we seemed to be very brilliant people." -- Benjamin Graham, 1976 Both Benjamin Graham and Warren Buffett can attribute a large part of their Read More
Q3 hedge fund letters, conference, scoops etc
Personal injury incidents are unfortunately common here in the United States, affecting millions of people every year. The most common cause of personal injury is vehicle collisions. Through a combination of reckless driving and misfortune, an average of six million Americans are injured in automobile accidents every year. Fortunately, there are options for those affected.
The second leading cause of personal injury in the United States is dog bites, which affect an average of five million Americans each year. Dog bites can cause emotional trauma, physical scarring, and in severe cases, even communicate disease or cause infection.
Many personal injury cases are due to slip and fall accidents, which occur when property owners or managers fail to take responsibility for the condition of the property under their jurisdiction. These sorts of accidents are especially prevalent during the winter months, when there may be patches of ice on the ground. Slip and fall accidents affect an average of seventeen thousand Americans per year.
Fifteen percent of all personal injury cases have to do with medical malpractice—incidents in which a medical practitioner either fails to diagnose a condition correctly or administers inappropriate treatment. When considering medical malpractice cases, an attorney will call on other medical experts to weigh in on what they would have done for the patient.
Last year, over two hundred thousand Americans tragically lost their lives due to personal injury incidents. Over four thousand of these victims were located within the state of Colorado.
Personal injury fatalities affect men disproportionately, although women are certainly at risk too. In addition, the majority of personal injury deaths in Colorado in the past year were due to home and community safety issues.
If you have lost a loved one due to a personal injury incident, you have a lot to consider, but you do have grounds to seek redress. A good personal injury attorney will have the experience and knowledge to handle your case with sensitivity and help you achieve results.
Litigating Personal Injury Cases
The first thing you need to know when you pursue legal redress after a personal injury incident is that your case may not go to trial. For a variety of reasons, many affected parties and their attorneys feel it is a better course of action to settle out of court. Injured parties often choose this route because it is the quickest and surest way to achieve a financial settlement, and with medical bills on the horizon, that's often a priority. As for defendants, they know that settling out of court is less risky. Taking a case to trial is much more costly, between legal fees and the risk of a higher payout.
Because of these factors, only five percent of personal injury cases actually end up in front of a jury. Of those that do, ninety percent of those affected by personal injury end up losing their case. That's a shocking figure, but your attorney will help you determine whether or not yours is a case that ought to be heard in court. If you can wait a little while for your payout and if you and your attorney are certain of the strength of your case, it might be worth the extra effort. But if not, don't be afraid to take a settlement. It could well be your best option.
If you do go to trial and win, the judge will make a determination as to the monetary reward you should receive. There are numerous factors that might play into this.
One of the most common forms of monetary compensation is for medical expenses since medical treatment is often necessary after a personal injury. You may get money to help cover your bills. You might also receive compensation for loss of income if you have been out of work, or loss of enjoyment, if your injury has kept you from participating in things you enjoy in life. A subset of this category is loss of consortium, damages that might be paid if you've been unable to engage in marital relations due to your injury.
If the incident caused damage to property, as might occur in a car accident, damages could include payment for restoration or replacement of said property. Your damages could also cover pain and suffering and emotional distress, if you've suffered trauma from the incident.
Punitive damages are also a consideration when a case is taken to trial. If the defendant is found to have acted inappropriately or with negligence, the judge might determine that they ought to pay a punitive amount as a consequence.
For advice regarding your legal situation, contact Boyle Law Firm.