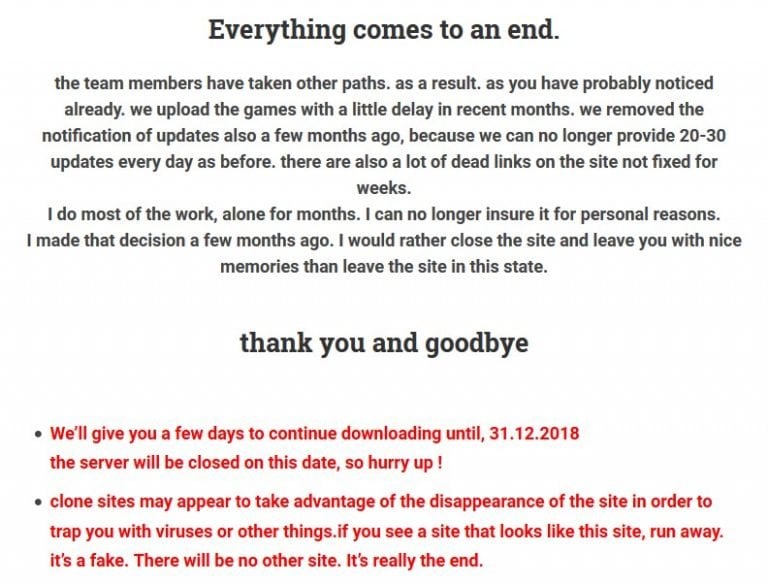 The popular game download website PCGames-Download has announced that it is shutting down. The gaming website, which is known for offering cracked games, said in a post that it is shutting down because it is getting difficult to manage.
Why is PCGames-Download closing down?
When announcing the closure of the site, the owner said team members "have taken other paths," and this has impacted the way the site operates. For example, games are uploading with a delay, and the site has not been sending notifications about updates for the past few months. Additionally, the site now has a lot of dead links and other issues.
Is First Gen An Overlooked Power Play That Deserves A Re-Rating?
The post was originally published here. Highlights: Resolving gas supply issues ensures longevity A pioneer in renewable energy should be future proof Undemanding valuation could lead to re-rating Q1 2022 hedge fund letters, conferences and more
"I do most of the work, alone for months. I can no longer insure it for personal reasons. I made that decision a few months ago. I would rather close the site and leave you with nice memories than leave the site in this state," the owner said.
Further, the owner informed users that the servers will run until Dec. 31, so they will be able to download the content they want until then. The owner also warned users about fake sites that may appear after PCGames-Download shuts down, saying such sites will only exist to trap users with viruses or other nefarious activities.
"if [sic] you see a site that looks like this site, run away. it's [sic] a fake. There will be no other site. It's really the end," the owner says.
Fans and users of the website took to social media to express their displeasure.
"2018 is year where many things died. Even some legends," one user said in a Reddit post.
Earlier this month, another game-focused website, GoodOldDownloads, also closed. However, GoodOldDownloads gave a different reason for shutting down. According to the site, it closed because of growing competition and a fear of facing legal action.
GOD closed for different reasons
GoodOldDownloads (GOD) was a very popular gaming site with millions of visitors every month. The site was known for trouble-free downloads and offering a smooth and safe experience for users. In comparison, most other sites are flooded with tracking scripts and ads with the intention of making money.
In a statement announcing the decision to shut down, the site's operators noted that rival sites threatened them with legal actions, like reporting them to anti-piracy corporations.
"We also want to move on with our lives and enjoy other things without the constant fear of legal action breathing down our necks," the team said.
Although GOD did not give the name of the rival websites which threatened them, it posted the results of an "investigation" into the security of the two "gaming piracy sites." The investigative report aimed to give users an idea about which sites are safe and which are risky.
GOD is not completely fading away from the internet. Instead, it has published its source code on Github for others to "fork and improve the project."
Other popular sites that closed recently
As far as other popular sites that have shut down or trimmed back their content lately, Tumblr's name is at the top. Earlier this month, the site announced that it would ban all adult content on its platform as of Dec. 17. Tumblr announced the new policy just days after Apple removed it from the App Store over a child pornography incident.
Tumblr was home to some of the most self-expressive and marginalized communities, like the LGBTQ movement, self-proclaimed nerds and more, but the ban has pushed such users to other sites.
Another popular website which announced plans to close down recently was the Japanese adult entertainment service Hentai Haven (HH). The site announced the closure in a statement but gave no clear reason. As a result, users came up with their own plausible reasons, with some suggesting it is closing due to Russian interference, while others blamed financial trouble and legal action.
Fans and users of the website were shocked by the news of the closure. When it appeared that all was lost, the news came that the site is not going anywhere, but it will be available on a different domain name. The site was updated to inform users that it has partnered with Fakku. Now the site is live with all its features, but its domain name has changed from HentaiHaven.org to HentaiHaven.me.
Even with the new domain name, the fact that Hentai Haven is back is a big relief for fans. However, the reason why the site shut down initially still remains a mystery.
Updated on