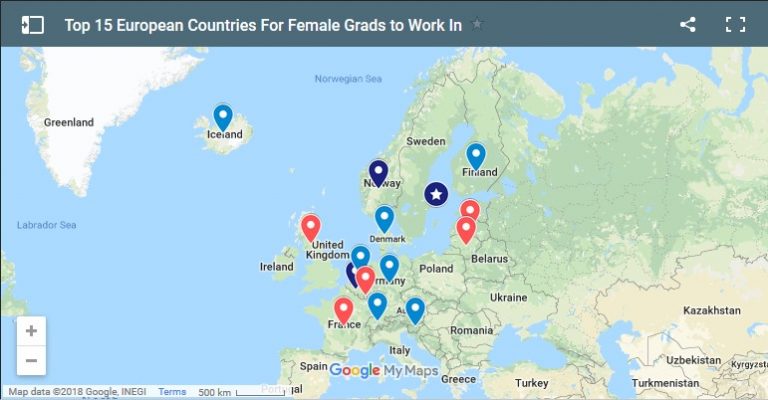 Achieving true gender equality remains a "goal" across Europe and its Schengen constituents. Despite women making great strides in the workplace, and government's making lengthy commitments to improving gender equality, there remains evidence of ongoing "gender discrimination "in many European labour markets, with the issue of equal pay for female graduates remaining a hot topic.
Inspired by the recent wave of media coverage around women empowerment, Market Inspector was inspired to investigate which countries in Europe are making the biggest strides towards ensuring qualified, driven women are granted the same opportunities to forge their careers as their male cohorts.
Jim Chanos Unveils Lastest Short As Fund Manager Bets On Further Market Declines
Jim Chanos has a new short target in his sights. Earlier this week, the hedge fund manager disclosed that he is betting against "legacy" data centers that face growing competition from the trio of technology giants, which have previously been their biggest customers. The fund manager, who is best known for his winning bet against Read More
Q3 hedge fund letters, conference, scoops etc
Considering women empowerment is a vast field with a myriad of indicators, our analysis focuses on the most prominent dimensions, including:
gender pay disparity
gender employment gap
female share of employment in senior positions
ease by which women can become entrepreneurs
unemployment among highly-educated women
With that said, here's a breakdown of Market Inspector's findings of the top 15 European countries for female graduates employability:

Created by Market Inspector
Best Ranked
Some of the best countries in Europe to work as a fresh female graduates include:
Sweden
At the top of the index, with a final score of 79.4, is Scandinavia's largest country: Sweden.
A cornerstone of Swedish society is ensuring that everyone, regardless of their gender, has equal right to work, balance career with family, live without fear, violence, or abuse. In fact, Sweden has a dedicated cabinet minister who is responsible for policy development and implementation regarding gender equality issues.
That being said, there is still some room for improvement in the private sector, where the pay gap and proportion of women in senior positions are slightly off the mark, especially by Swedish standards. Nonetheless, Sweden has never once fallen below 5th position in the Global Gender Gap Index since the report's inception in 2006, which is symbolic of its overall commitment to driving and achieving gender parity.
Norway
Scandinavia's reputation as gender equality trail-blazers is given a further boost by Norway, which scored 78.2 on Market Inspector's index.
Not unlike Sweden, Norway is also very keen on demonstrating consistent efforts towards achieving gender equality in the workplace for female graduates and in general. For instance, much like its neighbor, the nation has also long been writing the rules of work by adopting more family-friendly policies in the workplace, offering men and women paid parental leave and subsidizing child care.
Not only has Norway always scored highly in the Global Gender Gap Index, but the nation has also been referred to as 'heaven for gender equality' by the Convention on the Elimination of All Forms of Discrimination against Women (CEDAW).
Belgium
For graduates with a penchant for medieval towns and architecture, music festivals, and good beer, Belgium scored an impressive 75.9 on the index.
Not only does Belgium boast one of the smallest gender pay gaps in Europe, but transparency around salary differentials has been commonplace for many years. Having said that, women are still somewhat underrepresented in management (32.9%), especially when compared to Sweden (39.5%) and Norway (36.0%).
Lowest Ranked
Although striving to improve is important, unfortunately where there are winners, there are also losers. Some of the lowest ranking countries in Europe for fresh female graduates include:
Greece
Greece rates worst in the index, with a score of 31.3.
While the eight-year-long economic may have partially contributed to its score, the fact remains that Greece is by far the least promising place for an ambitious young woman, as far as equal pay and career advancement opportunities go. Therefore, so called gender equality and women's employability do not seem to be pertinent core values in Greece where many, if not all, sectors of the economy are male-dominated.
Cyprus
A one-time colony of Greece, Cyprus came in second last in the index with a score of 44.8.
To shed light on the gravity of the employment discrimination in Cyprus, it was found that for every one woman employed in science, technology, engineering and mathematics (STEM), there are eight men.
Czechia
Characterized by the second widest gender pay gap in Europe (21.9%) and only a couple points higher than Cyprus, Czechia came in third-last on the index with a score of 46.1.
Not too dissimilar to the situation in Greece and Cyprus, in Czechia women are perceived as being a step below men and generally expected to play the natural role of a housewife or mother.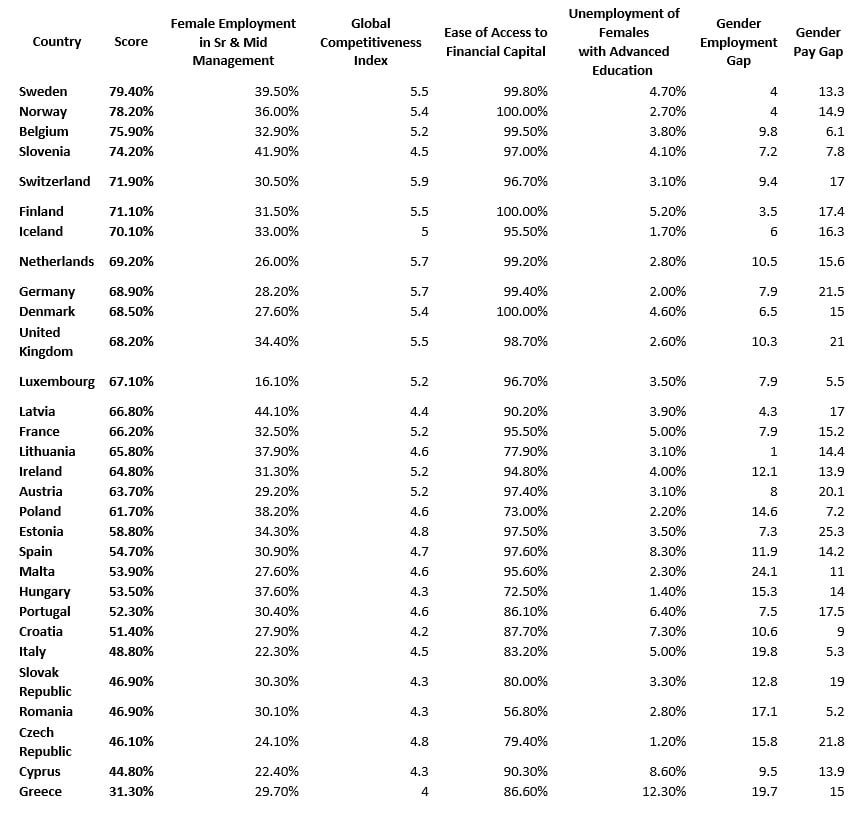 Female graduates Will Prevail...
As a fresh graduate, it can sometimes be difficult to get hired overseas, even when you are qualified and highly driven. The aim of this investigation was to examine the success of gender equality efforts at the workplace level in different parts of Europe. In doing so, we seek to better inform potential women leaders of tomorrow on which countries their careers are most likely to take off with minimal hindrance.
As Europe "progresses "to bring equal career opportunities to women on a greater scale, it is also important to take note of how different countries are approaching gender reform and what kinds of efforts are paying off. Although no one government mandate can vanquish gender or scientific biases that impact hiring and promotion decisions, taking necessary actions, establishing guidelines  can go a long way in effecting change and bringing "progress".
Updated on