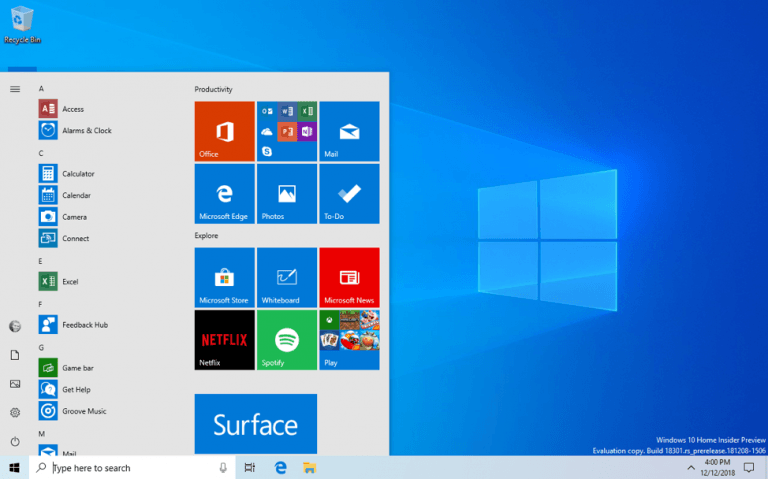 Microsoft has released a new Windows 10 preview update which comes with new features which majorly improves Windows 10 security and as a service. Since this preview is from the 19H1 branch, it will come out during the first half of next year, similarly like the previous preview build.

So far, we've seen six larger updates on Windows 10: November Update, Anniversary Update, Creators Update, Fall Creators Update, April 2018 Update and October 2018 Update.
Voss Value Sees Plenty Of Opportunities In Cheap Small Caps [Exclusive]
For the first quarter of 2022, the Voss Value Fund returned -5.5% net of fees and expenses compared to a -7.5% total return for the Russell 2000 and a -4.6% total return for the S&P 500. According to a copy of the firm's first-quarter letter to investors, a copy of which ValueWalk has been able Read More
New Start Layout
Even though the current start layout is pretty intuitive for users, the new Windows 10 preview shows that the new devices have gotten even more simplified. The update brings a one-column design, a neat design for both commercial and educational Windows devices.
Keep in mind that the start layout won't change to the new one once you update to the new Windows 10 build, but you'll need to do it manually, given that Microsoft wants you to be greeted to the system just as you left it before the update.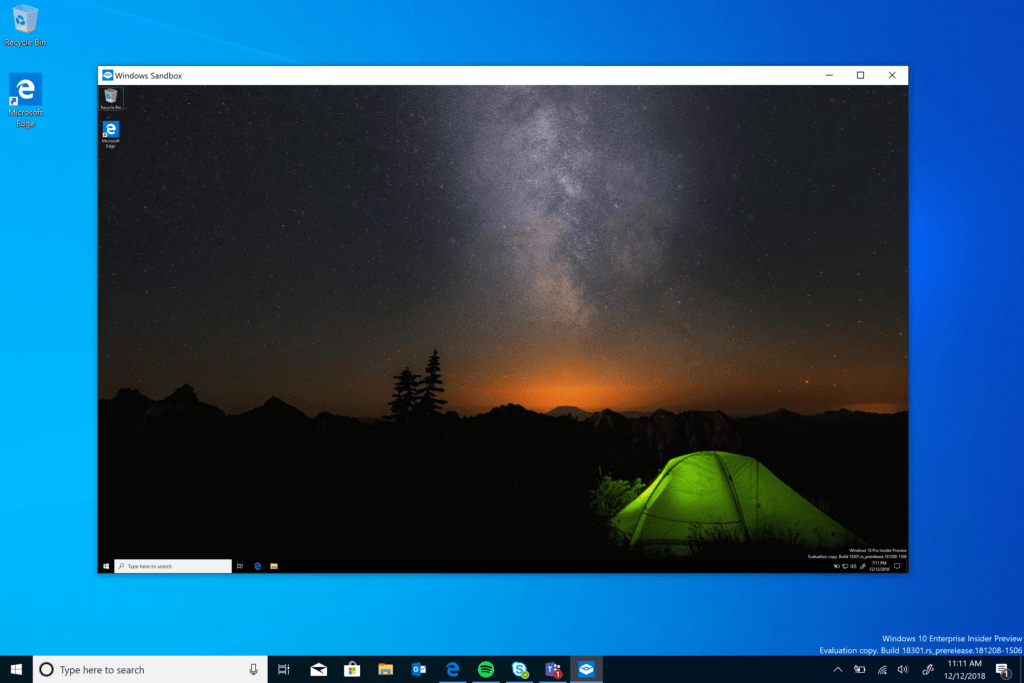 Windows Sandbox
Sandbox is finally going to make an appearance on Windows 10, after being previously announced earlier this year. Microsoft describes it as a "new lightweight desktop environment tailored for safely running applications in isolation." Sandbox is a feature already embraced by many antivirus software, and now that it'll appear on Windows Defender, it makes it complete.
Sandbox allows Windows users to execute some suspicious programs without having to set up a virtual machine to test it. For example, if you install some program or download some suspicious file in the Windows Sandbox, it's going to stay there and not on the real system. If the file or program is malicious, it's not going to slow or damage the computer, but stay inside the Sandbox instead. Once the Sandbox is closed, the files and programs are deleted so the Sandbox will be clean and empty once you restart it. The feature will, however, be only available on Windows 10 Pro and Windows 10 Enterprise.
That's not where the security features end though. Windows Security will boast Protection History as part of the new Windows 10 preview build. The History will show all security-related activities on your Windows 10, meaning that everything detected or flagged by the Windows Defended Antivirus will be visible to users. Moreover, the History will include information from the Windows Defender Offline scanning tool and provide more details, including threats on the computer and available actions users can do.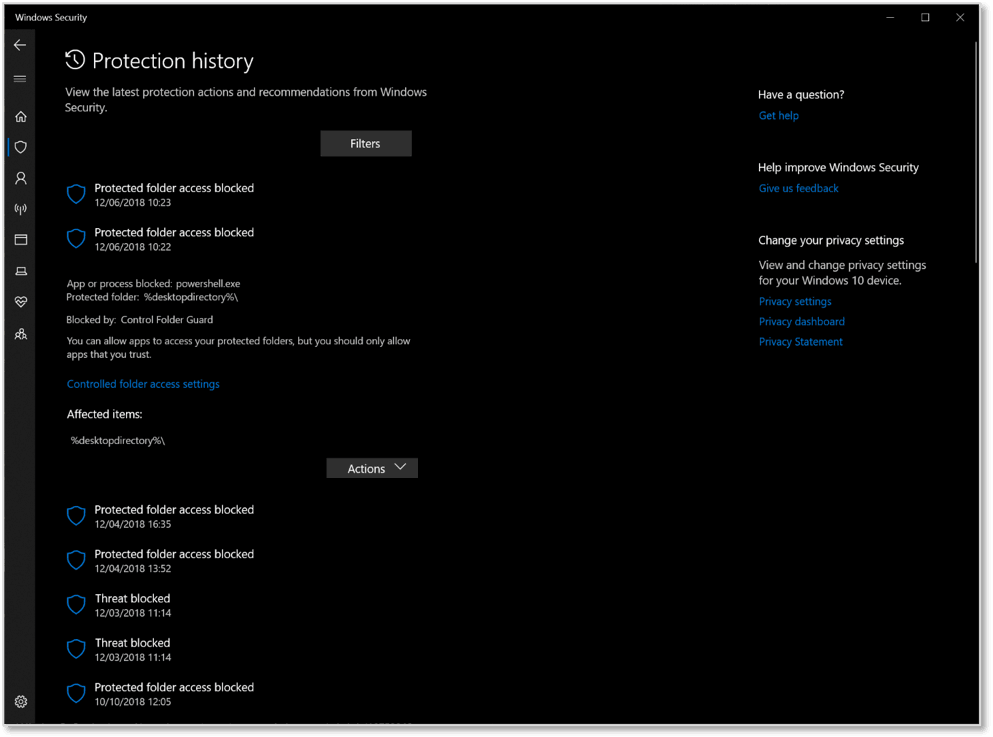 The new Windows 10 preview build also includes a Tamper Protection setting which monitors and provides a set of protections which include changes to important security features. For example, it can limit any change which wasn't updated through the Windows Security app.

Update to emojis
In case you didn't know, pressing WIN+(period) or WIN+(semicolon), you'll be introduced to a set of emojis you can use. However, Microsoft is expanding its list of emojis and allowing new symbols to be used, including punctuation symbols, as well as currency, geometric, math and Latin language.
The update will also feature Kaomoji, a Japanese type of emoji which consists only of symbols and punctuation symbols, looking to resemble Japanese anime characters.
The post describing the new Windows 10 preview lists the following bugs as fixed:
We fixed an issue resulting in bug checks with error "KERNEL SECURITY CHECK FAILURE" while creating/launching VMs or installing/performing scans with certain AV Apps.
We fixed an issue where the Open Folder icon in File Explorer had a white background when using dark theme.
We fixed an issue in the previous build where Settings was crashing when opening Speech Settings.
We fixed an issue where the Action Center didn't have an opening animation in the last few flights.
We fixed an issue where the activities listed so you could easily pick up where you left off when opening search all had an unexpectedly old timestamp.
We fixed an issue where the search box in the taskbar had a truncated dark border in light theme.
We fixed a few scenarios that could result in the taskbar unexpectedly becoming transparent.
We fixed an issue that could result in taskhostw.exe unexpectedly using a large amount of CPU for a long time.
We fixed an issue where Settings would crash when clicking on the "View storage usage on other drives" option under System > Storage in recent builds.
We fixed an issue where "Delete previous version of Windows" in Configure Storage Sense was not selectable.
We fixed an issue resulting in Backup unexpectedly failing for some with a message saying the media is write protected (error code 0x80070013).
When the Search section is visible in Settings it will now come before Update & Security.
We fixed an issue where some pages in Settings had more space at the top than others.
We fixed an issue resulting in ☆ and some other characters not appearing correctly in certain text fields.
We fixed an issue where the Windows Ink Workspace was using the old Microsoft Store icon.
We fixed an issue where the emoji picker might draw partially offscreen if invoked near the bottom of the screen.
We fixed an issue where the second line of the input indicator in the taskbar, when shown, wasn't legible in light theme.
We've updated our message in the Snipping Tool to include a tip about using WIN+Shift+S to help improve discoverability – thanks folks that suggested this!
We fixed an issue where in the Details tab of Task Manager you couldn't sort by the "Shared GPU memory" column.
We fixed an issue resulting in ShellExperienceHost.exe preventing the device from going to sleep with message "A Miracast Session is currently connected." despite said session having already been disconnected.
We fixed an issue from the previous flight where on some systems the High Definition Audio Controller failed to start with Code 10, resulting in no audio from the onboard speakers and microphone.
All other features of the new Windows 10 preview update, as well as the known issues with the system, can be found here.
Updated on