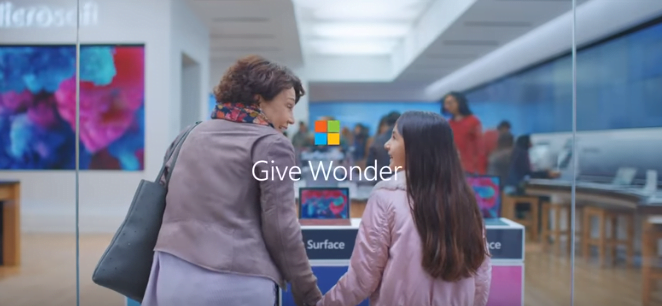 Microsoft has long been making fun of iPads in the commercials for its Surface products. Just in time for the holidays, a new Microsoft ad not only promotes the Surface Go but also claims the iPad is not a real computer.
New Microsoft ad claims the iPad is not a "real computer"
The three-second ad is set to the tune of "Grandma Got Run Over by a Reindeer." The new Microsoft ad features a 10-year-old girl who claims the iPad was fine when she was a kid, but now, her grandmother should get her a Surface Go because the iPad can't do things a "real" computer can.
"Grandma, don't run out and buy an iPad. It was fine when I was six, but now I'm 10. My dreams are a big so I need a real computer," the girl says in the ad.
Gator Financial Partners 1H2022 Performance Update
Gator Financial Partners letter to investors for the first half of the year ended June 30, 2022. Q2 2022 hedge fund letters, conferences and more Dear Gator Financial Partners:  We are pleased to provide you with Gator Financial Partners, LLC's (the "Fund" or "GFP") 1st Half 2022 investor letter. This letter reviews the Fund's 1st Read More
The new Microsoft ad takes a dig at Apple's ongoing efforts to position the iPad Pro as a rival to laptops. Apple's recent ad campaigns have been asserting that iPads are the future of computing. Apple has also added features like keyboard and stylus support to the iPad to present it as a formidable substitute for laptops.
Microsoft's Surface Go runs on Windows 10 and offers almost the same apps as those available on laptops and PCs. The entry-level Surface Pro is priced at $399 and is powered by Intel's Pentium Gold processor. In comparison, the 2018 iPad 6 starts at $329 and is powered by Apple's A10 Fusion chipset.
Both gadgets have their pros and cons. Apple's iPad is better when it comes to the optimized OS and apps. However, the fact that the Windows tablet supports almost all Windows programs and does regular PC things like connecting to a flash drive gives it the upper hand over the iPad. Nonetheless, both devices lose their appeal when it comes to resource-intensive tasks like gaming and coding.
One fact that can't be denied is that Apple's iPad is more popular. Thus, children may be more likely to ask their parents for an iPad for Christmas rather than a Surface Go. This is probably why Microsoft is running this new campaign.
This is not the first time Microsoft has made fun of Apple. The company has been targeting Apple products since 2013, and some of its ads have even poked fun at Macs.
The race between Apple and Microsoft is on
In addition to a race to top each other in sales, Apple and Microsoft are also involved in a bigger battle to be the world's most valuable company. Last week, Microsoft surpassed Apple to be the most valuable company with a market capitalization of $851 billion. However, Apple regained the title on Monday. Nonetheless, both companies remain below the $1 trillion milestone, which Apple hit temporarily earlier this year.
Apple first overtook Microsoft to become the most valuable company in 2010. At the time, Apple's hardware business was growing, while Microsoft was struggling. Now Microsoft is thriving because of its focus on enterprise customers.
Under CEO Satya Nadella, Microsoft is betting big on cloud computing. The company is now one of the two biggest players in this rapidly growing market, with the first being Amazon. On the other hand, Apple is losing investors' confidence because demand for the new iPhone models has been weaker than expected. Adding to the company's woes are its decision to stop reporting iPhone sales numbers and a recent report that President Donald Trump is considering slapping tariffs on the iPhone.
The future also looks brighter for Microsoft than for Apple. Unlike Apple, Microsoft need not worry about peaking smartphone sales, nor must it worry about users leaving due to privacy concerns. Wedbush analyst Daniel Ives told CNN Business that Microsoft has "almost been Teflon-like" and is "continuing to hum along" even when "many of their well-known tech peers [are] going into major stumbling blocks."
Google and Facebook are facing increasing pressure from regulators around the world. Facebook's market value has dropped by about 40% from its peak in July due to data privacy concerns.
With Apple and Microsoft, another name in the race to be the most valuable company is Amazon. The market values of all three companies were very close after the market closed on Monday, with Apple at $877 billion, Amazon at $866 billion, and Microsoft at $860 billion.
Updated on