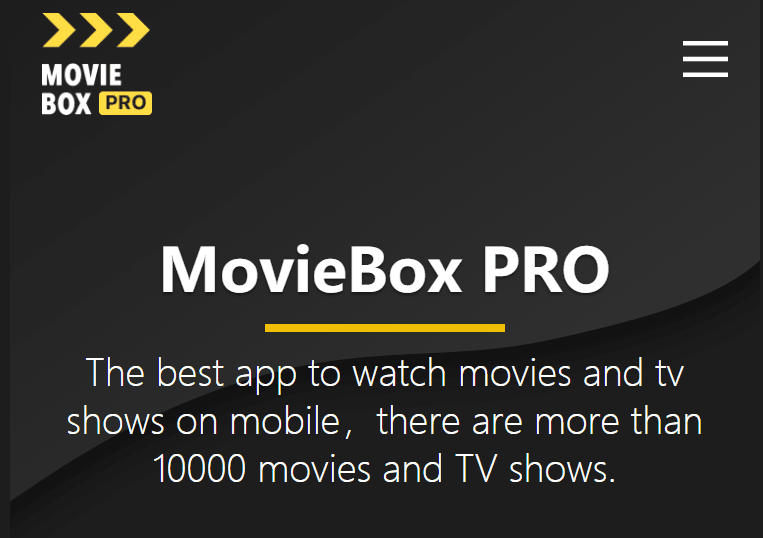 Popular media streaming service for iOS devices, MovieBox was shut down unexpectedly about a month ago, leaving hundreds of thousands of fans shocked and surprised. There are numerous alternatives available, but most fans still haven't found a platform as refined, intuitive, and optimized as MovieBox. However, a new app called MovieBox Pro is trying to become the new favorite destination for the original MovieBox lovers.
Have you tried MovieBox Pro?
It's unclear whether MovieBox Pro was developed by the same team as MovieBox or someone else. Its website doesn't reveal anything about the team. There is no confirmation from the MovieBox team either about whether the Pro app is their creation. The original MovieBox was shut down after suffering an outage. The developers later confirmed to DTAThemes that they had pulled the plug on MovieBox.
The Pro app describes itself (via Piunikaweb) as "The best app to watch movies and tv shows on mobile." It has a collection of more than 10,000 movies and TV shows, and the library is updated daily. All the content is free to watch but the video quality on the free version is restricted at 360p and users will have to bear with ads. If you want better quality and an ad-free experience, you have to pay for the VIP membership.
This AI-Powered Emerging Hedge Fund Manager Is Blazing A New Path
Investment strategies used by hedge funds have evolved over the years, although the biggest changes have come in the use of computers to develop portfolios. Rosetta Analytics is a woman-founded and woman-led CTA that's pioneering the use of artificial intelligence and deep reinforcement learning to build and manage alternative investment strategies for institutional and private Read More
The VIP members can watch ad-free videos in Full HD, HD, and 360p options. Another perk of being a VIP member is that developers give you a special certificate on the iOS app "so there will be no frequent reinstall." The VIP service also includes Apple TV compatibility. The developers currently accept payments only through PayPal.
The differences between the free and VIP versions aside, the MovieBox Pro app offers multi-audio switching and multi-language subtitle switching. It also promises high-speed content delivery without any lag. The app uses the latest H265 encoding. Users can also download all movies and TV shows on their devices for offline viewing.
The app uses Google login to store all your play history, wishlist, and favorites. That's necessary because the free version of the app needs to be reinstalled frequently. VIP members get special certificates, which eliminates the need to reinstall it again and again. The app supports iOS 11.3 and later. You'll get an error on the older versions of iOS. The developers have promised to bring a TV version of the app by next month.
Unlike BitTorrent, the MovieBox Pro app doesn't rely on the P2P protocol. While the original MovieBox was available on iOS, the Pro app is available on iOS, Android, as well as PCs.
ShowBox, another popular media streaming app for Android, was also shut down a few weeks ago. Some thought it was gone forever, just like MovieBox, but it sprung back to life recently. ShowBox wasn't directly available on the Google Play Store. Users had to download the app APK from its website or from third-party websites to install it on their Android devices.
It's worth pointing out that apps like ShowBox and MovieBox aren't completely legal to use. They stream content that they don't own rights to. That's why content creators including Hollywood studios have been threatening such apps, their distributors, as well as users with legal consequences. Popcorn Time, a similar app, was shut down in 2015 due to pressure from Hollywood studios, though it has become available again.