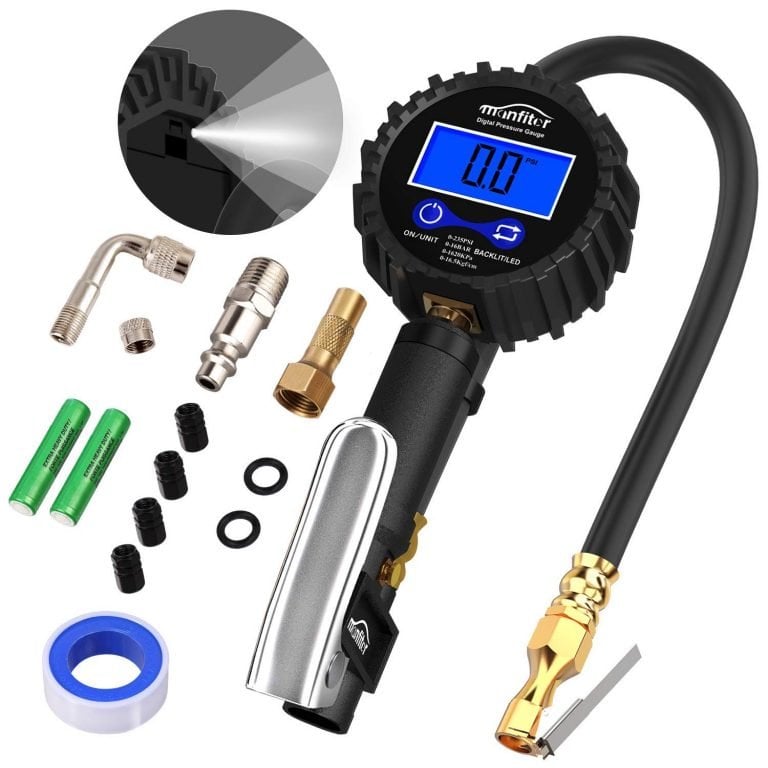 Manfiter tire pressure gauge inflator/deflator digital with 235 psi compressor is on sale, offering a 29% discount with code 29GPPVRE, making the final price $19.82.

Manfiter Tire Pressure Gauge Inflator/Deflator
DIGITAL ACCURACY: Accurately check a range from 0-235 PSI ( 0 – 16.2 Bar; 0-1620 KPa; 0-16.52 kg/cm²) and calibrate and check the tire pressure within 1% range 0.1 display resolution. Digital display used to tire pressure gauge to solving problems about reset the tire pressure gauge to zero by itself.
ALL-IN-ONE: Digital tire inflator with chuck, gauge, hose, and bleed valve, all in one unit; Compatible with ¼" NPT air compressors output. 4 different units for free switch: PSI, KPA, Bar, and Kg/cm²,
BRASS PARTS & STAINLESS STEEL: Heavy duty stainless steel and brass can prevent rust; suitable for all vehicles, such as car, suv, truck, motorcycle, bicycle (with schrader valve) etc.
INCREASED SAFETY: Properly inflated tires provide better performance in all weather conditions, decreasing the possible of flats, explosions, and crashes; Increase your MPG and reduce fuel costs and tire wear
AUTO OFF& BACKLIT : Auto off after 30 seconds of inactivity.The LED backlit light behind the compass would also be auto off. Backlit light makes visibility at night clear and convenient.
Features
Brass Air Chuck
Exodus Point Outperforms As Rates Trading Profits Jump [Exclusive]
Michael Gelband's Exodus Point launched in 2018 with $8.5 billion in assets. Expectations were high that the former Millennium Management executive would be able to take the skills he had learned at Izzy Englander's hedge fund and replicate its performance, after a decade of running its fixed income business. The fund looks to be proving Read More
Heavy duty stainless steel and brass air chuck can prevent rust.
Tight Connection
High-strength copper pipe thread tight connection.
Bright Large LCD Display
Best bright LCD display with clear readings in the dark
Easy to use
press the inflatable thumb trigger to start the inflation. Bleed Valve Provide deflation function.
¼" NPT and Air Chuck
Thread Seal Tape Roll is wrapped around the 1/4″ NPT
stainless Steel Fitting" according to the method in the figure.
Providing more stable inflation protection and no leaks,
Twist-on Air Chuck is recommended.
Twist-On 90-Degree Valve
Using twist-on 90-degree Valve when
the tire inflator is difficult to install.
Twisting Method
Connect the car pressure gauge to the tire according
to the direction of rotation as shown. Groove on the
knob to facilitate the better you will be connected to
the car tire pressure gauge tire.
Updated on