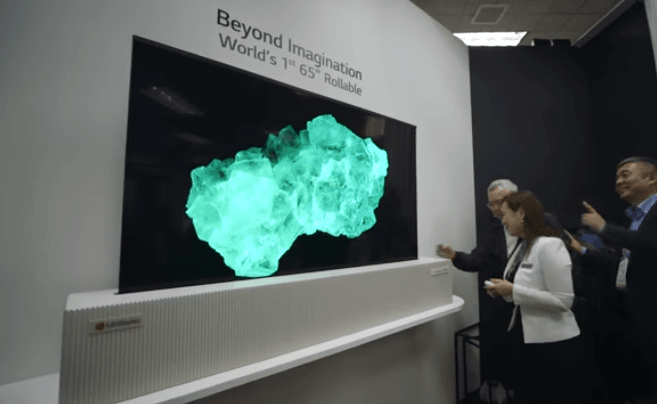 Earlier this year, LG Display showed off a rollable TV prototype at the Consumer Electronics Show (CES). It had a gorgeous 65-inch OLED display with 4K resolution. It was a successor to the 18-inch rollable display the company showcased in 2016. LG Electronics is preparing to make it commercially available next year.

The rollable TV could save you some space
Inside sources familiar with the matter told Bloomberg that the 65-inch OLED TV will be part of LG's effort "to revive its TV business." If it turns out to be true, 2019 would be the year of foldable, rollable, and flexible display technologies. Samsung, Huawei, and other vendors will reportedly launch foldable smartphones next year.
LG's rollable TV will roll up like a poster. You'll be able to roll up the screen when you want to watch shows or movies and roll it back into a base with the press of a button when it's not in use. It will not only save space but also allow ease of mobility.
How Value Investors Can Win With Tech And "Fallen" Growth Stocks
Many value investors have given up on their strategy over the last 15 years amid concerns that value investing no longer worked. However, some made small adjustments to their strategy but remained value investors to the core. Now all of the value investors who held fast to their investment philosophy are being rewarded as value Read More
You can also retract the screen into the base partially to shift the aspect ratio from 16:9 to the more cinematic 21:9 ratio. It will allow you to watch videos in wider aspect ratios without any of the black bars. When you roll the screen down into the base, a wide strip of the display will still be visible to show you music controls and other smart home information.
Before bringing the rollable TV to the market, LG Electronics will display the full-fledged version of its latest innovation at the CES 2019, according to Engadget. The one showed at the CES 2018 was just a prototype from LG Display. The commercial TV will have OLED screens that produce more vibrant colors than the traditional LCD panels.
LG Electronics is betting on the rollable and OLED TVs to revive its ailing consumer electronics business. The company is facing fierce competition from Chinese rivals. According to Bloomberg, it is also streamlining its workforce to focus on future technologies.
LG's 5G phone coming next year
Sources told Bloomberg that LG Electronics would also launch its first 5G phone next year, most likely at the Mobile World Congress (MWC) in February. LG has already partnered with Sprint to start selling 5G phones in the US in the first half of 2019. It's unclear when LG's 5G phone would go on sale in South Korea.
Samsung, OnePlus and other Android vendors have also announced plans for 5G handsets in 2019. Apple won't be able to bring a 5G iPhone to the market before 2020. Even though Android 5G handsets will become available in 2019, whether you'll be able to take advantage of the blazing fast speeds will depend on your carrier.
LG is also working on a foldable phone dubbed Bendi. Bloomberg said the company had no plans to launch the foldable handset in 2019, though other tipsters such as Evan Blass have suggested otherwise. LG has filed numerous patents related to the foldable display technology in recent month.
Talking about the foldable phone, LG Mobile chief executive Hwang Jeong Hwan recently told Yonhap News Agency, "We will release it at a time when we can provide enough customer value rather than releasing it for the first time in the world." The Korean company has already trademarked names such as LG Bendi, LG Foldi, LG Flex, LG Duplex and others.
An LG patent filed with the Korean Intellectual Property Office (KIPO) suggested that the company's foldable phone would have a borderless design. The screen would bend around the main housing to cover the front, back, as well as the sides of the phone. The screen could be attached magnetically to the main housing. The patent doesn't detail how the interface would work.
The patents as well as LG CEO's comments indicate that an LG foldable phone is in the works. If not in 2019, we can expect it in 2020.
Updated on