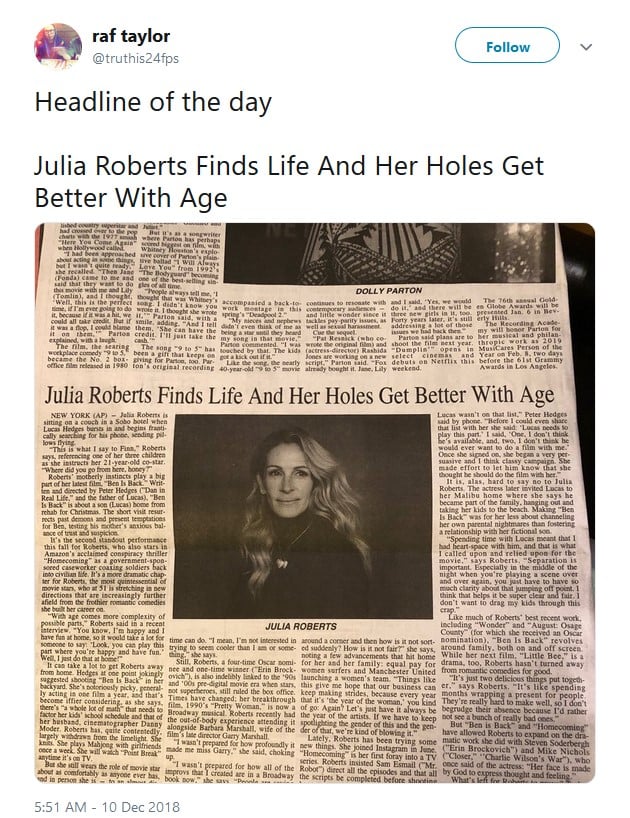 A local newspaper has apologized to actress Julia Roberts after a printed article about her had a disastrous typo in the headline. Readers were quick to point out the error on social media and forums. As a result, the "Julia Roberts holes" headline typo incident quickly went viral.
"Julia Roberts holes" headline typo: here's what happened
The Post-Journal ran a feature on Roberts' 30-year career. The article explained how the 51-year-old actress continues to find success even now. She was nominated for a Golden Globe Award last week for her role in the Amazon Prime drama series Homecoming.
Although the article was great, what shocked readers was the headline. The article was titled "Julia Roberts Finds Life And Her Holes Get Better with Age." Clearly, the word "holes" was meant to be "roles."
Hedge fund managers present their best ideas at Robinhood [In-Depth]
The latest Robinhood Investors Conference is in the books, and some hedge funds made an appearance at the conference. In a panel on hedge funds moderated by Maverick Capital's Lee Ainslie, Ricky Sandler of Eminence Capital, Gaurav Kapadia of XN and Glen Kacher of Light Street discussed their own hedge funds and various aspects of Read More
A day after the article was published, the newspaper published a correction for the "Julia Roberts holes" headline typo. However, the correction received only a small space in the newspaper.
"A headline on Page D4 in Saturday's Post-Journal should have read 'Julia Roberts Finds Life and Her Roles Get Better With Age," the correction read.
@TheEllenShow can't believe this headline in our local paper… Julia Roberts will be glad to know her holes are getting better with age?? pic.twitter.com/gvZkOsBjyN

— elizabeth (@eadavisus) December 9, 2018
The correction came much too late though, as Twitter users had already started to mock the newspaper for it.
"I feel this title about Julia Roberts and Holes perhaps needs a little finessing," said one Twitter user.
Some found the "Julia Roberts holes" headline typo hilarious.
Actress Busy Philipps, who interviewed Roberts on her talk show last month, said, "This is why she's a movie star. My holes have only gotten worse with age."
As of now, there has been no comment from Roberts on the typo. Considering what she has said in past interviews, there is a good chance she hasn't even noticed it.
"I do believe that I don't need to know every weird, mean, untrue, odd [claim, such as] 'I only eat popcorn,' or 'My husband doesn't love me unless I wear blue," she told People magazine last year.
Giuliani's typo sparks anti-Trump protest website
Typos can prove extremely dangerous when in reference to a celebrity like Roberts or if they actually come from any well-known people, like veteran Republican Rudy Giuliani. In his case, it was not even a typo; rather, a small spacing error led to a huge uproar:
Mueller filed an indictment just as the President left for https://t.co/8ZNrQ6X29a July he indicted the Russians who will never come here just before he left for Helsinki.Either could have been done earlier or later. Out of control!Supervision please?

— Rudy W. Giuliani (@RudyGiuliani) November 30, 2018
In a tweet criticizing the Russia investigation, the former New York mayor omitted a space, accidentally forming a hyperlink in the process. The link was G-2.In, an Indian domain. At the time of the tweet, it was not an active domain, but Twitter prankster Jason Velazquez bought it afterward.
Velazquez then created a webpage with that link which reads, "Donald J. Trump is a traitor to our country."
He also announced what he had done later, saying, "Rudy didn't separate g-20 from .in so ya boy bought the domain."
The webpage quickly went viral, with the original tweet getting almost 50,000 likes and 17,000 retweets. However, it also led to a controversy, and Giuliani criticized the social network for the incident.
"Twitter allowed someone to invade my text with a disgusting anti-President message," Giuliani said, indicating that he didn't create the link intentionally.
Twitter was quick to deny any involvement, and it was right to do so.
Internet trolls quickly had some fun with the incident. One user said the politician is "turning a typo into a full on conspiracy theory tonight," while another tweeted that it was a case of "Grampa [sic] Can't Understand the Internet."
Later, Velasquez edited the page and added a link to a recent story on Special Counsel Robert Mueller's investigation. He said he wanted to make sure the prank does not distract attention from serious issues.
Another typo from Trump
Another recent typo came from none other than U.S. President Donald Trump, who misspelled the word "smoking" twice in one tweet on Monday. The tweet referred to a federal investigation into a possible Russian link to his presidential campaign:
"Democrats can't find a Smocking Gun tying the Trump campaign to Russia after James Comey's testimony. No Smocking Gun…No Collusion." @FoxNews That's because there was NO COLLUSION. So now the Dems go to a simple private transaction, wrongly call it a campaign contribution,…

— Donald J. Trump (@realDonaldTrump) December 10, 2018
Soon after the tweet, the hashtag #SmockingGun was trending on Twitter, and users were coming up with their own funny tweets.
"#SmockingGun sounds like an arts and crafts shop in Texas where kids build their own AR-15s," comedienne Marie Connor tweeted.
This is not the first Twitter typo from Trump. Some previous ones are "unpresidented" for "unprecedented" and "Assuage" instead of Julian "Assange."