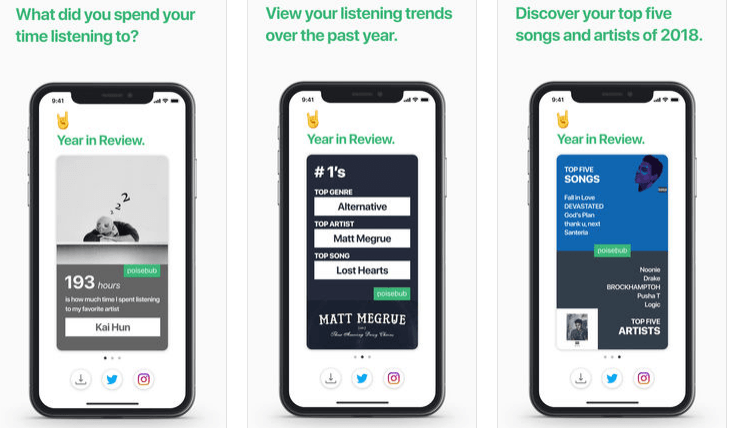 Apple Music subscribers likely felt left out after Spotify came up with the annual "Wrapped" feature. But now, thanks to a third-party app, subscribers to Apple's music service can also get Apple Music year in review.
Apple Music year in review – how to get it?
The app (first spotted by TechCrunch) is called "Music Year in Review" and is developed by NoiseHub. This app, similar to Spotify's "Wrapped" program, gives you an overview of what you have done this year on Apple Music.
Though the "Music Year in Review" is not as in-depth as Spotify's "Wrapped," it does give out enough information that will interest you. "Look back at your listening trends of 2018: your most listened to genre, artists, and songs. We generate beautiful graphics to instantly share on Instagram Stories or Twitter," reads the description of the app.
Hedge Fund Launches Jump Despite Equity Market Declines
Last year was a bumper year for hedge fund launches. According to a Hedge Fund Research report released towards the end of March, 614 new funds hit the market in 2021. That was the highest number of launches since 2017, when a record 735 new hedge funds were rolled out to investors. What's interesting about Read More
The app primarily shows your Apple Music year in review under three separate headings – your top five songs and artists, how much time you spent listening to your favorite artist on Apple Music and your overall favorites including song, artist and genre. With "Music Year in Review" you can also share the findings of the app on Instagram or Twitter. Also, you can download the results on your Camera Roll for sharing it on other platforms.
Spotify's "Wrapped" in addition to the above, compiles a playlist of your top 100 songs of the year, tells you the number of minutes you streamed, and lists the number of new artists you listened to.
Can it be trusted?
The "Music Year in Review" app is available for free on the App Store. Though the review section carries a few instances of crashes, for most users it worked fine. The app is 15MB in size, and supports all iOS devices (iPhone, iPad, and iPod Touch) running iOS 11 or later.
It's the best available option for the Apple Music subscribers considering Apple hasn't come up with any such features. But, as pointed out by TechCrunch, there is one caveat of using this app. The app asks for your email address for registration.
Though the company says it uses the email address to save a users' data, there is no further explanation if the email would be used again in the future. Moreover, the app doesn't seem to have any privacy policy. There is a workaround if you are uncomfortable sharing your email address. You can create a disposable email, which you can share with the app.
Also, the data that it collects is very limited, and the phone only gives the app access to a user's Apple Music history. Since the app is available on the EU App Store as well, it will presumably be regulated by the GDPR data regulations. So, one can be sure that it will store and use the data responsibly and securely.
Another way to get Apple Music year in review
Thanks to GDPR (General Data Protection Regulation), there is one more way to get your Apple Music year in review. Owing to the GDPR regulations, Apple allows users to download all the data that it collects on the users. Using this, Australian developer Pat Murray has come up with a useful tool that helps to visualize your Apple Music year in review.
To get your Apple Music year in review by this method, first, you need to go to Apple's Data and Privacy portal. Next, select "Request a copy of your data." Now you will get an option to download all the data that Apple has on you, but for the music-related data, you must select "Apple Media Services information" data. Next click "Continue" and then "Complete Request."
After you submit the request, Apple will prepare the data to download and inform you via email when it is ready. The process may take about four days. Once you get the email, click on the "Get your data" and choose the download option. Your data will download in a .zip file, so you will have to unzip the main file and also the "App Store iTunes Store iBooks Store Apple Music" file.
Now, go to the "Apple Music Activity" folder and search for the .csv file with a name "Apple Music Play Activity." To get the Apple Music year in review, you will have to upload this file on Murray's Apple Music Analyzer webpage. Once the upload is done, you get your music statistics, such as the most listened to song since 2015 (when Apple Music launched), songs you listened to most each year, total time you've spent on Apple Music, the day you spent the most time listening to music and more.
Though privacy is again a concern here, Murray promises that the data does not leave your computer as all the computation is done in the browser.
Updated on