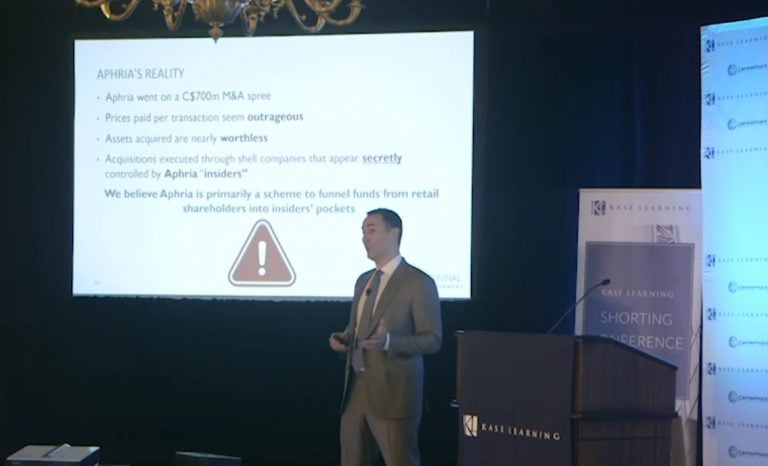 Watch Gabriel Grego's epic takedown of Aphria (APHA) at the Kase Learning Shorting Conference, 12/3/18.
Gabriel Grego: Aphria Short Presentation – Kase Learning Shorting Conference
Q3 hedge fund letters, conference, scoops etc
Carlson Capital's Double Black Diamond Strategy Gains 5.3% On Jewelry Play
Carlson Capital's Double Black Diamond fund added 3.09% net of fees in the second quarter of 2021. Following this performance, the fund delivered a profit of 5.3% net of fees for the first half. Q2 2021 hedge fund letters, conferences and more According to a copy of the fund's half-year update, which ValueWalk has been Read More
Transcript
OK. Just a few things to understand like the general principle what we do is we only go after a catastrophic situation is typically fraught. We only act if we have what I believe is overwhelming evidence to probably take the company down. If the thesis is correct and we only act in our wars we don't shorten hope. So is what I'm trying to do here. And I would like to give recognition to my good friend and the person who actually number one had this idea number to share with me the burden of this of his work which is Nate Anderson from Hindenburg research we should be somewhere in his room if you want to stand up. There you go. Thank you Nate. So as I said and I also said the last thing we were here. I'm not too courageous when I'm doing this kind of campaigns. So I only act if I'm 100 percent sure on average. If we act against a company and these aren't the only five times we acted against the company this is the sixth time today in about three years the average stock price drop has been around 90 percent. I hope the same thing is going to happen today. But you'll want to get to business so let's get to business. The company is called Aphria I suppose many of you may be familiar with it. It's a Cannabis Company but this presentation is not about cannabis. We have our own opinion about cannabis and they are not relevant.
We believe there's something very sinister and very particular maybe happening a just company and that's why I gave it the title a black hole for shareholders money because sadly this is what's happening here. Let's get to business. Darling of the cannabis industry. Almost three billion Canadian dollar market cap would be five until recently stole misselling candidate but it recently started trading on the New York Stock Exchange. We'll see where that will prove to be a mistake. Sales about 30 million dollars. Negative half a million and Pressfield ration till recently was 85 times. Now definitely a value stock. Again you can see the market cap versus sales. Sales are almost nonexistent. And the interesting thing is lately since last year they started on a very ambitious investment campaign if you seem to have been burning cash did generate any cash from operations and they've been using a lot of cash from investments at an accelerating rate. We'll see how this is critical to the thesis. Because of these acquisitions. Their balance sheet right now is mostly composed of goodwill intangibles and a few investments in cannabis stocks. So in other words if the value of this acquisition proves to be Nale we believe the same thing should happen to devalue the company. That is the way that a free trade sell. They keep touting the sentence they want to be the low cost pulse pork producers will see exactly what the company is actually low cost what we believe is their reality here behind the veil that a company tries to portray. The company went on a 700 million Canadian dollars a ministry. Prices paid for disasters are incredibly outrageous for buying what we believe are nearly worthless assets.
Acquisition had been executed by a bunch of shell companies apparently unrelated but we believe are secretly controlled and most likely owned by insiders. In short we believe that a free. Besides being a company is actually a scheme to funnel money from retail investors into the pockets of shareholders. These are while were defined as insiders on the right you see the new Foltin which is the CEO of Aphria and the chairman of Scythians with any system sister company of Aphria . We have free seems to use as its vehicles to perform the first of these double dipping emeny and the guy in the middle that's a real photograph with took it from his Instagram account is Mr. Andy DeFrancesco he is a former broker and investment banker and he defines himself as the architect of both a free and Scythian is the person behind the reverse merger of both companies and is now also the chairman and chief investment officer or Scythians.