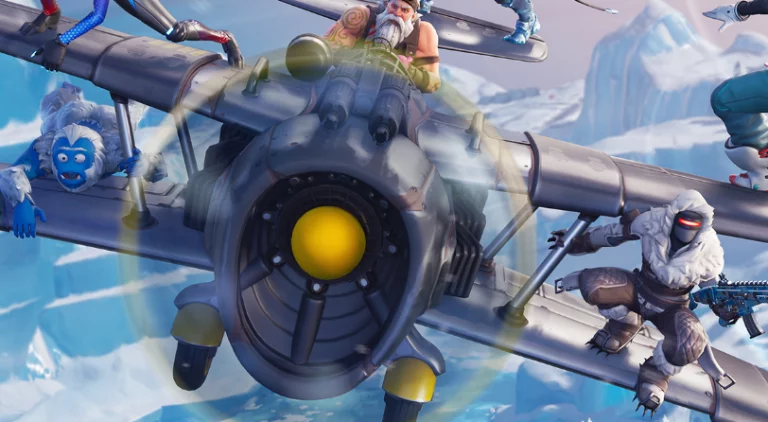 Fortnite Season 7 has finally landed, and as was expected, the winter-themed season comes with plenty of new things. The most important additions are new ziplines, new locations, a new vehicle and the ability to be as creative as possible.
What's new in Fortnite Season 7
Fortnite Season 7 introduces a new location called Frosty Flights. Since it is a winter theme, the map has plenty of slippery surfaces. Moreover, there are winter-themed skins, including a Santa-like one called Sergeant Winter.
There is a new vehicle as well that will change the way players commute. This new vehicle is called the Stormwing plane, and it has a total of five seats and a mounted machine gun, which Epic Games says can overheat.
Philip Carret And Warren Buffett: Why Sell If There's Nothing Wrong?
Philip Carret was an investor and founder of Pioneer Fund, one of the first mutual funds in the United States. Carret ran the mutual fund for 55 years, during which time an investment of $10,000 became $8 million. That suggests he achieved a compound annual return of nearly 13% for his investors. Q1 2021 hedge Read More
"Players will go into the skydiving state when exiting the X-4 Stormwing," the patch notes for Season 7 explain.
Fortnite Season 7 also comes with a new cosmetic item called a wrap. The wrap allows players to customize their vehicles and weapons.
"Level up your Battle Pass to unlock different Wraps, then equip them in your locker to items like vehicles, shotguns, rifles and more," Epic said in the patch notes.
The game developer introduced pets in the game with the last season, and the new season adds two new ones. These two are a hamster named Hamirez and a husky-looking sled dog named Remus. There are new toys as well, like a throwable Durr Burger head and a hockey puck.
The Port-a-Fort, Shockwave Grenade and a few more items have been vaulted, including the Shadow Stones, Chiller, Clinger and Double Barrel Shotgun.
About Battle Pass and creative mode
Like always, the season's Battle Pass offers plenty of rewards. The Battle Pass comes with 100 tiers linked to various cosmetic rewards and other things. The Zenith and Lynx skins will be unlocked immediately after buying the Battle Pass.
In addition to the standard Battle Pass, Fortnite Season 7 comes with a new battle bundle which rewards players with a Santa-like skin called Sergeant Winter. You will have to shell out 950 V-Bucks for the Battle Pass, but the battle bundle will presumably cost you a bit more.
One of the main attractions in Season 7 is the new Minecraft-style creative mode. The mode allows players to create their own Fortnite experiences. This creative mode will be available now to all players who purchase the Season 7 Battle Pass, while for others, it will open on Dec. 13. Those with the Battle Pass will also get four islands on which to test their creativity.
"Imagine, Build, and Battle like never before in the early release of Fortnite Creative! Battle Pass owners will have early access to their own Creative island for one week," Epic says.
According to Epic, the Creative Hub allows players access to their island, the islands of friends who have joined the server, and selected community islands. Player will be allowed to keep a server active for up to four hours. Your friends can visit your island, and you can even set the permissions to allow your friends to edit or build on your island during their visit.
Guide to Week 1 Challenges
The Week 1 Challenges for Fortnite Season 7 are live as well. If you already purchased the Battle Pass, one challenge may appear a bit difficult to complete. The challenge is "dance on top of a crown of RVs." Completing the challenge gives you five Battle Stars. The dancing part of the challenge is easy, but locating the crown of RVs is the hard part.
However, many sites have already revealed the locations of the RVs. According to GameSpot, the locations are:
RVs – South of Paradise Palms, at the edge of the map near the desert village
Metal Turtle – North of Lonely Lodge
Submarine – Mountain East of Frosty Flights
In addition to this challenge, there is a more difficult challenge for the week that is open to all. Again, the challenge involves dancing, but in seven different forbidden locations. Finding those seven forbidden locations is again the difficult part, but GameSpot has revealed them:
Hill South West of Frosty Flights
Pier in Lazy Links
Hill south of Risky Reels
Llama North West of Junk Junction
Mountain South West of Dusty Divot
North West of Tilted towers
Edge of the map South of Frosty Flights