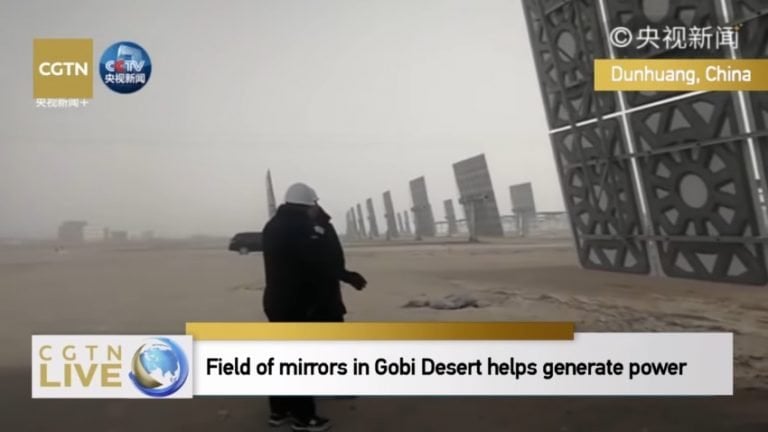 A pilot project in the Gobi Desert that generates energy out concentrated solar power by using mirrors or lenses to concentrate a large area of sunlight onto a small area, is the first of its kind of China and breaks a number of records in Asia.
Field Of Mirrors In Gobi Desert Helps Generate Power
Q3 hedge fund letters, conference, scoops etc
Canyon Distressed Opportunity Fund likes the backdrop for credit
The Canyon Distressed Opportunity Fund III held its final closing on Jan. 1 with total commitments of $1.46 billion, calling half of its capital commitments so far. Canyon has about $26 billion in assets under management now. Q4 2020 hedge fund letters, conferences and more Positive backdrop for credit funds In their fourth-quarter letter to Read More
Transcript
Can we have a more comprehensive understanding and view of this Gobi Desert power station? Today we're honored to have with us Mr. Huang, the chief engineer of this project.
Hello everyone. I am the engineer of this power station.
So all systems of this  Gobi Desert power station have undergone modulations and is now ready to generate power. There are all kinds of power stations coal fired power plants and wind power station and PV stations. But this looks nothing like the power stations that are familiar to us as almost look like a films film set and hold it to us. This is what we call a concentrated solar power station or CSP station. It collects the solar power and then channel them through this steam engine in order to generate power and also the excessive heat can be stored in molten salt so that it can realize a 24 hour non-stop continuous power generation.
I've did some homework because there are several power stations like this Gobi Desert one in the United States and in Spain. But this is probably such a power station. First power station of the size in China. Right. That is true. It has a capacity installed capacity of about 100 megawatts and this is the first power station of this capacity. This pick in China. This is actually your ordinary. But is a bigger reflection rate and also it has to remain stable in order to concentrate on the receiving tower over there. The light reflected through this mirrors are actually quite sharp. It's almost make it quite difficult to look at it directly. It has a better reflection efficiency than your then Ameristar to use at home. So when they move ultimately on its own. It has to tracker's.